WELCOME TO BORGO SANTANDREA
February 13th
AMALFI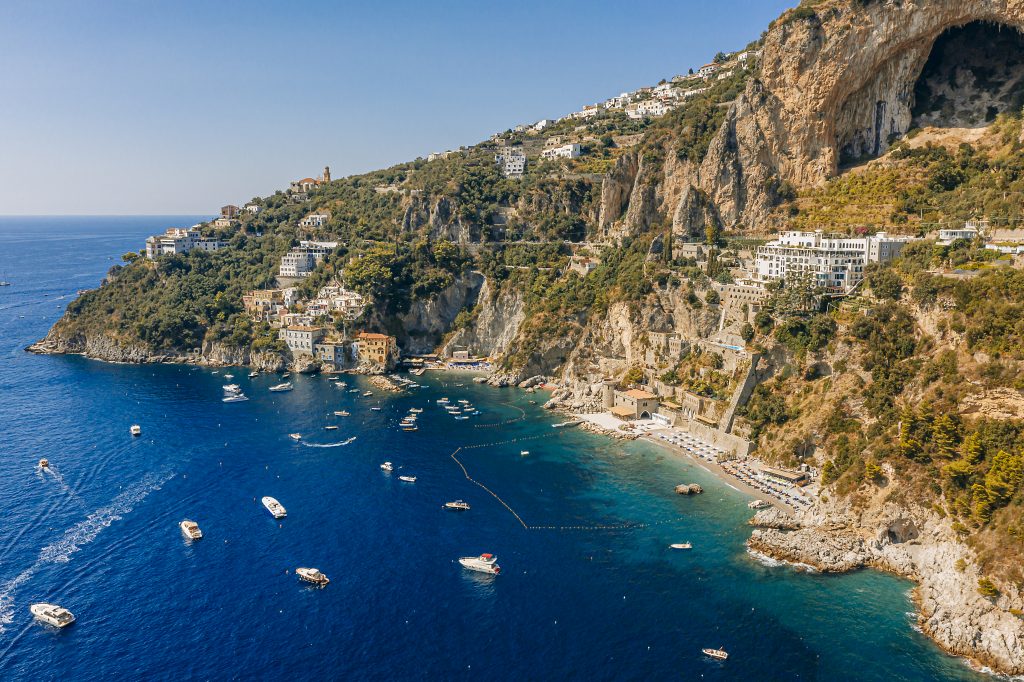 The story of Borgo Santandrea is one that could only ever happen here, on the Amalfi Coast.
Conca dei Marini. One of this Coast's more secret seaside villages—a quieter (but no less charming) little sister to the look-at-me sirens of Positano and Amalfi. More of an elaborated crossroads than a town, perched on a cliff above a pellucid crescent of turquoise sea, with its one café, its one pharmacy. Its real calling card its long and lovely pebble beach—bathed in sunlight all day long in summer, and bookended by two restaurants beloved of locals, who come by boat to eat sublimely at the water's edge, watching the sun tip lazily over the Tyrrhenian horizon.
The year was 2017. Two friends from neighbouring Ischia had just acquired Conca's old Grand Hotel Il Saraceno. They had had their eyes on it for some time: built in the 1960s, its spare elegance all but hidden beneath several layers of outdated interior renovations—swaths of satin and velvet, layers of marble and gilt—it was a place that was a bit tired, both in ambience and atmosphere. A place in need of love, imagination, and investment, all in equally abundant measure.
But the friends saw the potential. The architecture was exceptional—a stunning vertical edifice, plunging 90 metres to the sea from its clifftop. The views were the stuff of dreams. There were neglected but beautiful mature gardens: pomegranate, lemon and olive trees, stands of lush blue myrtle and jasmine climbing the columns on the terraces. Most alluringly of all, there was the Saraceno's private stretch of Conca's lovely beach, complete with a boathouse that had all the makings of a world-beating beach club. It harboured real soul—and whispered alluringly that it could be something else altogether.
All that promise and more has been realised with Borgo Santandrea: a new hotel of a calibre not opened here for decades, and a singular destination that casts the Amalfi Coast's ancient beauty through a bold, modern lens.
Love, imagination, and investment—both financial and emotional—are precisely what the Ischian friends have brought to their meticulously remade corner of paradise. Those, and a serendipitous combination of talent and skill. They brought in Maurizio, one of the owners' brothers, and a seasoned hotel operator with a well-honed knowledge of the Coast's secret places, finest artisans, most sought-after tables. He has created a series of unique dining and relaxing venues and memorable experiences, and gathered a superlative staff of locals, who serve guests with both the polish befitting an ultra-luxe costiera amalfitana enclave and the easy charm for which the area is known.
Maurizio's brother, who commutes between London and Italy, is also a discerning collector of 20th century decorative arts. For him, the abiding joy of Borgo Santandrea is as a showcase for his many museum-quality pieces, gathered lovingly over decades, signed the likes of Carlo Mollino, Gio Ponti, Frederick Kayser, Ignazio Gardella, Hans Wegner, Englander & Bonta, and Isamo Noguchi—an international cohort that shaped the aesthetic of an entire era.
Furniture, sculpture, mirrors, vases, lights: all have been placed throughout Borgo Santandrea's lounges and its elegant La Libreria restaurant, as well as in its 30 rooms and 19 suites. Some pieces wear the textile designs which helped make Ponti a household name in Italy, the joyfully rigorous geometric patterns in his signature combinations of blue and neutral—colours that extend throughout Borgo Santandrea's airy spaces, saturated by day with sunlight that pours through the countless tall windows and doors, open to those never-ending views. Look down, and the tribute to Ponti continues, with more than 30 unique ceramic floor tile patterns, created expressly for Borgo Santandrea by local artisans in the quintessential blue-and-white geometric fashion, inspired by Ponti's work in the area in the 1960s.
Chic, easeful living; an abundance of natural beauty. They are the abiding impressions Borgo Santandrea makes, whether exploring the cocktail list while the sun sets at Plumbago Bar or taking that first early-morning dive from the private jetty into the warm cerulean bliss of the sea.
Waking to the sun painting the sky in pastels, and the fishermen putting out in their tiny wood boats, then meandering up to indulge in a glorious breakfast on the wide terrace of Alici.
Indulging in a long alfresco massage on the terrace of the spa, or in your suite's private garden, with a soundtrack of birdsong and breezes ruffling the olive terraces.
Passing nights on the terrace, under an indigo canopy pierced with the pinpoints of a million stars, indulging in sublimely simple dishes of local produce and crisp Campanian wines.
Lazing in the shade of your umbrella on the private beach, in the magic, molten light of late afternoon. Doing nothing for hours, other than fixing your gaze on the horizon and listening to the hypnotic sound of water kissing shore—because where else but here would you ever need, or want, to be?
Borgo Santandrea's story is made of such moments; your own version is waiting to be written.
For press information, please contact Perowne International:
+44 (0)20 7078 0295