Scott Dunn's Ski News 2022/2023
October 19th
GLOBAL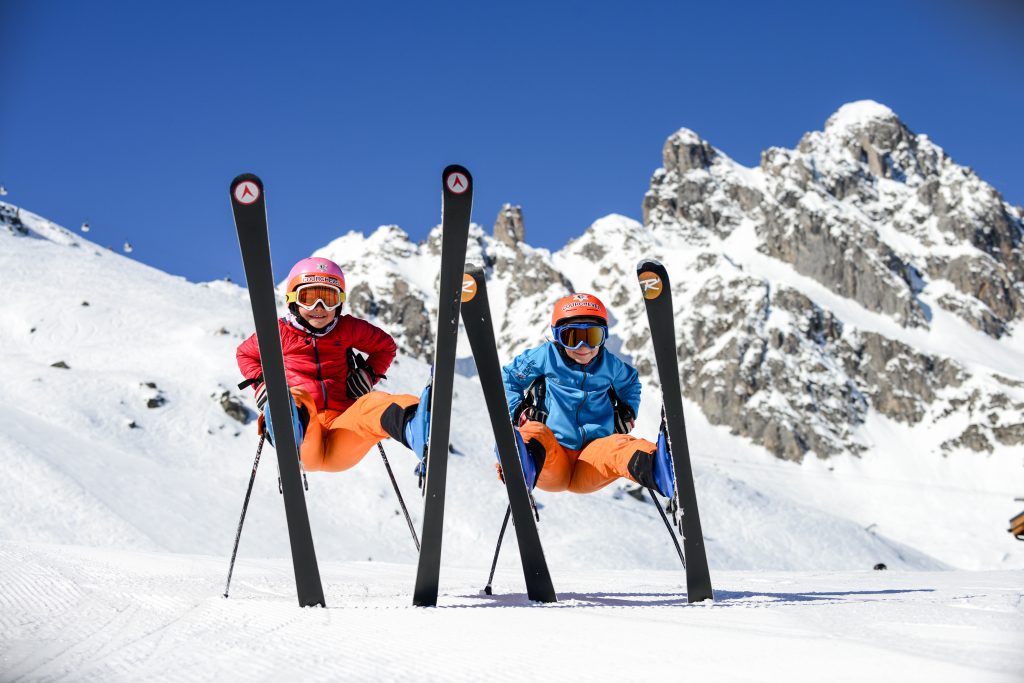 BEST FOR: YOUNG FAMILIES
Whilst taking children skiing can be hugely rewarding, guests booking with Scott Dunn might also like to take advantage of the Scott Dunn Explorers kids clubs, which – for a limited time only – are offering completely complimentary childcare. Each club offers a fun-filled and memory-packed holiday with an inspiring range of expert-led activities, perfect for families who love to come to the mountains and for parents looking to ski further afield. Exclusive to the Explorers kids clubs located in the Portetta Hotel in Courchevel 1650 and also in Val d'Isère, this offer of half or full-day complimentary childcare is valid for weekly bookings and subject to availability as the clubs fill up, meaning guests should book now to avoid disappointment.
Providing an exceptionally tailored service every step of the way, guests can also utilise Scott Dunn's dedicated in-house Ski School specialist, who provides an additional layer of service. For first-time skiers, or parents with little experience skiing with children, the prospect of booking ski lessons can be daunting. Scott Dunn's ski school specialist walks guests through the list of ski schools and the lesson types on offer, making sure the best match is found for guests and their families. With long established relationships with the very best ski schools across the Alps, guests can relax and enjoy a hassle-free approach to ski-holiday booking from the best in the business.
WINTER OFFER: EXPLORE VAL D'ISÈRE FROM LE K2 CHOGORI AND ENJOY EXCLUSIVE FREE CHILDCARE AT THE SCOTT DUNN EXPLORERS KIDS CLUB
Guests staying at any Scott Dunn property across the Val d'Isère resort are welcome to book their kids into the Scott Dunn Explorer Kids Club, a purpose-built club endowed with excellent facilities – including a specially designed sleep area for little ones – boasting a convenient location in the centre of the resort. With the added unbelievable bonus of being completely free across selected dates, parents who may wish to enjoy a longer lunch, or perhaps an early morning ski without the little ones can explore the beautiful Val d'Isère area with greater ease this season. For those staying in Val d'Isère with slightly older children and looking to book ski school lessons are encouraged to utilise Scott Dunn's in house ski school specialist, who will no doubt encourage them towards the likes of New Generation, which offers children's lessons revolving around games, challenges and adventure! After a long day on the slopes, guests hoping to translate this family fun to their hotel of choice are encouraged to stay at Le K2 Chogori, which offers a luxurious and traditional mountain getaway. Perfect for all ages, Le K2 Chogori's dedicated staff love nothing more than looking after children, and kids will feel totally at home with the properties a gaming room, featuring various consoles and plenty of toys, arts, and crafts for the little ones – meaning children of all ages will be kept entertained.
HOW: Scott Dunn offers seven nights at Le K2 Chogori from £9,000 based on a family of three (2x adults 1x child) sharing a Junior Suite on a B&B basis and includes return flights from the UK and private transfers. Complimentary childcare at Scott Dunn Explorers Club available between selected dates. For more information please visit https://www.scottdunn.com/about/our-holidays/luxury-family-holidays/family-holidays-childcare/ski-holidays /  www.scottdunn.com or call 020 8682 5080.
WINTER OFFER: DISCOVER COURCHEVEL FROM PORTETTA AND ENJOY EXCLUSIVE FREE CHILDCARE AT THE SCOTT DUNN EXPLORERS KIDS CLUB
Set on the slopes at Courchevel 1650, Portetta is a superb ski-in ski-out hotel for a luxury family ski holiday, boasting a prime location at the centre of the resort. Here, the mini-Explorers club is exclusively for Scott Dunn guests staying at the hotel and will be completely complimentary for those staying between 9 January – 11 February, 2023. Offering a well-equipped playroom and superbly located for the ski school meeting points, the club provides a convenient skischool drop-off and pick-up service, allowing a day free from disruption. With a large array of exclusive activities available for the little ones, guests can expect plenty of hot chocolate and crèpe trips, snowy play, treasure hunts and winter market visits, allowing parents to be safe in the knowledge their children will have an exciting and inspiring time. Guests looking to book ski lessons for the whole family when staying at Portetta can consult their dedicated Scott Dunn ski specialist, who will likely encourage them towards Supreme and New Generation – ski schools possessing a wide range of products to cater for all, including private lessons, children's group lessons, adult group lessons and snowboard lessons – all with English speaking instructors to ensure zero language barriers. Portetta, located at 1650 in the world's largest ski area, is the perfect spot to be based for such fun-filled activities. The hotel is authentically alpine, warm and inviting with muted colours, cosy settle-in sofas, roaring fires and lots of exposed wood.  With an air of informality in its design, food and service, Portetta offers modern Alpine chic with a warm family-friendly atmosphere – perfect for all.
HOW: Scott Dunn offers seven nights at Portetta, Courchevel from £2,525 per person based on a couple travelling on a B&B basis and includes 2 days backcountry skiing, UK flights and private transfers. Complimentary childcare at Scott Dunn Explorers Club available between 9 January – 11 February 2023. For more information please visit https://www.scottdunn.com/about/our-holidays/luxury-family-holidays/family-holidays-childcare/ski-holidays /  www.scottdunn.com or call 020 8682 5080.
BEST FOR: SKI NOVICES
LAUNCHING DECEMBER 2022 : DISCOVER A NEW SLICE OF ALPINE EXCELLENCE IN THE 3 VALLEYS AT M LODGE, ST MARTIN 
Brand new for December 2022 and launching ahead of the epic 2023 Alpine World Ski Championships held in Méribel and Courchevel in February next year, M Lodge Hotel and Chalets is the ultimate choice for an extravagant ski trip. Nestled into the mountain side with immediate access to the ski slopes, the chic resort is a true delight in Saint-Martin-de-Belleville. M Snow Academy is the private ski school where different levels and style of lessons can be arranged, from alpine skiing, off slope, adults and children. The offers incredible facilities including a large swimming pool, Spa du M Lodge and the exceptional Table du M Lodge restaurant. The accommodation offers 25 spacious rooms and suites all with stunning views of the mountains and valleys from either their balcony and/or terrace. A chic alpine theme runs through them all with contemporary amenities, warm woods and natural stones, creating an inviting retreat to relax at the end of a busy day on the slopes. The two private chalets, Pure Black Crystal and Pure White Crystal are also styled to a decadent level of design, each with four floors and a lift, five bedrooms, large lounge, dining rooms, spa, games room, hot tub and swimming pool – along with a private chef, housekeeping, butler and driver service.
HOW: Scott Dunn offers seven nights at M Lodge, St Martin de Belleville from £2,300 per person based on 2x adults sharing a Standard Room on a B&B basis and includes return flights from the UK and private transfers. For more information, please visit https://www.scottdunn.com/ or call 020 8682 5050
BEST FOR: SLOW TRAVELLERS
EXPERIENCE AN UNFORGETTABLE RAIL ITINERARY ABOARD THE GLACIER EXPRESS AND WITNESS THE ALPS' MOST DRAMATIC SCENERY
Perfect for those seeking an alternative, 'slow travel' experience, this trip includes a relaxing first-class experience onboard the Glacier Express, first stopping after eight hours at the iconic resort of Zermatt. The famously car free mountain village is one of the greatest ski resorts in the world, dominated by the mighty Matterhorn and offers excellent skiing for all abilities, and even includes fabulous runs into Italy. Guests will stay for three nights at Cervo Mountain Resort; ahigh-end resort dedicated to a type of travel that is close to nature, authentic and conscious and relies on renewable energy for hot water and heating. The luxury train winds its way between Zermatt and St Moritz at a slow pace, allowing travellers to take in the beautiful snowy scenery from the comfort of their seats and the train is complete with panoramic sealed windows all the way to the roof. Next, the train will journey for three hours to reach Andermatt – a small, authentic and relaxed resort dominated by the majestic, north-facing Gemsstock. Skiing is divided across three uncrowded mountains, with large swathes of off piste and deep, steep powder. Here, guests will stay in the sumptuous Chedi Andermatt hotel for two nights before boarding the train again and travelling to one of the most glamorous and cosmopolitan ski resorts in the world, St Moritz. This resort offers a great variety of ski terrain and is Switzerland's largest interconnected region, with 350km of pistes, mainly favouring good intermediates with enough runs to keep experts happy. The trip will conclude after three nights at Badrutt's Palace, a magnificent gothic-inspired five-star hotel.
HOW: Scott Dunn offers an eight-night Glacier Express itinerary from £4,290 per person based on two people staying at Cervo Mountain Resort (3x nights), Chedi Andermatt (2x nights) and Badrutts Palace (3x nights) on a B&B basis and including a 1stclass Glacier Express tickets from Zermatt to St Moritz and Excellence Class on the Glacier Express between Zermatt and St Moritz. For more information please visit: www.scottdunn.com/scott-dunn-private or call 020 8682 5066.
BEST FOR: FOODIES
IGNITE THE SENSES WITH A DELECTABLE ITINERARY OVERLOOKING THE BREATH-TAKING DOLOMITES
Whilst it's the Dolomiti Superski which usually draws attention to this most beautiful of regions, the Dolomites has also become a popular destination for affluent gourmets. The Hotel Rosa Alpina, a beautiful family run hotel in the quaint village of San Cassiano, perfectly encapsulates this ode to mountain cuisine, offering an outstanding range of restaurants. From the exceptional St Hubertus, which has recently been awarded three Michelin stars, to simple Alpine and Italian specialities; delicious pizzas cooked in a wood oven fire to its outstanding Wine Bar, Hotel Rosa Alpina is the perfect place to unwind and indulge after a hard day's skiing. Guests are also encouraged to take a short 30-minute taxi ride the Kronplatz Mountain in South Tyrol – not only renowned for its unique and astonishingly varied landscapes but also a fine location for gastronomical explorations, encapsulated perfectly by its famous resemblance to a giant Panettone. Here, guests can embark on a sensory adventure at the AlpiNN, perfectly positioned at the mountains snowy peak, and enjoy the breath-taking panorama of the Dolomites combined with the sensational culinary offerings from Head Chef Norbert Niederkofler, the pioneer of this inspiring restaurant. The new project is a contemporary yet casual take on dining at altitude where the spotlight is entirely on food and the joy in sharing it. Guests can finish their afternoon with a visit to the Lumen Museum of mountain photography, a building which cantilevers out over the Italian Dolomites – quite a photo opportunity in itself – before a sundowner overlooking the Dolomites change colour in the sunset.
HOW: Scott Dunn offers seven nights at Rosa Alpina from £2,400 per person and includes return flights from the UK and private transfers. For more information please visit www.scottdunn.com or call 020 8682 5080.
BEST FOR: GETTING OFF THE GRID
 EMBARK ON AN AUTHENTIC DOLOMITES SKI SAFARI WITH A CERTIFIED MOUNTAIN GUIDE
With demand for remote ski safaris rising, Scott Dunn's ski experts have put together a range of epic bespoke tours through the heart of the UNESCO World Heritage Dolomites in Italy. Ideal for adventurous skiers who want to experience the grand tour of the Dolomites in style, this luxury ski safari provides the best views and runs in the region. Guests can explore the world's largest interconnected ski area of 12 resorts with 1,200km of prepared pistes, and skifrom 'hut to hut' – experiencing a mix of hand-picked authentic rifugios (mountain cabins) and charming 5-star hotels. Led by certified mountain guides, these luxury ski safari itineraries travel through off-grid locations, skiing through different pistes each day. During some of the chosen ski safaris it is possible to include an exclusive surprise aperitif, which will be prepared in a secluded, panoramic, secret spot surrounded by cosy warm furs. Day-to-day, guests will skiwith certified mountain guides who will plan the best routes for exploring the mountains. Scott Dunn will arrange for guests' luggage to be transferred from base to base each day so their things will be ready and waiting at their accommodation each night.
HOW: Scott Dunn offers a seven-night ski safari tour to the Italian Dolomites from £6,200 per person, based on two sharing on a half-board basis and includes return flights from the UK, ski passes, ski guiding, luggage transfers and private airport transfers. For more information please visit www.scottdunn.com or call 020 8682 5030
BEST FOR: SPA-SEEKERS
RELAX AT THE ARMANCETTE HÔTEL, A HIDDEN GEM NESTLED IN THE FRENCH ALPS HOME TO A WORLD CLASS SPA  
Armancette Hôtel, a family-owned hidden gem in the remote town of Saint-Nicolas de Véroce, is a perfect destination for those looking to rejuvenate the mind and soothe the body after a long day on the slopes. Located at the centre of the five-star hotel, Armancette's spa is a calm setting marked by pure serenity, overlooking the mesmerising Dômes de Miage mountain peaks beyond. With both indoor and outdoor swimming pools, an outdoor jacuzzi, three treatment rooms – where guests can enjoy the finest-quality KOS Paris products – and a state-of-the-art fitness suite, Armancette's soothing atmosphere provides travellers of all kinds with a rejuvenating experience. Relaxation aside, guests can also enjoy the hotel's destination dining restaurant, taste the finest French wines with Armancette's sommelier or discover the breathtakingly beautiful surroundings through a range of activities including dog sledging, snowshoeing, helicopter rides or cycling adventures. There's also kid's club for the little ones, and the option for larger groups – or those looking for ski-in ski-out facilities – to book one of the three standalone chalets which can sleep between 8 and 14 people.
HOW: Scott Dunn offers seven nights at Armancette from £4,382 per person and includes return flights from the UK and private transfers. For more information please visit www.scottdunn.com or call 020 8682 5080.
 BEST FOR: EXCLUSIVE USE
INDULGE IN THE EPITOME OF CHIC CHALET LIVING AT THE ARLA LUXURY HOME
Bursting with endless luxury, comfort and first-class facilities, Arla Luxury Home offers a prime slope side position with breath-taking town and mountain views. Artfully designed and with sophistication in every detail, this alpine Chalet combines modern luxury with old-world dedication, presented in the finest handcrafted interior décor. With limitless flexibility, the residence can easily accommodate up to ten people, offering 5 uniquely furnished and ensuite rooms, spacious living and dining areas and several terraces, each presenting a magnificent alpine view. Alongside these exceptional facilities, from party rooms to cinemas, steam rooms to saunas, the chalet also includes a 24/7 host & concierge, catering, ski instructors, childcare, car & helicopter transfers, as well as complimentary use of the neighbouring Aurelio Spa. Arla Luxury Home also provides plenty of space for quiet and relaxation, located in the idyllic ski area of Lech am Arlberg, and only a five-minute walk to the village centre of Lech which is characterized by a unique abundance of gastronomic experiences, cultural events and of course, sport and leisure activities. With direct access from the property to Schlegelkopf ski slope, and with the sunny Tannberg slopes also on its doorstep, guests are spoilt for activities both inside and out of this magnificent private property.
HOW: Scott Dunn offers seven nights at Arla Luxury Home, Lech from £6,200 per person based on a group of 10 exclusively hiring the property on a B&B basis, and includes return flights from the UK and private transfers. For more information please visit www.scottdunn.com or call 020 8682 5080.
***
For PR inquiries, please contact Perowne International:
[email protected] / +44 (0)20 7078 0295
Scott Dunn
Scott Dunn  is one of the world's most experienced luxury tour operators, voted the No.1 Best Travel Specialist in the world in the Condé Nast Traveller Readers' Choice Awards 2022. With offices in the UK, the US and Asia, its global team of travel specialists offer guests round-the-clock support, arranging bespoke holidays and honeymoons designed to elevate travel out of the ordinary. With an insatiable appetite to discover the world pivotal to the company's ethos, Scott Dunn relish the planning and revel in the detail – knowing it's the smallest touches that make the biggest difference. As well as creating tailor-made itineraries filled with unique experiences, Scott Dunn also operate their Explorers Kids Clubs for children aged 4 months to 11 years in select destinations throughout the world. The tour operator launched an exclusive, 'invitation-only' platform for its most discerning travellers, Scott Dunn Private, at the start of 2021.