LIVE LA DOLCE VITA THIS SUMMER AT ONE OF SOUTHERN ITALY'S MOST SPECTACULAR COASTAL HOTELS
There's a reason why Southern Italy's Amalfi Coast retains its status as one of the world's most romantic and alluring destinations - with dramatic stretches of coastline, hair-raising winding roads, breathtaking views and fresh Italian seafood.
April 30th
AMALFI COAST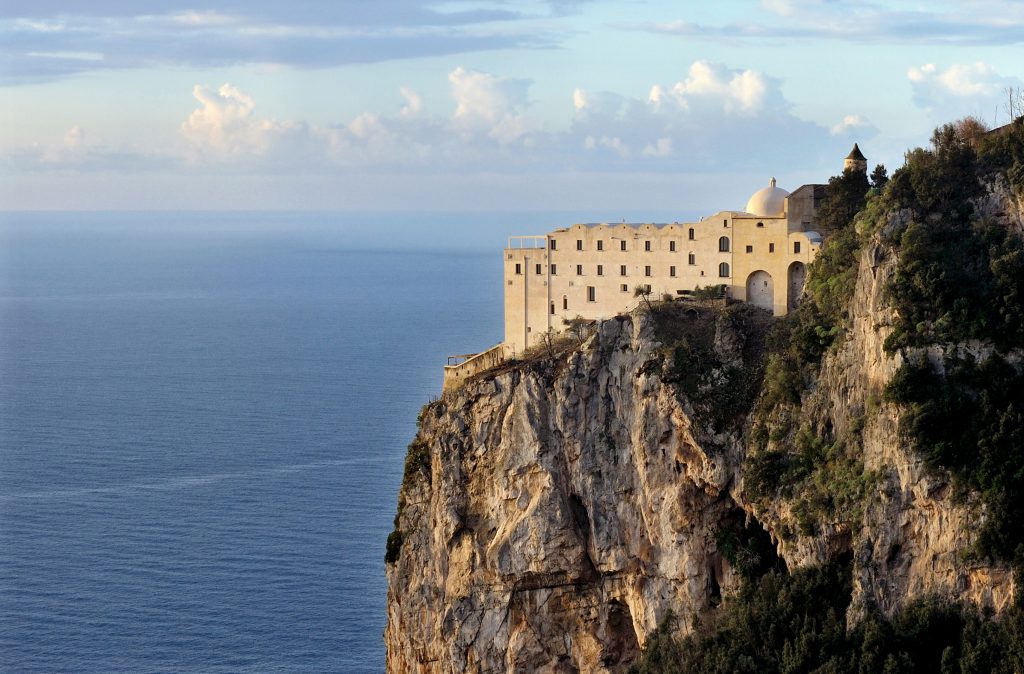 This summer, a wonderful way to discover the region is staying at one of Amalfi's most renowned spa hotels – Monastero Santa Rosa Hotel & Spa. The hotel's fabulous sea-view restaurant, Il Refettorio, received its first Michelin star in November 2017 and a chic new boutique will open in April 2018, stocking a carefully edited selection of well-known Italian and international designers, accessories and homeware items.
Situated between Amalfi and Positano, Monastero Santa Rosa Hotel & Spa is a spectacular former 17th century monastery, which has been lovingly restored into just twenty beautiful sea-view guest rooms and suites. Monastero Santa Rosa is the perfect base from which to explore the nearby towns of Amalfi, Positano and Ravello – with its famed open air classical music festival held every summer from June to August. For walkers, the hills above Amalfi provide dramatic ancient terrain through blissfully quiet mountains with dramatic coastal panoramas.
The family run hotel is nestled into the side of a cliff, and the vaulted ceilings and arched windows of the nun's rooms and refectory have been carefully preserved and are cleverly linked together to create light and airy spaces. Each room is decorated with historical photographs of the area and the monastery itself, adding to the sense of history. A true refuge from city life the hotel has a beautifully manicured, five-tiered Italian garden, spectacular heated infinity pool and award-winning spa.
In November 2017, the hotel's restaurant Il Refettorio was awarded its first Michelin star. This was the culmination of five years of passion and dedication from the team under the leadership of head chef Christoph Bob, a chef who has held leading positions in some of Europe's top restaurants including Alain Ducasse in Paris, Torre del Saracino in Naples and Petermann's Kunststuben in Zurich. As Monastero Santa Rosa hovers between sea and sky, fittingly so too does Il Refettorio's outdoor terrace where guests can enjoy al fresco dining with views over the gardens and out to sea.  The culinary treats of Santa Rosa are as unique as the monastery itself and Christoph Bob has created an innovative Mediterranean gastronomic experience for guests using the freshest ingredients from the surrounding Campania region, created with the seasons and locality in mind. The hotel's terraced gardens and extensive kitchen garden provide the team with a huge variety of fresh seasonal ingredients including the Amalfi region's famous lemons, an extensive selection of herbs, roses, fennel, strawberries and delicate zucchini, to name but a few. Chef Christoph Bob's signature dishes include broad bean salad with bacon and smoked olive oil, scampi carpaccio with figs and lavender, king prawn ravioli with tomatoes and candied lemon and crème brulée with local herbs and an olive oil biscuit.
The hotel will open a brand-new boutique this season stocking unique scarves, pashminas, leather accessories and jewellery from Italian and international designers. Brands will include Franco Ferrari, Bajra, Janavi, Diane Cotton, Cynthia Sesser, Laggo and Chan Luu. Guests will also be able to take home some of their favourite items from the hotel with a small range of homeware available.
The hotel's hugely popular "Health & Hike" package launched in 2017 and offers guests the chance to explore undiscovered parts of the Amalfi coastline. Accompanied by a local, English-speaking guide the hike takes guests along the little-known route called 'Valle delle Ferriere' or 'Ironworks Valley' that takes approximately three hours; beginning at the 'Piazza Duomo' in Amalfi and ending at the 'green heart' of the coast, past original 18th century paper mills and hidden monasteries and through terraced lemon groves. Back at the hotel guests can soothe their aching limbs at Monastero's award-winning spa which has been created within a labyrinth of historic monastic spaces and outdoor pavilions. The wide selection of treatments on offer have been exclusively created for the hotel using Santa Maria Novella products. These products provide a multitude of benefits, derived from the naturally occurring plants and flowers of Italy and the Mediterranean region, using ancient recipes of fragranced lotions, healing crèmes and balms.
A designated UNESCO World Heritage site, the Amalfi Coast is one of Italy's most photographic regions with its steep cliffs, lemon groves and spectacular views over the Gulf of Salerno. A former maritime republic, Amalfi has an illustrious history of naval trade, Roman princes and rivalry. The 'road of 1,001 bends' that links Naples with Amalfi was completed in 1854 by Ferdinand II allowing visitors today to visit Amalfi's hidden forests, black sand beaches and pretty seaside towns. Monastero Santa Rosa is a 90-minute drive from Naples International Airport and 20 minutes from the Amalfi Port. Guests can even arrive by helicopter, which includes a flying jaunt over Naples, Vesuvius, Capri, Ischia and the sites of Herculaneum and Pompeii, on to Sorrento and the Amalfi Coast, landing just below the hotel.
HOW: Rates start from €400 per room per night on a B&B basis
Monastero Santa Rosa Hotel & Spa reopened for the 2018 season on Friday 13 April and closes on Sunday 4 November