WORLD OCEANS DAY 2023
June 7th
LONDON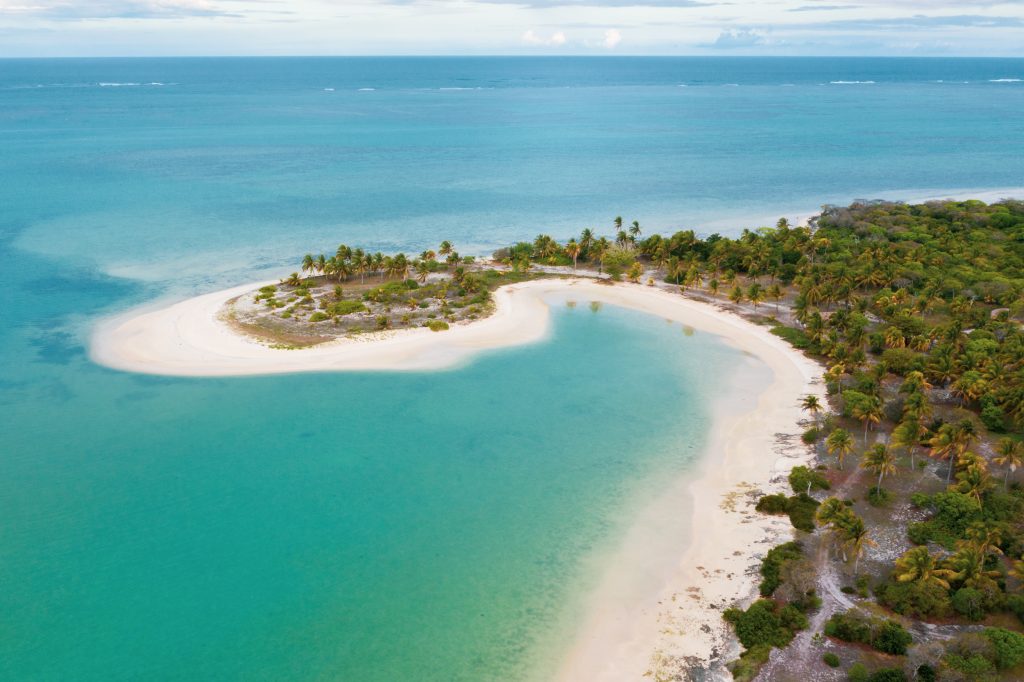 Ahead of World Oceans Day on 8th June, Perowne International has rounded up the trailblazers in sustainable tourism who continue to pioneer marine conservation. From coral planting at Baros Maldives to turtle conservation at Miavana By Time + Time, these trips are ideal for the ecologically minded traveller
BAROS MALDIVES LAUNCHES THEIR OWN 'UNDERWATER AMBASSADORS' INITIATIVE TO RAISE AWARENESS OF THE DELICATE UNDERWATER WORLD  
Since its opening in 1973, Baros Maldives has been a leader in green initiatives, making it one of the pioneer eco-friendly resorts in the Maldives. As part of its upcoming 50th-anniversary celebrations in December, the resort has launched a new online hub, aimed at raising awareness about the fragile marine environment in which its underwater world resides. Here, guests can find anecdotes from the "Baros Underwater Ambassadors," who have shared their favourite underwater stories that showcase the island resort's ecological initiatives. From anecdotes demonstrating the fragility of marine flora and fauna, to diving tips and the playful characteristics of Finny, the resident, black-tipped shark, Baros's informative hub is an important attribution to Baros' trailblazer status. Guests of Baros can also personally aid in restoring the coral reef through the 'Eco Explorer' programme. Led by the resident Marine Biologist, the programme includes a coral frame planting experience in the coral garden where guests will plant living coral fragments directly on the reef, with the goal of afforesting areas damaged by crashing waves and weather events. Guests can personalise their coral frames and cubes by adding a name tag and message and to mark the meaningful experience a specially curated photo book documenting the programme will be gifted to guests. A deeper understanding of the complex underwater world can also be developed through a private snorkelling and fish identification session.
HOW: Baros Maldives is situated in the central southern part of North Malé Atoll, just 25 minutes by speedboat from Maldives International Airport. Rates at Baros Maldives start from $675 (approx. £464) per night in a Deluxe Villa on a B&B basis, excluding taxes. For more information visit HERE
MILAIDHOO MALDIVES INVITES GUESTS ON A CONSERVATION-FOCUSSED DIVING COURSE THIS MANTA RAY SEASON
Set in the archipelago's Baa Atoll UNESCO World Biosphere Reserve – the most spectacular destination for sightings of Manta Rays – lies Milaidhoo Maldives. From May to October, thousands of these beautiful creatures migrate to the Atoll's plankton-rich waters, and guests at Milaidhoo are invited to witness the annual gathering first-hand with the resort's conservation-focused Manta Ray awareness diving course by PADI. In addition to enjoying the memorable experience of meeting these majestic rays, certified divers will learn how to identify and track them during two theory sessions – covering educational insights on the species' behaviour as well as delving into the key conservation efforts needed to protect them. The team at the Ocean Stories Aquatic Centre at Milaidhoo have also identified several secret diving spots, outside of the marine reserve, where divers can enjoy the most private and exclusive manta experiences. Home to a spectacular house-reef and being only 12-minutes by speedboat from Hanifaru Bay, known as the biggest seasonal grouping of Manta Rays in the world, guests can swim and snorkel with the rays up close. Summer visitors at Milaidhoo will be welcomed with excursions to Hanifaru Bay, coordinated with the Hanifaru Bay park rangers, who are experts in ensuring guests enjoy the most rewarding sighting opportunities. Additionally, Milaidhoo's resident Marine Biologist will share their expert knowledge on the fascinating creatures. Reaching up to 7 metres in width, the rays are truly the ocean's gentle giants and feed on nothing bigger than microscopic plankton.
HOW: Milaidhoo can be easily reached via a 30-minute seaplane from the international airport in Male or a 15-minute domestic flight to Dharavandhoo domestic airport in Baa Atoll, followed by a 15-minute speedboat to Milaidhoo Island. The Manta Ray Diving Course Starts from US$ 445 per person and guests need to present a valid diving certificate. Snorkelling excursions to Hanifaru Bay start from US$ 195 per person.  Rates at Milaidhoo start from $1,625 per night in a Water Pool Villa on a half board basis, based on two sharing.For more information please visit https://www.milaidhoo.com/
JUMBY BAY ISLAND, THE 'GREEN QUEEN' OF THE CARIBBEAN, OFFERS A SANCTUARY FOR WILDLIFE AND A SUSTAINABILITY PROGRAM
Set in one of the most beautiful untouched locations in the world, Jumby Bay Island is a private island of simple pleasures in the Caribbean nation of Antigua & Barbuda, just two miles off the coast of mainland Antigua. Ringed with coral reefs and reachable only by boat with no cars in sight, the private isle comprises three stunning white-powdered beaches. In an effort to preserve and showcase its natural beauty, Jumby Bay Island remains staunchly devoted to its sustainability program, carrying out several initiatives that preserve its environment and indigenous species – the endangered Hawksbill Turtle, the White Egret, and the Persian Black-Headed Sheep. Jumby Bay Island is home to the Jumby Bay Hawksbill Turtle Project – the longest running privately funded project of its kind. As the beaches of the island have long been a haven for nesting Hawksbills, the program focuses on the scientific study of the species and works to ensure their survival and recovery. Every night from June to November, discerning guests can immerse themselves in the conservation efforts by joining the researchers to see the turtles lay their eggs. Not to be overlooked is a stunning Waterfowl Sanctuary that sits at the heart of the island. Home to a rare mix of tropical birds – the White Egret, Bananaquit, Whistling Duck, Hummingbird, and Blue Pelican – this reserve is consistently maintained to ensure its delicate ecosystem remains intact. Further in line with the Oetker Collection's commitment to sustainability is the Jumby Bay Island recycling program, which has made the property the largest recycler of bottles, cans and golf cart batteries on Antigua. Supplemental efforts are made to reuse all biproducts of island life. Sewage water is purified and stored in a central tank for plant irrigation, while all yard cuttings, including grass, leaves, branches, and general foliage are chipped and turned into mulch and compost for landscaping the island. Lastly, guests of all ages love to experience the world-class Jumby Bay Island Sailing Academy. Designed to teach the fundamentals of sailing, there are various courses available, tailored to all ages – from beginners looking to learn a new skill, to experienced sailors honing their craft on Antigua's famed waters. Guests are able to venture out into the crystal-clear Caribbean Sea with the Sailing Academy's RYA certified instructors on one of Jumby Bay's fleet of 12 sailboats, including RS Zests, Lasers or RS Elites.
HOW: All-inclusive rates for Jumby Bay Island start from $2,295 per suite, per night + service and tax, inclusive of all meals, beverages, cocktails and house wine by the glass, as well as all watersports activities and kids club. For more information, visit www.oetkercollection.com/hotels/jumby-bay-island
SIX SENSES LAAMU EDUCATES GUESTS ON MARINE LIFE WITH THE LAUNCH OF SEA HUB FOR ENVIRONMENTAL LEARNING IN LAAMU (SHELL)
LAUNCHED 1ST MARCH 2023
In the virtually uncharted territory of the Laamu Atoll, Six Senses Laamu is an understated island paradise of stunning natural beauty that is passionate about preserving the biologically diverse reef communities that surround it. As with all Six Senses properties, sustainability is at the heart of the secluded retreat, with a full-time sustainability officer and marine team, the biggest in The Maldives, to teach families about the coral reef ecosystem, and teach a responsible attitude to the reef environment. This March, Six Senses Laamu proudly unveiled the Sea Hub for Environmental Learning in Laamu (SHELL). The centre houses the Maldives Underwater Initiative (MUI), a marine conservation collaborative consisting of Six Senses Laamu marine biologists and partner NGOs, The Manta Trust, Blue Marine Foundation, and the Olive Ridley Project, along with a gallery exhibition space, offices, marine laboratory, cinema room, and kids' zone. With the goal of bringing an immersive experience to the guests at the SHELL, the central gallery, also called the Tank, boasts a high-resolution LED display floor and five educational viewing booths for kids and adults. This immersive gallery is unique in the Maldives and seeks to showcase and educate guests on the exciting marine life around Six Senses Laamu. Inspired by a glass-bottom boat, the content will be periodically updated to reflect new footage captured by the resort's dive team and diver hosts, bringing about an ever-changing canvas for guests to enjoy during different visits to the resort.
HOW: Rates at Six Senses Laamu start from $1,072 (currently approx. £824) based on two adults sharing a Lagoon Water Villa on a B&B basis. www.sixsenses.com
BAWAH RESERVE OUTLINES ITS SUSTAINABILITY MISSION 
AS IT APPLIES TO BECOME A B CORP
Bawah Reserve, located in Indonesia's remote and lesser travelled Anambas Islands, was created and developed with an earth-first philosophy, centered around the pristine nature that can be found on this group of six islands, 13 beaches, three lagoons and 100 hectares of forest. As guardians of this natural reserve, sustainability has been at the heart of Bawah Reserve from the very beginning. Bawah is the first island in Indonesia to be powered by a renewable microgrid and is certified as a 5-star resort under the Singing Blue WWF programme. The property is part of the Anambas Foundation, created to channel funds back into the local community. Bawah Reserve is committed to elevating the welfare of the Anambas people. Local labour was used to build the Reserve and 23% of the employees today come from the Anambas Islands, whilst 98% of their overall employees come from Indonesia. When it comes to the gastronomic experiences, the property's own permaculture vegetable and herb gardens supply around 40% of the restaurant's produce. Bawah has taken the exciting step of installing Swimsol's innovative and patented SolarSea system. The state-of-the-art setup comprises 18 floating solar platforms, enough to provide the majority of the Reserve's total energy needs. An 'ECOmmittee' meets monthly to create green initiatives: making eco bamboo bins; organising weekly beach clean-ups; and engaging in turtle conservation are just some of the many projects to come from this. To positively contribute to the local community, Bawah Reserve is continually committed to providing employment, economic opportunities, and sustainable eco-awareness education by identifying with the local culture, fostering strong local community relationships, and holding a deep respect for local traditions and customs.
HOW: Rates at  Bawah Reserve start from $1,980 USD per night for two people on a full board basis including spa daily treatments, laundry, in-room minibar, and a host of land and water-based activities. Complimentary return transport from Singapore is included when booking a five-night stay or more. For more information visit www.bawahreserve.com
MIAVANA BY TIME + TIDE, AFRICA'S MOST EXCLUSIVE CASTAWAY ESCAPE, PROVIDES A TICK LIST FOR THE ECO TRAVELLER OF FUTURE PROOFED TOURISM THAT CONCENTRATES ON SENSITIVE DEVELOPMENT 
Miavana by Time + Tide is a private-island hotel located on Nosy Ankao, off the north-east of Madagascar with a deep and genuine commitment to the environment and its neighbouring communities. With their conservation heritage dating back to 1950, Miavana by Time + Tide is uniquely positioned on a protected 2,500-acre island with a full-time environmental team trained in wildlife monitoring and reforestation, meaning that with the support of the Time + Tide Foundation, they have the opportunity to take a more hands-on approach to conservation on the island which, to date, has involved the following:
Turtle Conservation – Conducting daily patrols of the island's beaches to mark nests, Time + Tide's Turtle Rangers closely monitor the nests to give hatchlings the best chance at survival. As part of the research to help support this initiative, the Time + Tide team recently took part in a Sea Turtle Tracking seminar, provided by KELONIA, enabling them to develop and implement the best tracking methods.
Local Fisheries – In order to protect the vast marine life that surrounds the island and the Loky-Manambato region, the Time + Tide Foundation works closely with the local fishing federation and FANAMBY. Together they ensure that the communities of the area are constantly re-educated on the disastrous effects of illegal fishing, as well as the methods on the marine environments that these same communities depend on for life. By visiting these communities and sharing their knowledge, teaches better approach to marine life and sourcing sustainably.
Tern Population – As Terns play a vital role in marine ecosystems, the Time + Tide Foundation works hard to ensure that the period in which they nest on the island of Manampaho, is as efficient as possible and to do this, the conservation team makes sure regular visits to the island are conducted. These visits involve an island clean-up to rid the nesting area of any foreign debris. In addition, the team also ensures that there are no fishermen or campers on the island as they may influence the terns to not nest on the island, or even attempt to collect their eggs.
HOW: Rates at Miavana by Time + Tide start from $3,000 per adult per night in a one-bedroom villa on a full board basis. The rate excludes conservation, foundation and access fees which are charged at $300 per person per night. For more information, please visit www.timeandtidefoundation.org.
ISLAS SECAS, PANAMA, A SPECTACULARLY SUSTAINABLE OCEAN WILDERNESS, WITH SUPPORT FOR LOCAL COMMUNITIES & MARINE CONSERVATION AT ITS HEART, SET ON A FAR-FLUNG, 14-ISLAND ARCHIPELAGO
Located off Panama's rugged Pacific coast, privately-owned Islas Secas offers endless opportunities for sustainable adventure. A few hours west of Panama City, the Gulf of Chiriquí lies along Panama's Pacific coast, extending from the Costa Rican border to the west and to the Azuero Peninsula on the east. This region is home to the largest coral reefs off Panama's Pacific coast, beautiful beaches and two vast, protected marine parks. Teeming with exceptional sea life, thousands of species of wild fauna and flora and a little-touched, Jurassic Park-style setting, this is one of Central America's best-kept secrets, far less explored than its Caribbean cousin. The 20 miles between Islas Secas and the coast of mainland Panama allow endless opportunities to explore the vibrant waters of the Gulf, creating an untouched 'marine playground' for guests. For the eco-conscious traveller, Islas Secas impresses with strong sustainability credentials: in harmony with its surrounding environment, it is considered an environmentally preserved protected area under Panamanian law. Sustainability efforts include 100% of energy consumption on island powered by a 300-meter solar array; 100% of guests' water use captured and reclaimed through a filtration system to provide surface irrigation and reduce impact on groundwater supply;and 100% of food scraps dehydrated and used for composting as fertilizer. The resort has also removed invasive species and planted thousands of native Panamanian trees to help restore the natural infrastructure and integrity of the islands. Protecting Panama's precious natural heritage is a driving force at Islas Secas, and the resort has expanded that ethos to support local community projects in the Chiriquí region. The privately funded Islas Secas Foundation partners with conservation organizations, including Panama Audubon Society, MarViva, and Panacetacea to support efforts from mangrove restoration to marine area protection as well as environmental education in Chiriqui.
HOW: Rates at Islas Secas start from $2,500 per night (currently approx. £2,019) on an all-inclusive basis, including all F&B, one spa treatment per guest/per stay, and a variety of activities on and off-island. For more information, please visit islassecas.com
***
For more information please contact [email protected]