TWIN THE BEST OF TOWN & COUNTRY, WITH A STAY ON PARIS'S GLITTERING LEFT BANK AT HOTEL LUTETIA, FOLLOWED BY A VISIT TO THE SPARKLING VINEYARDS OF ÉPERNAY STAYING AT ROYAL CHAMPAGNE HOTEL & SPA
October 28th
France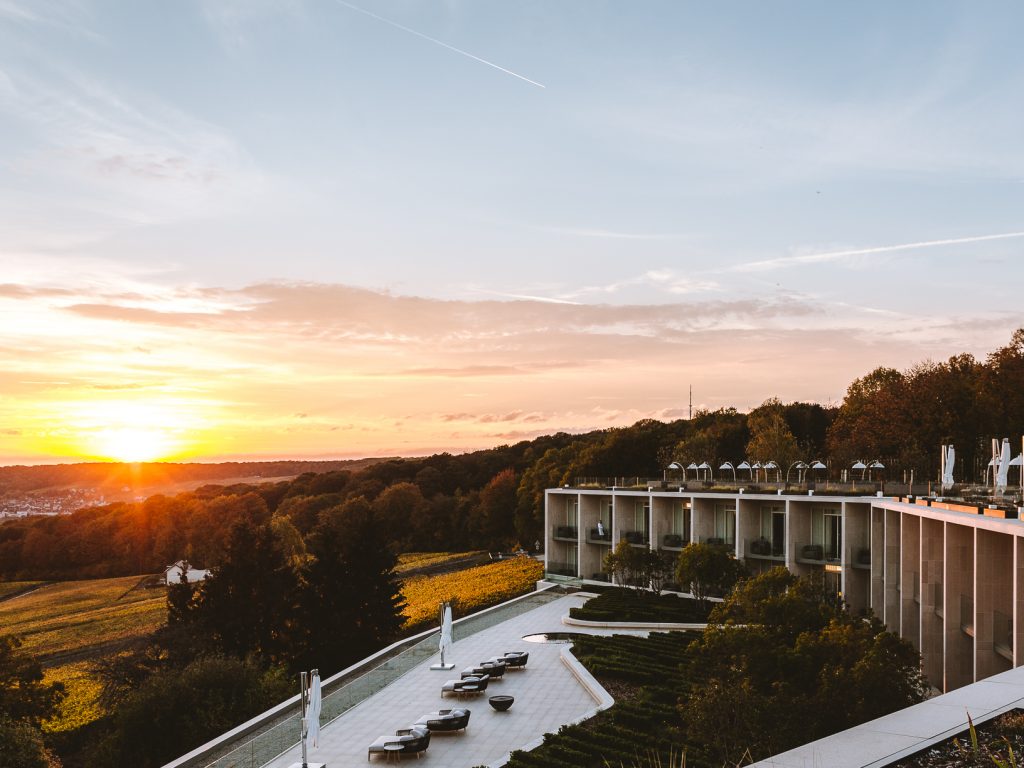 Royal Champagne Hotel & Spa has launched the ultimate twin-centre package for French aficionados, combining a two-night stay at the chic Hotel Lutetia on Paris' glittering Left Bank, with a further two nights amongst the Champagne vineyards of Épernay.
Located at 45 Boulevard Raspail in the Saint-Germain-des-Pres area, Hôtel Lutetia is one of the most luxurious hotels on the city's  Left Bank. Known for its jazz music scene and historic string of writers, artists and philosophers, the Left Bank is where it is said that Paris "learned to think," and the hotel's location offers the perfect base from which to explore the world-famous bookstores, cafés and jazz bars that the area has to offer. Included in the package is a 30-minute spa treatment at the property's decadent wellness centre, Akasha Paris. This candle-lit oasis in the heart of the city offers some of the finest beauty treatments, healing therapies and fitness training in Paris.
Following a busy couple of days exploring the bustling City of Lights, it's off to Royal Champagne Hotel & Spa for a further two nights, and a relaxing countryside escape. Boasting an enviable location overlooking the striped hills of Épernay, the capital of Champagne, and close to the historic city of Reims, the hotel provides visitors with truly spectacular views of the surrounding UNESCO World Heritage Site. As part of this twinned experience, oenophiles can enjoy a cellar visit and tasting session at one of the region's finest Champagne houses, Leclerc Briant – a pioneer in organic and biodynamic viticulture, working in harmony with nature to produce some of the region's most exciting wines. For the more active, there is complimentary access to the hotel's e-bikes, providing the perfect way to explore all that the historic region has to offer. After working up an appetite, visitors have the option of enjoying mouth-watering cuisine at one of the region's most celebrated culinary addresses, Michelin-starred Le Royal, or for a more casual affair, a table on the panoramic terrace at Le Bellevue restaurant hits the spot.
Royal Champagne recently unveiled a brand-new heli-surface, meaning that guests can travel between both properties in ultimate style and make an entrance right on the vines.  Royal Champagne's preferred helicopter partner is Helifirst, but the hotel can also accommodate private helicopter landings or alternative helicopter services of guests' choosing. To book, guests need only call the hotel Concierge who will make all the necessary travel and landing arrangements.
HOW: Rates for this package start from €1,978 (approx. £1,787) for a total of four nights for two people at both hotels. Valid until 31 March 2021. royalchampagne.com/en – www.hotellutetia.com