HOTEL ESENCIA LAUNCHES THE ESENCIA MANSION THIS AUTUMN
September 1st
MEXICO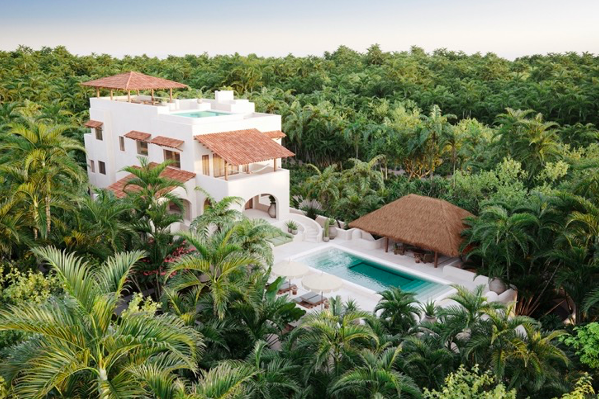 – Led by visionary owner, Kevin Wendle, Hotel Esencia's expertly design-minded team continues its extensive investment and meticulous enhancements at the property, constantly innovating year on year and building on its reputation as the best-loved hotel on Mexico's Caribbean coast
– The brand-new ESENCIA MANSION is Wendle's labour of love and his new home on the Esencia estate; a culmination of his many years of property restoration and interior design work on homes all over the world, following a successful career in Hollywood and Silicon Valley
– The Esencia Mansion will be the ultimate tropical sanctuary with ultra-luxe amenities, filled with Wendle's own outstanding personal art collection. It will comprise four spacious en-suite bedrooms, that are interconnected yet with their own separate entrances for maximum privacy – an ideal design for a retreat with families or friends – fitness studio, three pools, entertaining terrace, exclusive screening room for up to 20, and even a showstopping underground speakeasy bar (with a secret entrance from the jungle, no less)
Located on the pristine, powder-soft sands of the Riviera Maya, protected by wild, lush jungle on Mexico's Caribbean coast, is Hotel Esencia – a natural haven and truly unique home in the tropics. Originally built as the remote hideaway house of an Italian duchess on a private 50-acre estate, the boutique hotel is today under the ownership of innovative American entrepreneur and design visionnaire, Kevin Wendle and, in September 2022, will unveil the latest in its exciting expansion plans: the majestic Esencia Mansion.
A MEETING OF CREATIVE MINDS
Wendle's vision-become-reality, brought to life alongside the hotel's in-house design team, and long-time friend and creative collaborator, New York-based Giancarlo Valle – who, in addition to Hotel Esencia, has worked with Wendle on the design for his personal residential projects in New York and Rhode Island – has resulted in what will be one of the grandest private residences on the Riviera Maya. The new 12,000ft2, four-bedroom home is Wendle's sanctuary imprinted with his creative personality, designed to be shrouded by nature, providing ultimate privacy and seclusion. It is positioned in an idyllic location on the estate, mere moments from the paradisiac Xpu Ha beach and Hotel Esencia's world-class restaurants, spa, and gym. A brand-new helicopter landing pad and a sheltered tennis court are just a few further steps. Sleeping up to eight guests, the Esencia Mansion features stylish, extremely spacious suites, with en-suite bathrooms, double sinks, and walk-in wardrobes. The master suite epitomises authentic, laidback, chic living with a light-drenched bedroom connected to a grand master bathroom including a shower room and state-of-the-art bathtub, double basins, and an indoor/outdoor pool. There is also an adjacent office that opens out onto an inviting terrace with ample seating, a hammock for afternoon siestas, and a direct view over the tempting main pool area below. Three further en-suite jungle suites are generous spaces complete with peaceful outdoor terraces and a studio lounge ideal for reading or relaxing.
FOR THE ART-LOVING HOST
The Esencia Mansion will become a second 'Main House' to the existing Hotel Esencia, perpetuating Wendle's passion for art, interiors, and his own legacy in this new era for the property. As with the Main House, it will house Wendle's personal works of art and decorative objets from his impressive collection, in addition to bespoke creations made exclusively for the Mansion by loyal Hotel Esencia guest and artist, Marcel Dzama. Dzama fashioned handmade, personalised ceramic tiles with custom drawings of animals found on the Esencia estate, that will be used in the main pool – lined on one side by comfortable sun beds and stylish umbrellas, and on the other, by a thatched, authentic Mexican palapa for shaded lounging – as well as in bathrooms and the speakeasy bar. Born out of Wendle's passion for hosting friends and loved ones at his homes all over the world, the Esencia Mansion offers ample common spaces to encourage convivial hosting, as comfort is married to chic, minimalist design throughout. The luxurious eat-in kitchen features modern appliances where guests – or a private chef – can curate delectable bespoke menus for a group, while the family kitchen is ideal for pre-dinner entertaining and connects to a breakfast terrace with beautiful views of the surrounding flora and fauna. The main living room is the heart of the home, with a wet bar to prepare aperitivos, and an intimate lounge with oversized windows with views of the tropics. The top level of the Esencia Mansion's towering rooftop terrace offers glorious 360° views of the ocean and lush jungle canopy, an expansive plunge pool, a covered terrace perfect for entertaining up to 20, and sun loungers to while away the hours until dusk. Guests are truly amongst the tree-tops and fully immersed in nature with the greatest vantage point for heavenly sunrises, sunsets, and magical starry nights.
THE PERFECT BALANCE OF HEALTH & HEDONISM
For the wellness conscious, the Esencia Mansion includes an indoor fitness studio featuring innovative, high-tech equipment including the virtual on-demand personal trainer, The Mirror, an elite Woodway treadmill, and award-winning Pent Fitness weight sets. Perhaps the most impressive of all however, is the hidden screening room with comfortable seating for up to 20, featuring the latest technology for a captivating cinematic experience, or for one-of-its-kind, after-hours entertainment, guests in residence have exclusive access to a fully stocked, underground speakeasy bar with its own secret jungle entrance, which even includes a DJ booth staffed on request. The Esencia Mansion perfectly exemplifies Hotel Esencia's ethos of combining the very best in luxury living with contemporary design and exceptional standards of service. Meticulously curated spaces, furniture and artwork are paired with Hotel Esencia's signature amenities, further enhancing the finest luxury boutique hotel on the Riviera Maya.
TAKE TO THE SKIES
In time for the unveiling of the Esencia Mansion, Hotel Esencia will offer guests private helicopter services and airport transfers, landing right on the property's own helipad. There will also be several options for private tours around the surrounding must-see sights of the region, with both a "fly-by" option and full guided day tours, including to Chichén Itzá, the Tulum Ruins and Coba, Bacalar, Cozumel, and Merida – or even all the way to Isla Mujeres or Holbox, upon request. All helicopter trips and tours are personally curated and can be fully personalised, beyond anything else currently offered on the Riviera Maya.
Located just 50 minutes from Cancun and 30 from Tulum, Hotel Esencia is full of character, charm, and heritage. Rates in the new Esencia Mansion will start from USD $11,000 per night, + taxes & services. Rate includes:
-Round-trip private airport transportation
-24/7 Personal Concierge
-Access to private cinema & private speakeasy
-In-villa dining breakfast daily
-Resident chef
Global Press Contact:
Perowne International
E. [email protected]
T. +1 (786) 622-1959 (US) // +44 (0)20 7078 0295 (UK & EU)