SOMETHING SPECIAL IS COMING TO SOUTHERN FRENCH HEARTLAND THIS SPRING…
April 12th
FRANCE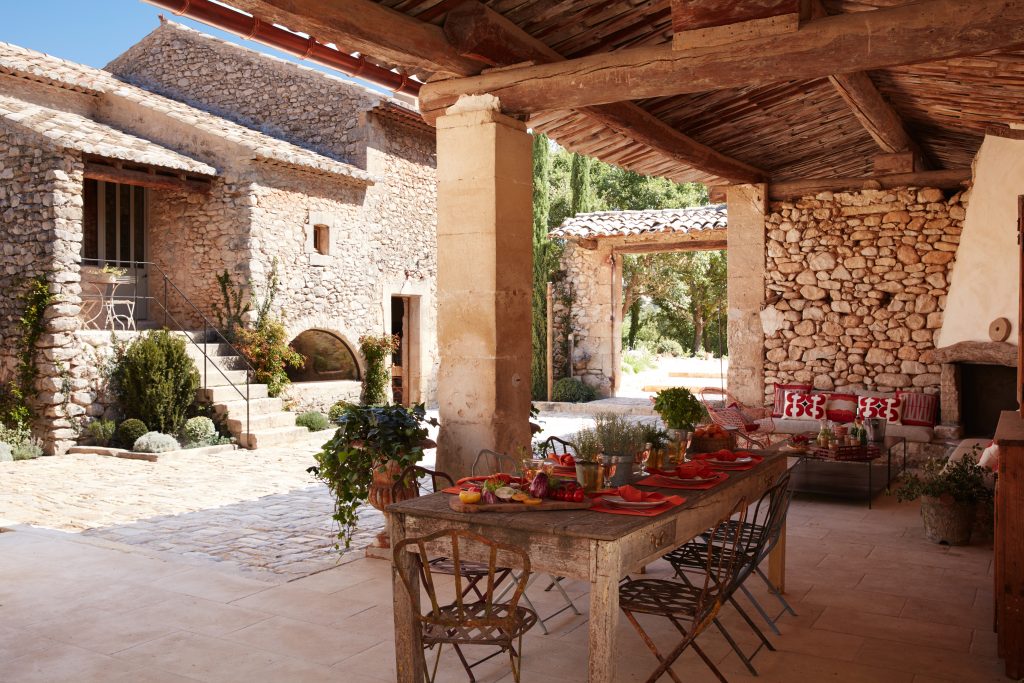 To celebrate 20 years since purchasing their Provence estate, the Sibuet family is throwing open the doors to a centuries-old farmhouse, Le Mas Vermentino, to buyout guests for the very first time this Spring. Set within a magical cedar forest of Domaine de Marie in Ménerbes, surrounded by vines, olive trees and truffle oaks, the rustic and elegant detached six-bedroom property will be available for up to 12 to hire as a secluded exclusive use hideaway. Le Mas joins the well-loved 14-room La Bastide de Marie, and five-room Villa Grenache already on the estate, and boasts breathtakingly beautiful views of both the Luberon Regional National Park and the historic Abbey of Saint-Hilaire.
Visitors can spend long, leisurely days lapping the heated outdoor swimming pool surrounded by the scent of bougainvillea; picking figs and herbs in the enchanting parish priest's garden; listening to cicadas singing while dining al fresco in front of a cosy outdoor fireplace; or exploring the local area, made up of a mosaic of vineyards, lavender fields and quaint villages spread out across the hilltops. The best place for morning sun is the bench in the courtyard, listening to the fountain's soothing trickle while the scent of lavender, rose and jasmine fills the air, or playing a game of petanque – a ball game loved across France, but revered in Provence – on a court surrounded by hundred-year-old olive trees.
For preparing delicious French dishes with added southern flavour, the farmhouse also features two kitchens – one fully equipped inside, and another outside, complete with a barbecue – in addition to a wine cellar and a dining room perfect for unforgettable meals with friends and family. Chefs can be called upon to help organise meals, plus delectable picnic baskets which are best enjoyed in the sunshine. Visitors in residence can then perch at the stone table in the heart of the property to dine, where there is almost 10 acres of garrigue – the fragrant and colourful shrubbery native to Mediterranean regions.
Le Mas has been renovated in Jocelyne Sibuet's inimitable signature style, matching the elegant, authentic and refined aesthetic synonymous with the Maisons et Hôtels Sibuet properties. Provençal charm – one enters the villa through the dining room, as is custom in old Luberonian farmhouses – is balanced with a chic, contemporary flair. Perpetuating the tradition of complementing the unique atmosphere of each Sibuet property to its environment, Jocelyne has hand-picked exquisite antiques, that sit alongside stone walls and terracotta tiles blended seamlessly with soft, warm colours and pretty fabrics to create an authentic, exclusive and intimate feel throughout.
Nearby, guests can truly immerse themselves in all that La Bastide de Marie has to offer as they have access to its two swimming pools, the renowned Pure Altitude Spa, and can also enjoy a guided tour of the Domaine de Marie vineyard and wine cellar. With 90,000 bottles of red, white and rosé produced each year from 11 grape varieties on the estate – including Grenache, Syrah, Roussanne, Vermantino, Cinsault and Mourvedre – it is an activity sure to delight wine lovers. As for what lies outside of Le Mas, visitors can meander between the picturesque villages of Provence and discover the beautiful Luberon Regional Nature Park. Le Mas offers a truly charming villa stay – perfect for a multi-generational family escape or groups of friends this summer.
***
Rates at Le Mas will start from €7,700 (currently approx. £6,422) for a seven-night stay including housekeeping services, breakfast and afternoon tea, concierge services, access to the Pure Altitude Spa and a guided visit to the wine cellar at the Domaine de Marie. For more information, visit en.labastidedemarie.com/villa/le-mas
About Maisons et Hôtels Sibuet
Maisons et Hôtels Sibuet is a hotel group comprising a unique collection of hotels, villas and chalets. The French family-owned business acquired its first property in 1981 when Jocelyne and Jean-Luis Sibuet set up a small boutique hotel in Megève. 10 more properties followed across France between 1989 and 2017 including the iconic Les Fermes de Marie, also in Megève, and the Villa Marie in breathtaking Saint-Tropez on the French Riviera. The Sibuets were joined by their children, Marie and Nicolas, in 2011, and in December 2016 the family launched the Villa Marie in Saint-Barth, a French overseas collective in the Caribbean. Forerunners in the art of mountain living, each Sibuet property tells a story – sharing with guests the beauty and simplicity of authenticity in order to bring unforgettable new experiences into the now. Maisons et Hôtels Sibuet's renowned Pure Altitude Spa can also be found in each of its hotels. Le Mas Vermentino will be the latest launch for the hotel group.
About the Bastide de Marie estate
The Bastide de Marie estate in Ménerbes, is owned by Maisons et Hôtels Sibuet. It comprises a 14-room 18th century country farmhouse, La Bastide de Marie, restored in the tradition of a Provençal bastide, and the five-room Villa Grenache. Both properties are set in the 57-acre Domaine de Marie, the vineyard owned by the Sibuet family, and have an authentic, relaxed atmosphere as chic as it is rustic.
For any press enquiries, please contact Perowne International:
[email protected]