PEROWNE INTERNATIONAL IS NOW REPRESENTING THE RED CARNATION HOTEL COLLECTION
September 18th
INTERNATIONAL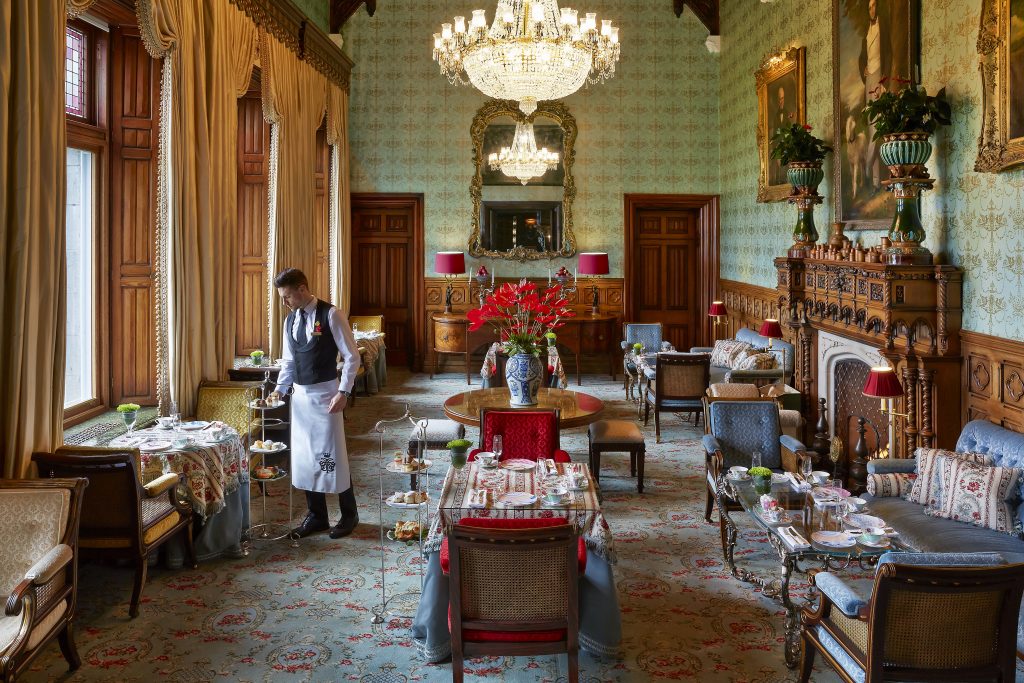 Perowne International is thrilled to be appointed by The Red Carnation Hotel Collection to represent the group across the UK and Europe. Comprising of 20 individually unique hotels in the UK, Ireland, Channel Islands, USA, Switzerland and Africa, each hotel is a landmark of history and tradition; from the magnificent Ashford Castle in Ireland, to The Milestone Hotel and Residences in London, an historic mansion hotel opposite Kensington Palace, and the truly iconic Oyster Box in South Africa. Perowne International will provide strategic communications for the brand and its 20 hotels, executing brand campaigns, hotel programmes and strategic partnerships to build awareness and drive consideration with consumers in the UK and Europe.
The story began in 1952, when Beatrice caught the eye of a distinguished hotelier named Stanley, who was known for wearing a red carnation in his lapel. They shared their first dinner together at the famous Oyster Box Hotel, where Bea tried an oyster for the first time. They were to be married two years later with Stanley promising to one day buy the hotel for his new wife, and in 2006, he did just that. The Oyster Box was the first hotel in what was to become a collection built on Mrs Tollman's vision for service excellence and a passion for generous hospitality.  Today, The Oyster Box is recognised as the very best hotel in Africa and the love story is still at the heart of Red Carnation Hotels' ever-growing collection of hotels across the world.
Beatrice lovingly named the collection after the signature flower her husband always wears, and this symbol of hospitality is also worn by every member of the team. From the chefs and sommeliers to reception staff and concierge, each team member exudes passion and enthusiasm to support the philosophy: "no request is too large, no detail too small". The individual hotels are unique and characterful, whilst sharing the founding values that define the family-owned and run business. The Red Carnation Collection is a family business in the truest sense. Today, Beatrice Tollman continues to uphold her title as President and Founder, daughter Vicki Tollman is Executive Director, and oversees Sales, Marketing and PR, as well as their internationally acclaimed vineyard Bouchard Finlayson, and works alongside her sister Toni Tollman who is the Director of design and projects for Red Carnation Hotels. Red Carnation Hotels is one of the TTC Family of Brands, led by CEO Brett Tollman.
UK
The Milestone Hotel & Residences: This elegant, Forbes five-star historic hotel is perfectly located opposite Kensington Palace and Gardens, and close to the Royal Albert Hall. A member of The Leading Hotels of the World, the property offers some of the most exquisite individually designed signature suites in London. Discover Stable's Bar and the 'Smoking Old Fashioned', afternoon tea in the Park Lounge or dine in Cheneston's or The Oratory, the original chapel. Two and three-bedroom private residences offer an exceptional home from home address in the heart of London
Hotel 41: An exquisite hidden gem overlooking the Royal Mews at Buckingham Palace and minutes from Victoria Station, voted number one hotel in the UK by TripAdvisor with a prestigious Forbes five-star rating
The Rubens at the Palace: An historic five-star hotel overlooking the Royal Mews of Buckingham Palace, famed for its rich heritage and fine British hospitality, with restaurants including The English Grill and Bbar
The Egerton House Hotel: A boutique townhouse and Forbes five-star hotel situated in the heart of Knightsbridge, on a quiet street overlooking private gardens and just moments from Harrods and the V&A Museum, renowned for serving one of the best Martinis in London
The Chesterfield Mayfair: Ideally located just minutes from Bond Street, Piccadilly and the Royal Parks, The Chesterfield Mayfair is renowned for the best Dover sole in London, themed afternoon teas, molecular cocktails and gin tasting experiences
The Montague on the Gardens: A Georgian townhouse full of English charm, located in literary Bloomsbury, just steps from the British Museum. The hotel is famous for al-fresco dining and pop-ups, including an alpine themed Ski Lodge in winter and a Hawaiian Beach Bar in the summer
Summer Lodge Country House Hotel & Restaurant & The Acorn Inn, Dorset: Set within Hardy's enchanting village of Evershot and surrounded by rolling hills, this Relais & Châteaux country house hotel offers an idyllic escape in rural Dorset. The accompanying gastro-pub, The Acorn Inn, dates back to the 16th-century
The Old Government House, Guernsey: The only five-star hotel on Guernsey, this historic property with panoramic sea views sits proudly on the hill in the heart of St Peter Port, just minutes from the quayside
The Duke of Richmond Hotel, Guernsey: Located in the heart of St Peter Port and an easy stroll to the harbour, this luxurious hotel overlooks a quiet park with magnificent views across the sea
100 Princes Street, Edinburgh: Opening in 2021, this will be Red Carnation's first hotel opening in Scotland. Red Carnation plans to respectfully renovate 100 Princes Street, looking up at Edinburgh Castle, transforming it into a highly exclusive retreat on Edinburgh's most famous street
IRELAND
Ashford Castle, County Mayo: This remarkable 800-year-old castle is a National Geographic Unique Lodge of the World, Ireland's first Forbes five-star and former home of the Guinness family. Generations of the de Burgo, Bingham, Browne and Guinness families have created one of the finest sporting estates in all of Ireland, if not the world – which is proudly continued to this day, and is a member of The Leading Hotels of the World. The expansive 350-acre Ashford Estate lends itself perfectly to a range of activities, from country classic pastimes such as horse riding, fishing, falconry and shooting, to more modern activities such as golf, cycling and kayaking. Guests experience the finest Irish hospitality, with exceptional Irish cuisine created by renowned executive chef  Philippe Farineau and his team
The Lodge at Ashford Castle, County Mayo: Overlooking the magical Lough Corrib, The Lodge offers country house charm, fine dining in Wilde's Restaurant, an unrivalled range of estate activities and is renowned for weddings
Hatch Hall, Dublin: A former Victorian university residence hall on Hatch Street, Dublin, will be transformed by Red Carnation Hotels into a boutique hotel in 2022
EUROPE
Hotel d'Angleterre, Geneva: Elegantly poised at the edge of Lake Leman with magnificent views of the famous Jet d'Eau and Mont Blanc, this beautiful boutique hotel showcases British charm with the finest Swiss hospitality. Windows Restaurant offers panoramic views of the Lake and Mont Blanc, whilst The Leopard Bar is the perfect place to unwind with a prestigious wine list, creative cocktails and an extensive whisky menu featuring over 50 pure malt and blended options. Hotel d'Angleterre is a member of The Leading Hotels of the World
AFRICA
Xigera Safari Lodge, Botswana – Opening in December 2020, Xigera Safari Lodge is the Tollman family's love letter to the magic of the African bush. It has been the culmination of a lifelong dream of the family, which draws on six decades of devotion to unparalleled luxury in service to their guests. Led by Mike and Marian Myers, Xigera will house the largest collection of African design in the world with bespoke, commissioned pieces by 76 of the continent's leading artists and designers. With just 12 suites, this kind of unique luxury will be an entirely new experience of the African bush
The Oyster Box, South Africa: South Africa's most cherished hotel, standing majestically on Umhlanga's beachfront just 15 minutes from Durban airport, overlooking the Indian Ocean and the iconic lighthouse. The Oyster Box's renowned Curry Buffet offers an impressive selection of delicious dishes from all over the world and is served daily along with the sumptuous afternoon tea showcased in The Palm Court. A member of The Leading Hotels of the World and consistently awarded Best Hotel in South Africa by TripAdvisor
The Twelve Apostles Hotel & Spa, South Africa: Dramatically located above the Atlantic Ocean, flanked by the majestic Twelve Apostles and Table Mountain, this award-winning hotel is one of the best destination hotels in Cape Town and the ideal spot to enjoy mountain walks and picnics at the foot of this world famous natural landmark. Enjoy a cocktail on the terrace and soak up the sunset. The Twelve Apostles is a member of the The Leading Hotels of the World
Bushmans Kloof Wilderness Reserve and Wellness Retreat, South Africa: Nestled in the foothills of the Cederberg Mountains on South Africa's dramatic lesser-known west coast, this ecological oasis and Relais & Châteaux property is a magical wilderness retreat among open plains, sandstone formations and ancient bush art sites dating back 10,000 years. Guests can discover ancient African culture, dramatic landscapes and outstanding nature experiences
USA
The Chesterfield Palm Beach, Florida: Surrounded by palm-lined boulevards, this historic hotel is just moments from Worth Avenue and white sandy beaches. The hotel's famous Leopard Lounge Bar is the hottest night spot in Palm Beach, with live music every day and mixologists creating enticing cocktails