OKU IBIZA - NOW OPEN
Award-winning minimalist design, inspired by the Japanese philosophy of wabi-sabi, champions the use of earthy tones and natural materials. Home to one of Ibiza's largest swimming pools (one of four), an intimate spa, a 140m2 signature suite, private 4-bedroom villa with pool and the destination dining OKU Restaurant. The most coveted new opening on the White Isle, OKU Ibiza is the island's ultimate destination to reconnect and embrace barefoot living.
June 4th
Ibiza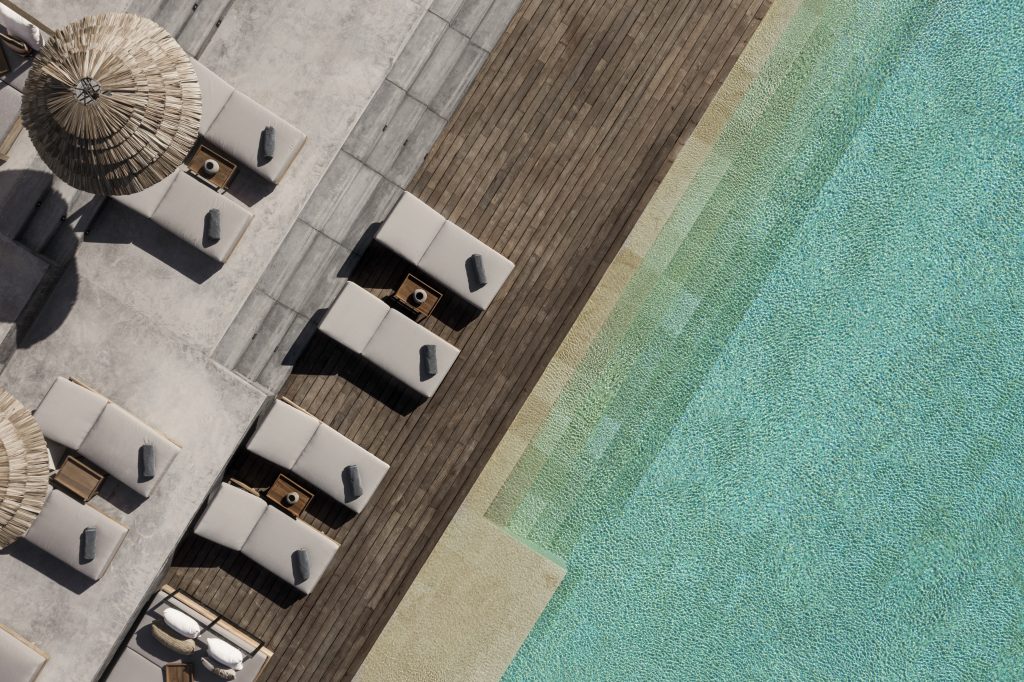 Brand new lifestyle brand, OKU Hotels, launched its collection of soulful five-star hideaways with the opening of OKU Ibiza on 28th May 2021. Located on the fringe of Cala Gració bay and nestled in lush hills, OKU Ibiza is home to one of the island's largest pools – one of four swimming pools at the property. With a focus on slower living and enriching experiences for the curious traveller, the hotel comprises 185 boho-chic guestrooms and suites, and a standalone four-bedroom villa with private pool, two hotel pools (and a further semi-private pool serving the six swim-up rooms), two restaurants and an intimate spa.
Derived from the Japanese spiritual and architectural concept meaning "inner space", OKU prides itself on offering understated luxury in destinations that captivate, with wellbeing practices that revive, and dining and music experiences that awaken the senses. The debut of OKU Ibiza joined OKU Kos, which soft-launched for a short season this year and is now full operational.
STRIKING ARCHITECTURE AND THOUGHTFUL DESIGN
The looks and feel of OKU Ibiza has been thoughtfully designed by OKU's in-house design team, who have taken inspiration from the location to reflection the simplicity or beach life and invite barefoot living. Principals of 'OKU' are brought to life through meaningful use of space, whilst making the most of natural light and shadows. The team drew inspiration from the Japanese Wabi Sabi philosophy which champions the connection to earth and using natural materials.
The brand's considered natural design ethos has been applied to architecture by award-winning father and son duo of MG&AG, who have worked on over 60 residential and hospitality projects worldwide. OKU Ibiza showcases the work of rising modern artists including bespoke commissions by LA-based painter and sculptor Steve Tepas. Whether staying in one of the swim-up pool guest rooms, ocean-view penthouses, the epic OKU Signature Suite or the four-bedroom villa, meticulous care has been taken to ensure guests will feel relaxed and at home at this Balearic island retreat
THE OKU WAY OF LIFE
OKU Ibiza prides itself on offering an alternative way to experience the famed party island of the Balearics. Encouraging a slower pace of life, guests are invited to take time out to focus on themselves.
Guests can enjoy daily complimentary yoga in the rooftop yoga shala. A serene spa, with five treatment rooms offers a thoughtfully curated menu of treatments blending ancient traditions with modern advances using all-natural products. The hotel also has a fitness studio with state-of-the-art equipment by NOHrD & Casall and with personal trainers on hand for those seeking a more dedicated personalised programme.
Alongside a focus on R&R, the weekly brunch is something not to be missed. A rotating programme of some of the island's best DJs and live music performing every Sunday as guests enjoy an all-day brunch by the main pool, served with fresh juices and delicious cocktails.
Whilst guests are unlikely to want to tear themselves away from the relaxed sanctuary of OKU Ibiza, there are beautiful cliffside coastal walks with stunning views right on its doorstep. The guest experience team can also organise an array of activities such as private boat trips to Formentera and nearby islands, Kayaking by sunset and guided walks through Ibiza's breath-taking terrain.
DESTINATION DINING
There are two main restaurants at OKU Ibiza: destination dining at the OKU Restaurant and the poolside To Kima for relaxed fare. Both menus have been curated and overseen by Executive Chef Mark Vaessen, formerly from SUSHISAMBA. Renowned for his mastery of fusion Japanese cuisine, Vaessen has crafted innovative menus that take guests on a mouth-watering culinary journey, using the freshest seasonal ingredients.
Guests can expect a more refined affair at the OKU Restaurant, which is open for dinner and serving adventurous international fusion cuisine with a strong Asian influence. From Asian-inspired tapas to grilled meats and fish, as well as a raw menu of Asian delicacies, sashimi and nigiri and extensive vegetarian and vegan options, there is something for everyone.
The impressive bar is located adjacent to the restaurant, alongside the hotel's remarkable 50m pool, and serves refreshing signature cocktails all day. It is also the perfect place for an aperitif or post-dinner night cap accompanied by DJ beats 'til late. For a more laidback setting, head to To Kima, which serves breakfast followed by an all-day lunch menu. Here, Mediterranean cuisine takes centre stage in various forms, from sharing style platters and light bites to a la carte and poolside snacks. There is also a healthy juice bar at the end of the main pool where guests can enjoy fresh-pressed juices and smoothies throughout the day.
HOW: Rates at OKU Ibiza start from €360 (approx. £312) per night on a B&B basis. www.okuhotels.com