JUMBY BAY ISLAND UNVEILS BRAND-NEW OCEAN VIEW SUITES
December 1st
ANTIGUA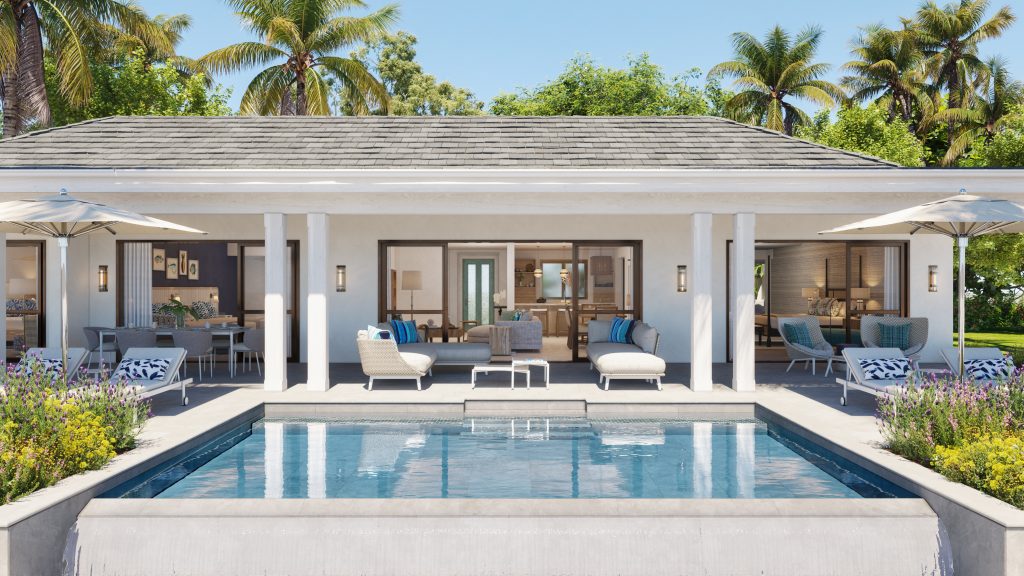 Set in one of the most beautiful, untouched locations in the world, Jumby Bay Island is a 300-acre tropical oasis of simple pleasures in the Caribbean nation of Antigua and Barbuda. Ringed with coral reefs and reachable only by boat, with not a car in sight, the private isle comprises stunning, white-powdered beaches and countless winding bicycle paths to create a one-of-a-kind hideaway known, quite simply, as the finest resort in the Caribbean. Part of the prestigious Oetker Collection, Jumby Bay Island has just unveiled the latest in its cast of nautical-inspired and beautifully appointed suites – 12 brand-new Ocean View Suites.
ISLAND-FRESH DESIGN
Combining the styles of both contemporary and traditional beach houses, the new suites feature lofty ceilings, wide verandas, and open air bathrooms – perfectly encapsulating the indoor/outdoor lifestyle that is so integral to the Jumby Bay Island experience. The fresh colour palette is inspired by a combination of the island's woody palm trees, soft milk-white sand, and a spectrum of ocean blues and greens, with natural materials, woven textures, and local botanical influences incorporated throughout. The walls feature a neutral textured palm wallcovering, accented by bold tropical artwork featuring local artist, Jan Farara.  Softer hues of mint and aqua lay the foundation for highlight jewel tones of navy and emerald peppered in the art and fabric selections, that are paired with sculptured, angled-leg styles on prominent furniture pieces to add grounded depth to the breezy suites.  Studio IDC wanted to create a seating and dining area that did not feel traditional, so there is a custom rattan banquette for a family dinner or night of board games with friends, with the space further highlighted by a framed wallcovering.  Entertaining spaces are appointed with all family conveniences, with large under-counter refrigeration, drawer microwaves, counter stools for dining, and all the comforts for an early breakfast with the children, as well as a well-equipped kitchen where a private chef can be called upon to whip up delectable meals.  Outside, there is lounge seating and a dining area with chaise lounges and sun umbrellas, from where sunseekers can while away the hours watching white sails slowly drifting across the horizon in the distance.  Each suite truly invites nature in and is ideal for relaxing under the Caribbean skies that melt into magical sunsets in the part-open-air living space.
A SERENE NIGHT'S SLEEP
The new high-spec suites were intentionally created to be adapted to families and groups of differing sizes.  Two-bedroom Family Suites – complete with their own private pools – feature one master King bedroom and a second bedroom with two Queen beds, accented by a cobalt blue wall, curated tropical art, and a nautically inspired playful headboard.  A Junior Suite can be occupied independently or adjoined to a Family Suite as a third bedroom, providing flexibility for families or groups.  Junior Suites also come complete with a hospitality bar and a delicate, yet comfortable settee for dining or light work with a tea-height table.  A Jumby Bay signature is that each suite features its own al fresco bathtub and garden shower to create a spa-like atmosphere.  Showers have a custom tile pattern in an ombré of the ocean-blue colour palette, to create flow throughout the entire space.  The standout tile draws the eye through the suite and into the outdoor bathing Eden, while the indoor bathroom also has large vanities and rain head showers.  Just steps from the island's pristine private beaches, the new Junior Suites and Family Suites offer uninterrupted views of the Caribbean Sea.  For those with a taste for adventure, they are located just a five-minute stroll from the nearby Jumby Bay Watersports Centre, where a host of water-based activities are waiting to be enjoyed such as paddleboarding, windsurfing, and sailing, to name a few.
Will Oakley, recently appointed Managing Director of Jumby Bay Island, comments: "I am personally delighted to have arrived on-island in time for the debut of our new Ocean View Suites this season. Each suite perfectly embodies both the beauty of our natural surroundings here at Jumby Bay, as well as the tradition of elegance and simple sophistication that is at the heart of a visit to the island. We can't wait to welcome our guests, old friends, and new faces to enjoy them."
***
Press Contacts:
Perowne International
UK – [email protected]
US – [email protected]
About Oetker Collection
Oetker Collection is an exceptional portfolio of Masterpiece Hotels and Villas in Europe, the UK, Brazil and the Caribbean. Located in the world's most desirable destinations, each property is a landmark and an icon of elegance, blending legendary hospitality with genuine family spirit that is unique to Oetker Collection. Carrying on a refined legacy in hosting that originated in 1872, the Collection's mission is to preserve and extend its unparalleled standards through acquisition and management of one-of-a-kind properties. The current portfolio includes Hotel du Cap-Eden- Roc in Antibes, Le Bristol Paris, Brenners Park-Hotel & Spa in Baden-Baden, Château Saint-Martin & Spa in Vence, The Lanesborough in London, L'Apogée Courchevel, Eden Rock-St Barths, Jumby Bay Island in Antigua, Palácio Tangará in São Paulo, The Woodward in Geneva, Hotel La Palma in Capri (Opening 2023), The Vineta Hotel in Palm Beach (Opening late 2023), and more than 150 private villas around the globe.