IT'S NOT TOO LATE TO ENJOY A LATE SUMMER JAUNT TO ITALY...
Journey from Italy's spectacular coast to countryside with a new exclusive driving itinerary to experience iconic Italian produce - from Tuscan wines to Amalfi lemons.
Stay at Monastero Santa Rosa, Amalfi Coast and Castello Di Vicarello, Tuscany.
August 31st
ITALY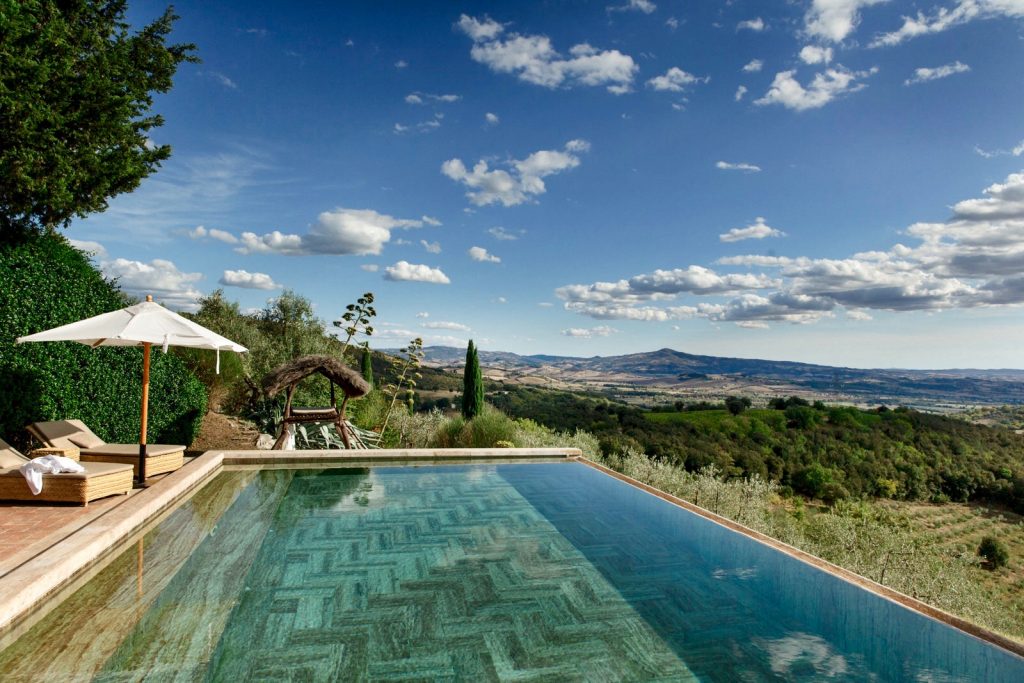 Double-vaccinated travellers from the UK can now visit Italy without the need to quarantine on arrival making it the perfect place for a late summer or early Autumn esacape. Promising consistent sunshine with pleasantly high temperatures even outside of peak summer months, Italy is an alluring option for culture seekers all year-round. Driving in a vintage Alfa Romeo Dutteo between two of Italy's most beautiful, family-owned boutique hotels, travellers will experience the harvests of the iconic regions, soaking up dramatic views from the sun-drenched coastlines of the Amalfi Coast to the rolling hills of the Tuscan countryside. The journey starts at Monastero Santa Rosa Hotel & Spa, a converted monastery, built into the side of a cliff on the iconic coastline and offering one of the most dramatic views in the world. This spectacular itinerary ends at the enchanting Castello di Vicarello, a restored 12th century castle overlooking the lesser-known region of Maremma in Tuscany.
Flying into Naples, spend three nights at the iconic 17th Century, Monastero Santa Rosa. This 20-bedroom boutique hotel comes complete with a famous infinity pool which 'floats' over the edge of a cliff and offers panoramic sea views. Here, visitors will enjoy the hotel's pristine and spacious grounds, which include the stunning landscaped gardens, historical herb garden and 12th century chapel. Italy boasts some of the world's finest cuisine, from seafood to fresh pasta and when guests aren't indulging with seasonal dishes at Michelin Star restaurant Il Refetorio, they can try their hand at creating local dishes during a private cooking class at a nearby lemon grove, included in the experience. Not only a prolific wine region known for its deliciously dry red wines, guests will also discover the 'alternative harvest' of the Amalfi lemons with a lemon experience at the grove. The Amalfi variety are the only lemons which hold a special IGP seal of approval – a legal certificate to cement their quality and link them to the place in which they are produced. Grown on cliff-side terraces and harvested by hand up until October, these vibrant fruits are one of the richest and largest citrus varieties and the harvest is a real highlight of the shoulder season.
The journey concludes with a three-night stay at the ultra-boutique Castello di Vicarello in Tuscany, a 12thcentury family-owned castle which has been lovingly restored into one of the finest hotels in Italy. The property is home to nine uniquely designed beautiful suites, two outdoor swimming pools, six hectares of organic vineyards and olive oil production as well as an open kitchen for authentic Italian dining. Owned by the Baccheschi Berti family, the estate captures the essence of contemporary luxury – an experience offering total seclusion and stylish accommodation together with exceptional home grown cuisine and authentic experiences. Whether dining alfresco under-the-stars on top of the castle or within the romantic glass verandah, just off the family kitchen, guests will experience authentic Italian hospitality at its very best. In addition, guests can take part in a wine tasting experience, led by the Baccheschi Berti family, or take to the olive grove and experience the joys of a traditional olive harvest, discovering the methods of olive-picking and sampling the freshly pressed organic oils. Visitors can also choose from a selection of bespoke tours by boat, horse or bike which take in medieval villages and major cities including Montalcino, Siena, Pienza and Castiglione della Pescaia, without the usual tourist crowds.
HOW: The exclusive Italy Driving Experience starts from €8,040 (approx. £6,859) and is based on two people sharing one room for three nights at Monastero Santa Rosa on a B&B basis including Private Cooking Class and Lemon Experience. The price also includes a three-night stay at Castello di Vicarello on a B&B basis, including one wine tasting experience for two. A rental of Alfa Romeo Duetto is included for the duration of the trip (six days), for delivery at Naples Airport and collection at Florence Airport. Alternative cars available, cost advised upon request.