LONDON'S FINEST HEALTH, WELLNESS & LIFESTYLE MEMBERS' CLUB, THE LANESBOROUGH CLUB & SPA INTRODUCES BRAND-NEW RESIDENT SPA PARTNER – THE LUXURY AESTHETICS GROUP
May 31st
LONDON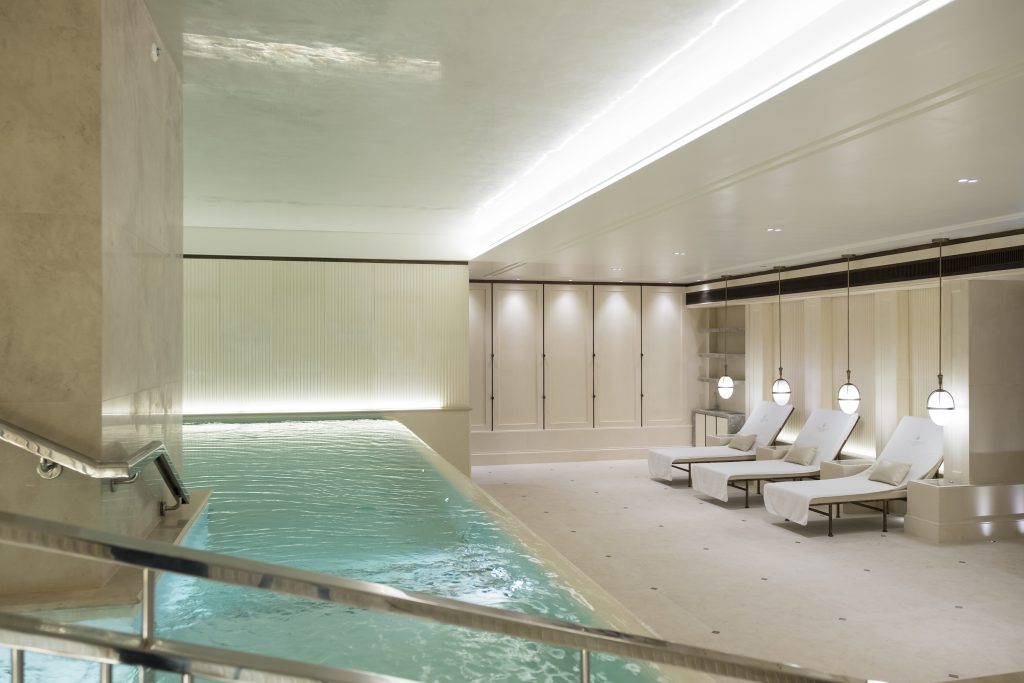 May 2022 – With its enviable location straddling prestigious Belgravia, Knightsbridge, and Mayfair, The Lanesborough Club & Spa is the lifestyle club for the modern Londoner, providing members' with a 'luxury club for life'. Offering a truly 360° approach to wellbeing, it prides itself on partnering with the world's leading brands and experts in the fields of health, fitness, and beauty, and is delighted to introduce a brand-new and exclusive partnership with The Luxury Aesthetics Group. Members, hotel guests, and day spa visitors will now be able to sample carefully curated facial treatments, with one designed solely for the hotel.
One will be able to choose from a number of deeply relaxing, cleansing, and revitalising HydraFacials, each utilising a unique, pain-free Vortex-Fusion delivery system that cleanses, exfoliates, and hydrates the skin. In consultation with expert therapists, and by tailoring each treatment to target individual skin concerns, the facials involve a six-step process applying 'super serums' filled with antioxidants, peptides, and hyaluronic acid, to give the skin a radiant glow. Created just for The Lanesborough Club & Spa, there will also be its very own bespoke 90-minute HydraFacial which, in addition to the signature six-step process, incorporates additional LED light therapy, electro muscular stimulation (EMS) technology, and a 24-carat gold mask. Set to be London's most unique HydraFacial experience, LED light therapy will be administered to target and reduce ageing and wrinkles, before a lymphatic drainage massage and EMS technology is used to firm, contour and lift the face, to deliver what many consider to be the most effective non-surgical facelift. The final step in the process is the luxury liquid 24-carat gold face mask, which has been proven to reduce inflammation and decrease cell degradation to leave the skin feeling youthful and rejuvenated. Spa-goers will also be able to experience skin peel treatments, designed to help create a smooth and radiant complexion with an even and balanced tone, as well as restorative procedures aimed at tightening and firming the skin with advanced micro-needling technology – a popular alternative to cosmetic surgery.
CEO of The Luxury Aesthetics Group and HydraFacial ambassador, Shireen Forster, comments: "The Luxury Aesthetics Group is delighted to partner with The Lanesborough to ensure one of the world's most exclusive hotels continues to offer its guests and members the most up-to-date and carefully curated facial treatments". Susan Morrissey, General Manager, The Lanesborough Club & Spa, adds: "We are delighted to welcome these advanced technologies to our offering at The Lanesborough Club & Spa. Our clients are increasingly seeking luxury, results-driven facials, and these impressive treatments enable us to provide them with just that. Each facial is tailored to suit individual skin concerns and needs, meaning guests will be able to see truly targeted results!"
Ahead of their treatment, guests can relax in the Club & Spa's various thermal suites and impressive hydrotherapy pool. Spanning an incredible 18,000ft² (1,672m²) and truly spectacular in design, The Lanesborough Club & Spa comprises four single treatment rooms, as well as a double treatment room which boasts a double shower and Rasul – an Arabian-inspired thermal cleansing ritual – a restaurant serving light, fresh cuisine, and multiple relaxation lounges.
The signature HydraFacial is priced at £275 and the SW Ultimate HydraFacial is priced at £475
 ***
For more information on The Lanesborough Club & Spa, visit www.lanesboroughclubandspa.com
 For press enquiries, please contact Perowne International:
UK: [email protected]
About The Lanesborough Club & Spa
The Lanesborough Club & Spa launched in March 2017, marking the next stage of the iconic Lanesborough Hotel's evolution following an acclaimed relaunch in July 2015.  The Club & Spa is one of London's most exclusive private members' fitness and health clubs, providing Belgravia with a luxury 'club for life' and offering a 360° approach to wellbeing for modern-day Londoners living and working in the local area.
About The Lanesborough
With its enviable location at the heart of London in prestigious Knightsbridge, and panoramic views of Hyde Park, The Lanesborough has long been considered one of the world's most luxurious hotels. The hotel's legacy lies with it having been built on the former home of Viscount Lanesborough and remains one of London's most revered Regency landmarks. The elegant surroundings, exquisite cuisine, unsurpassed attention to detail and world-renowned service is second to none. The Lanesborough captures the sense of a grand residence and offers 93 guest rooms, including 43 suites, and a personal butler service for all guests across all room categories.
About The Luxury Aesthetics Group
Founded in 2022, The Luxury Aesthetics Group is dedicated to delivering the highest quality of unique and bespoke aesthetic programmes to a collection of luxury hotels and beautiful spaces. Founder & CEO, Shireen Forster has been at the centre of the aesthetics industry for almost a decade and has developed a unique network and understanding of the industry, which has enabled the brand to deliver truly exceptional programmes to the highest standards.