THE MILESTONE HOTEL & RESIDENCES LAUNCHES BESPOKE SERVICES AND WORKSHOPS IN COLLABORATION WITH NEW RESIDENT ARTIST, SHELLEY LEVY
August 1st
LONDON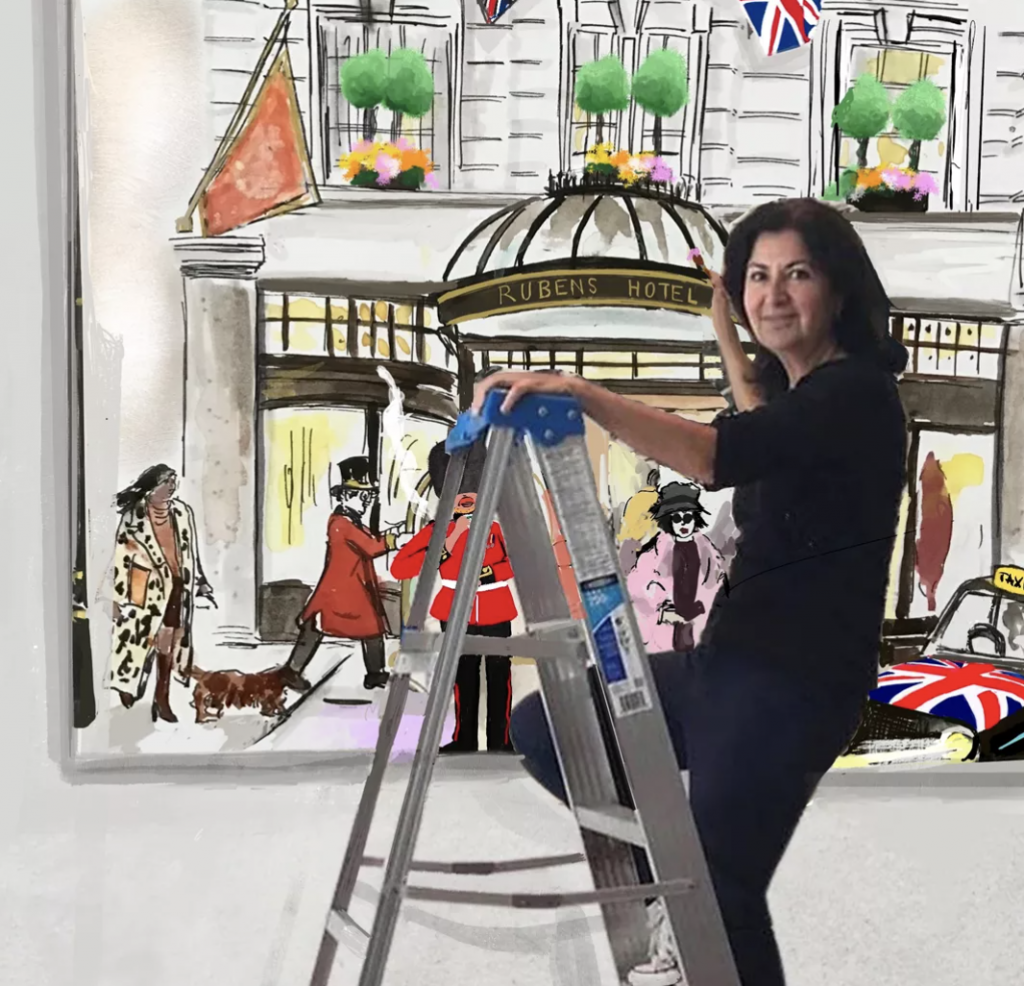 This month, London's 5-star The Milestone Hotel & Residences proudly welcomes Shelley Levy (Shelley The Artist) as the hotel's brand new Resident Artist, launching a creative series of group painting workshops and bespoke portrait services.
Open to art lovers alike, Shelley The Artist will offer beautifully personalised portraits tailored individually to each guest at The Milestone, as well as a series of painting and drawing workshops, giving avid painters an opportunity to unleash their creativity through a variety of mediums, including watercolours, pencils, and oils. Bookable by appointment only tailored towards all levels of artistic abilities, budding artists can partake in an engaging experience that fosters creativity and self-expression.
Creating a unique and lasting memento of each guest's stay, this new collaboration is ideal for those looking to commemorate a special occasion or celebrate a family holiday, giving a sentimental memory to take home and treasure for years to come.
The five-star residency is home to an extensive collection of curated artworks and sumptuous prints within each of its luxury suites and residences, and now offers the perfect opportunity for a wonderfully immersive art experience.
ABOUT 'SHELLEY THE ARTIST'
After many years of working as a painter and teacher in Los Angeles, Shelley The Artist is currently based in London.  Her preferred studio is the urban landscape where she constantly finds inspiration on trains, cafes, and everywhere people gravitate. As a self-taught painter and teacher, Shelley is a voyeur, looking for narratives in peoples' faces and demeanours, with preferred mediums such as watercolours, pencils, markers, acrylics, oils, and oil pastels.
This collaboration is the perfect marriage of Shelley's discipline and commitment to daily drawing practice and the continuous dedication to offering guests the highest level of service and attention to detail at The Milestone. Guests can enquire about individual portrait services and painting workshops to commemorate a special occasion or family holiday, and for any guest looking to create a lasting memory of their stay at The Milestone to cherish for years to come.
ABOUT THE MILESTONE HOTEL AND RESIDENCES 
Set in a Grade II listed building, five-star The Milestone Hotel & Residences sits perfectly opposite Kensington Palace with stunning views across Kensington Gardens with 44 guest rooms, 12 luxury suites and 6 private residences. The Grand Master Suites are iconic, highlighting the Hermès Suite, which features lofty ceilings, extraordinary custom-made furniture, and a romantic balcony.  Steeped in history, this landmark London hotel is just a short stroll from the legendary Royal Albert Hall, as well as Notting Hill and Knightsbridge. Brimming with old world charm and character, guests can enjoy a signature 'Milestone Old Fashioned' in the unique split-level Stables Bar, before fine dining in Cheneston's or The Oratory – the original house chapel, otherwise famed as London's most intimate dining setting.
HOW: By appointment only, bespoke portraits are available from £150. For more information, visit www.milestonehotel.com/unique-experiences/resident-artist