ISLAS SECAS lifts COVID restrictions
June 15th
PANAMA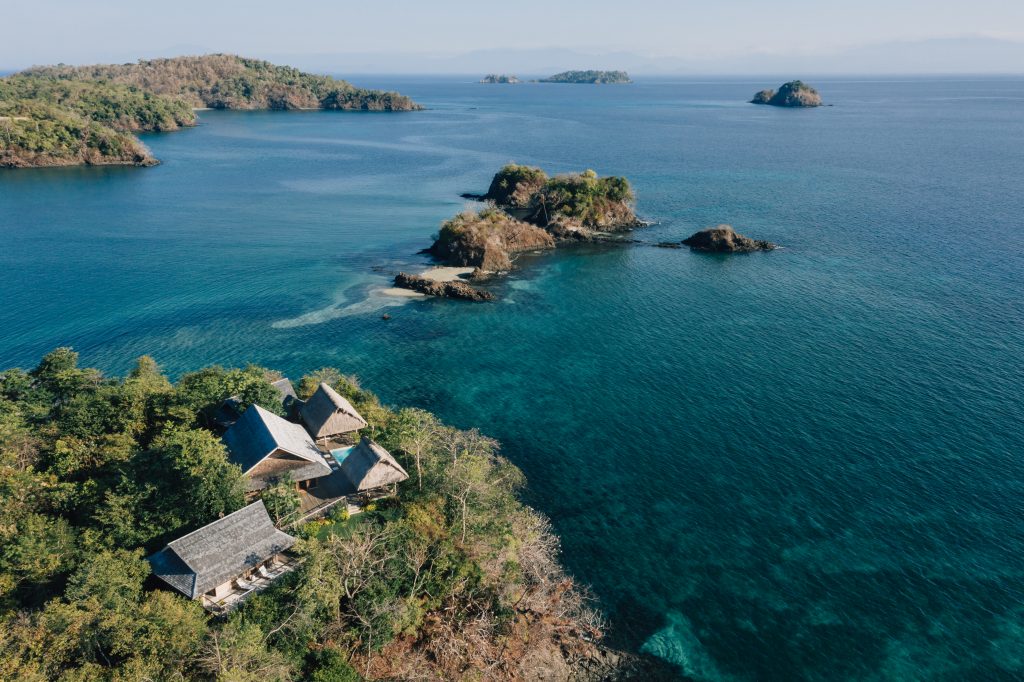 Panama residents visiting the island will still be required to provide the resort with appropriate documentation. Guests ages 17 and younger are no longer required to provide any documentation if they are accompanied by an adult who has met COVID protocols.
Despite easing protocols, Islas Secas staff are still committed to ensuring the health and safety of guests during their stay. Staff members underwent a strict quarantine and were required to present three negative COVID-19 tests prior to arriving on the island for the 2022 season. They are fully vaccinated, wear masks at all times, and complete bi-weekly PCR testing. In addition to these protocols, all guest and staff areas, including casitas, are disinfected regularly and guests are physically spaced out for meals.
AN EXTRAORDINARY PARADISE HIDDEN IN THE GULF OF CHIRIQUÍ
Located on a remote island off of Panama's Pacific Coast, Islas Secas is the ultimate hidden treasure of Central America. The privately-owned archipelago in the Gulf of Chiriquí pairs luxury with sustainability, in addition to unmatched, bespoke gastronomy offerings and activities for adventurers of all kinds in its Jurassic Park-style setting. The Gulf of Chiriquí is located just a few hours west of Panama City, spanning the Costa Rican border on the west and the Azuero Peninsula on the east. Its 14 breathtaking islands – 13 of which remain untouched – have a total of four individually-designed Casitas and three Tented Casitas, hosting a maximum of just 24 guests at a time. No two Casitas are built alike, but they each offer their own private oasis – embraced by the island's flourishing greenery, dreamlike ocean views, a plunge pool, and traditional thatched-roof cabana. As the archipelago remains largely undisturbed, guests are able to get up close to the raw, natural beauty of Panama's wild Pacific Coast. The Gulf of Chiriquí National Marine Park spreads across 36,423 acres and protects islands, reefs, mangroves, and innumerable varieties of marine and terrestrial wildlife. The 20 miles between the Secas archipelago and the coast of mainland Panama allow endless scope to roam the vibrant waters of the Gulf,creating an unmatched experience for guests.
A SUSTAINABLE ECO-DESTINATION
Surrounded by one of the greatest protected marine zones in the world, Islas Secas takes pride in prioritizing sustainability in every thread of the property's fabric. Devoted to the archipelago's natural surroundings, Islas Secas offers endless opportunities for sustainable adventure and the team is passionate about setting the standard for nature-driven tourism. Islas Secas' environment-first ethos lives in their operations and architecture, all the way down to dining and hospitality services. In fact, 100% of the property's energy is solar generated, 100% of food waste is composted, and 100% of wastewater is reused for irrigation. Islas Secas also supports local community education and service projects, with the privately-funded Islas Secas Foundation helping with funding for marine and wildlife conservation and research in the region.
Islas Secas is considered an environmentally protected area under Panamanian law. It is the richest and most diverse area of the Eastern Pacific Ocean, so the team is determined to preserve its strong natural heritage and wildlife on all 14 islands – and guests are welcome to take part in this during their visit too. They are encouraged to participate in the study of frigate bird monitoring, reporting their findings of new species during their explorations, scientific coral monitoring, a marine life census, or repopulating thousands of native plants to restore the ecological balance of the islands.
THE MARINE EXPLORER'S FANTASY, FULFILLED
Described as an "ocean wilderness," the predominantly undisturbed region of Islas Secas is home to 750 species of fish, 50 species of birds, and 128 species of plants. Just a short boat ride away from the archipelago is Coiba National Marine Park, a UNESCO-designated protected marine area that is home to the second largest coral reef system in the Eastern Tropical Pacific. Here, guests can swim in fish-storied waters and appreciate rare marine life sightings. Back on Isla Cavada, over two miles of groomed trails await those seeking to explore the jungle-clad forests in search of the sights and sounds of the dozens of other species of bird that live in or visit the archipelago.
The Gulf of Chiriquí's biodiversity, paired with Islas Secas' sustainability ethos, allows for unmatched aquatic adventures. The intrepid travellers who visit Islas Secas can explore through marine safaris, high-octane e-foiling, Pacific Ocean surfing, scuba diving with manta rays, whale watching, snorkelling over the kaleidoscopic reefs, and world-class fishing experiences. After a long day of exploration and watersports, guests can take advantage of the wellness escape tents on the property. From their mystical secret garden spa setting that uses local Panamanian products, to oceanside yoga classes, to the Secas sound shower, each wellness experience offers an authentically holistic approach.