INTRODUCING UNIWORLD BOUTIQUE RIVER CRUISES
September 25th
INTERNATIONAL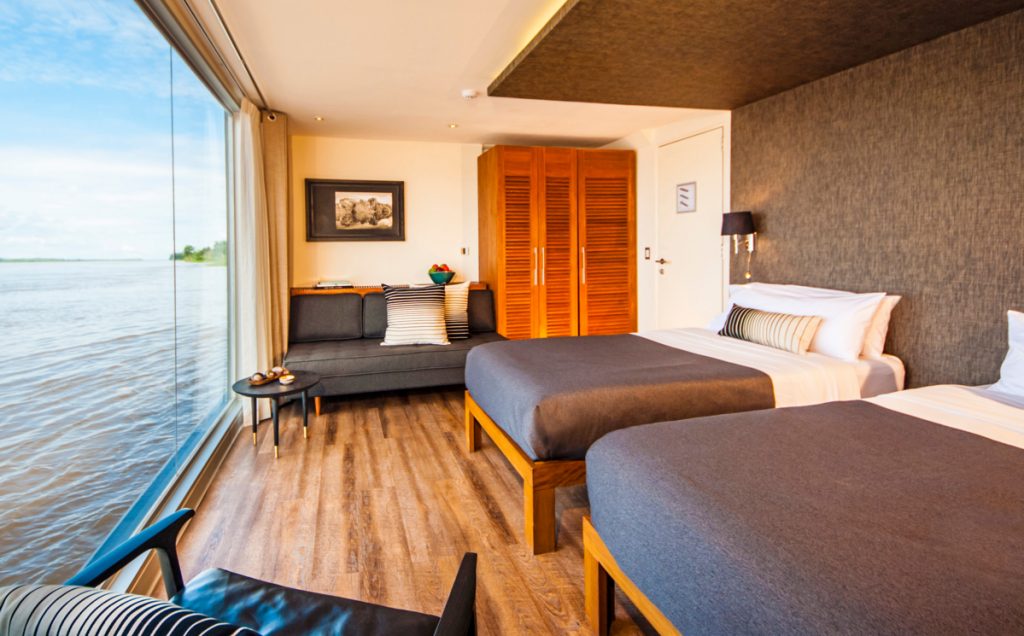 Uniworld is a boutique river cruise collection offering fascinating, high-end itineraries throughout Europe, Russia, Egypt, India, Asia and South America. Pioneering authentic, experiential and sustainable travel, each ship is unique – built from the ground up to accommodate an average capacity of 120 guests and offers one of the highest staff-to-guest ratio in the river cruise industry. The first to offer a floating boutique hotel experience, guests onboard a Uniworld river cruise will savour world-class cuisine, impeccable hospitality and specialist destination experiences, which dig deep into the local culture and history of each destination. From arrival to final dock, all elements of a Uniworld itinerary are included – starting from flights or Eurostar tickets from the UK, premium spirits and wines, farm to table cuisine, carefully curated excursions, all gratuities and more.
NEW FOR 2021
2021 will see the introduction of a brand new itinerary in the Peruvian Amazon on the all-suite Aria Amazon ship, bringing guests to South America for the first time, with highlights including Machu Picchu and Pacaya-Samiri National Park. Uniworld will also be launching two exciting 'Cruise & Rail' itineraries in partnership with Golden Eagle Luxury Rail, taking guests through Milan, Venice and the Swiss Alps, or alternatively Venice and the Swiss Alps, combining land, cruise and train journeys.
Four brand new Super Ships will also be added to the Uniworld fleet. The introduction of Super Ships ensures that Uniworld continues to bring a new level of luxury to the river. The Super Ships include enhanced dining venues, additional suites, state-of-the-art amenities and incredible once in a lifetime destination experiences.
The Mekong Jewel – the newest and most luxurious ship on the Mekong river, which will sail from Ho Chi Minh through to My Tho, Ben Tre, Gieng Island, Phnom Penh, Angjor Ban and Siem Reap. Onboard the new S.S. São Gabriel, Portugal, guests will experience the UNESCO designated Douro River Valley and the best of Spanish and Portuguese culture. The new S.S. Sphinx, Egypt will feature three dining venues, including a private dining room, with an itinerary including private tours of the Colossi of Memnon, Hatshepsut Temple and Valley of the Kings with guests' very own trained Egyptologist. The River Countess has undergone a design transformation and will emerge as the S.S. La Venezia in Italy. Sailing from Venice, this is the only ship allowed to dock in Burano overnight, allowing guests to enjoy even more time to explore the vibrant colours of this picturesque island.
BOUTIQUE FLOATING HOTELS
From original paintings, including pieces by Pablo Picasso, Alexander Calder and Pino Signoretto, to hand- crafted furniture, each ship has been individually commissioned to reflect the colours and heritage of the destinations. Uniworld is also home to the largest cabins and suites on the river, each appointed with high-ceilings, glass-fronted floor to ceiling windows and private balconies to maximise the spectacular scenery. Guests will also be treated to outstanding butler service, large all-marble bathrooms with a double vanity, Asprey bath and body products, handcrafted Savoir Beds of England, a fully-stocked bar and more.
PERSONALISED SERVICE
Uniworld is unrivalled in offering the highest staff to guest ratios in the river cruise industry. Service is at the heart of the guest experience, where no request is ever too large, no detail too small. Guests are treated like family and enjoy warm personalised service. For suite guests, the butler service is a key highlight, with butlers trained to the same standards of excellence required by Buckingham Palace, educated under the tutelage of Zita Langenstein at England's Ivor Spencer Butler School.
WELLNESS
All Uniworld cruises also feature several options to stay fit both onboard and onshore. Onboard, guests have access to well-equipped fitness centres, a Serenity River Spa for treatments, heated pools and a team of wellness and fitness experts. These seasoned wellness experts have an average tenure of ten years with Uniworld and continuously hone their craft with annual training.
AUTHENTIC DESTINATION EXPERIENCES
By navigating the waterways with Uniworld, guests can get up close with some of the world's greatest sites and unlock lesser-known locales in Europe, Russia, Asia, India, Egypt and South America. Ships dock in the heart of great capitals and rustic villages, that are otherwise unreachable by ocean ships. Onshore, Uniworld also offers a diverse range of insider access itineraries, which dig deep into the local culture, history and culinary offerings of each destination through carefully curated private tours. Village Days provides an in-depth look into rural destinations and the local people who bring them to life. Let's Go offers active excursions such as walking, hiking, cycling, kayaking and golfing. Do As The Locals Do gives guests the chance to get under the skin of local life offering experiences such as riding the subway, sampling the best coffee and seeking out hidden gems.
Uniworld has also curated a Masterpiece Collection of exclusive, private experiences, with highlights including cheese tasting with a cheese affineur in Rüdesheim, an after-hours tour of St. Marks Basilica and private tours of La Cite' Du-Vin in Bordeaux – a one of a kind cultural centre and museum that brings the heritage of wine to life through interactive exhibits, academic seminars and more. Guests can go one step further and make this experience entirely private by indulging in a Curated Service, accompanied with a private car or guide.
In addition to set itineraries, Uniworld also offers a selection of themed cruises for specific interests. These include the culinary focused Connoisseur Collection, allowing foodies to explore the world of French cuisine by taking them to famous restaurants, vineyards, orchards and other culinary hot spots throughout France. Guests can visit Bordeaux's interactive wine museum, wander through a charming Normandy apple orchard or enjoy afternoon tea at La Couronne, where Julia Child first tasted French cuisine. Other themes include Christmas holidays and markets, for discovering Europe in its most festive form, enjoying local gingerbread and a mug of warm spiced wine. There is also an option to enjoy a Generations programme featuring specially priced cruises planned around breaks from school with activities, excursions and events designed for travellers of all ages.
CULINARY EXCELLENCE
Uniworld takes enormous pride in its onboard dining experience, crafted by its Uniworld Culinary Director – a member of the prestigious Chaîne des Rôtisseurs culinary guild, an international gastronomic society founded in Paris in 1950. Uniworld's 'farm to table' concept ensures that guests can enjoy time-honoured recipes local to their destination. Menus are based on fresh ingredients, locally sourced from the destinations they visit. With every meal, guests enjoy a choice of featured local wines, selected by the onboard sommelier and grown and bottled directly from the regions visited. For those interested in healthier dining options, Uniworld also has a Traveling Lite menu, which features all of the flavour of its traditional menu, but with fewer calories. Menus can also be catered to vegetarians and vegans.
SUSTAINABILITY
Uniworld Boutique River Cruises has been leading the way in sustainability for river cruising since 2013 with the launch of its Environmental Sustainability for River Cruising Guide, made in partnership with The Travel Foundation and TreadRight. Beyond implementing and sharing these best practices, Uniworld is committed to enhancing and protecting communities the brand visits through diverse initiatives including:
Preserving the world's rivers: Uniworld works in combination with WE.org to help provide communities with clean water to drink and use for cooking; healthy sanitation facilities for washing and creates infrastructure such as irrigation or catchment systems to facilitate food production. In addition to this, the Uniworld team is constantly working to educate communities about healthy hygiene practices and how to prevent waterborne disease
Eliminating single use plastics: Uniworld is committed to eliminating all unnecessary single use plastics in its offices and onboard its ships by 2022. The brand has already reduced plastic waste by 27,374kg in the last year by removing all plastic straws, water bottles and related plastics from all ships in the Uniworld line
Reducing paper waste: Uniworld works in partnership with "One Tree Planted" to plant one tree for every guest who ops for e-docs instead of paper documents
Sustainable ships: All of Uniworld's Europe ships are built with special paint for the hull of the ship that creates less drag caused by bio-fuelling, specially designed ship propellers that increase performance and efficiency, energy-efficient LED light fixtures, automatic air conditioning controls to optimise cooling resources, water cooled air-conditioning systems that save energy and state of the art wastewater treatment plants onboard. Additionally, Uniworld's newer Super Ships including the Mekong Jewel and S.S. La Venezia feature diesel electric propulsion systems that reduce greenhouse gas emissions
Offering guests travel that makes an impact: Uniworld works in partnership with Me to We to give travellers the opportunity to immerse themselves in Indian culture while giving back to local communities on their Me to We & the Sacred Ganges itinerary. On Uniworld's Mekong itineraries, guests can participate in Pack for Purpose which helps provide support for local children in Vietnam to go to school and learn English
Working with partners who care: Uniworld chooses to work with suppliers who value the environment and produce sustainable and local products. Uniworld also supports sustainable brands onboard, such as Elephant Gin, a premium gin company, which donates 15% of all proceeds to two African elephant foundations to support the preservation of African wildlife
A FAMILY RUN AFFAIR
The Uniworld Boutique River Cruises is modelled after its sister company – The Red Carnation Hotel Collection. The collection was founded in the 1980s by Beatrice Tollman, who has many years of experience as a chef, cookbook author, and hotelier in South Africa, Europe, and the US. The family-run business now spans four generations—including her husband Stanley and three children—who own and operate 20 boutique properties around the world. In 2004, Bea sought to bring the feeling of staying in a luxury boutique hotel to the rivers. Known for its destination-inspired interior décor, gracious service and carefully selected amenities, Uniworld emulates the Red Carnation boutique hotel experience by offering exquisite antiques, custom fabrics and original works of art. Bea is an integral part to the design vision for each new Uniworld ship that sets sail, a process that involves herself and her daughter Toni.