INTRODUCING 'PIZZA ON THE PIECE' BY PARKER'S TAVERN, CAMBRIDGE  
Chef Tristan Welch of Parker's Tavern, Cambridge launches new pizza takeaway service
June 17th
Cambridge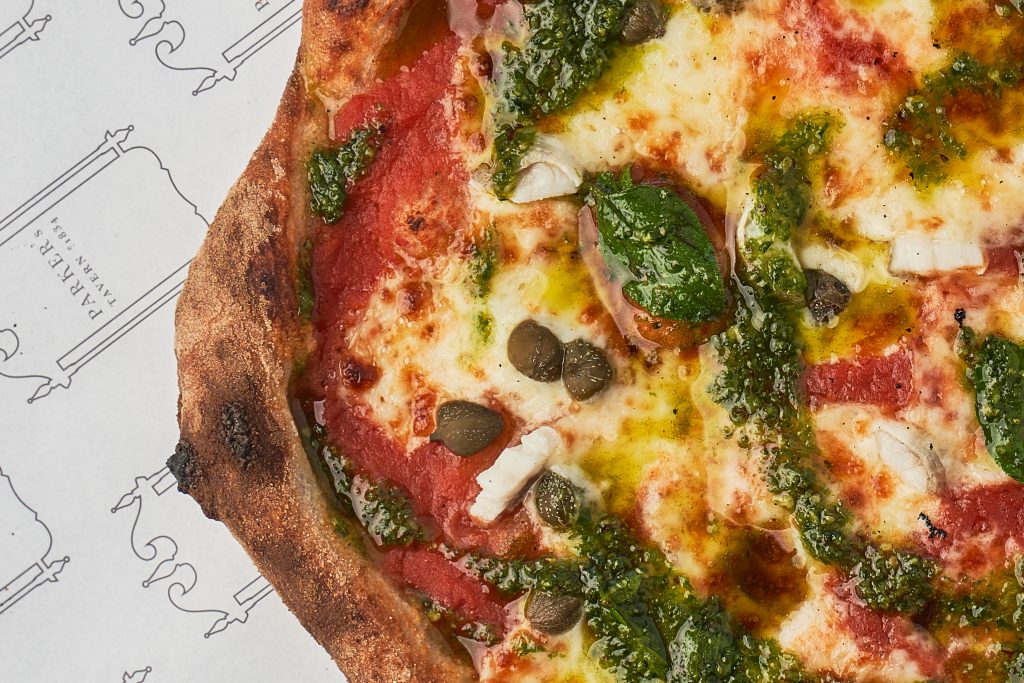 Launched on Thursday 28th May, Tristan will provide the city with the best combination of crispy sourdough base and unique flavours, inspired by the region and using only the finest local produce. Locals will order online and collect via the restaurant doors on Parker's Piece, allowing them to enjoy outside or at home.
Parker's Tavern, Cambridge is excited to announce it has reopened, in order to launch an exciting takeaway pizza pop-up. Chef Director, Tristan Welch, has dreamt up the ultimate pizza menu, using winning combinations of delicious local ingredients on a crispy sourdough base. It caters to all dietary requirements by offering a gluten free base option and vegan cheese. The menu will also include tubs of homemade soft whipped ice cream, with various sauces and toppings to choose from, as well as a creative mix of delicious botanical soft drinks to wash it down all with. Guests are able to order and pay online at www.parkerstavern.com and can collect their order outdoors, directly from the park side of the restaurant.
 The menu features nine delicious, seasonal pizza options including: Air dried ham, tomato and mozzarella (£10), Home cured sardines, capers and wild garlic (£12) and Asparagus, peas and mint (£12). Those looking for something even more indulgent can opt for the Wiltshire truffle and cream cheese (£18) or the Lobster and garlic butter (£19). The eco-friendly option is the Rubbish Cooks Pizza (£10), which takes inspiration from the sustainable supper club which usually takes place at Parker'sTavern each month. Rubbish Cooks is an initiative created by Tristan to highlight food waste in the industry. This pizza will feature different toppings each day and will depend on which ingredients Parker's Tavern has left over or what 'waste' might be delivered to the restaurant by suppliers. Either way, it promises to be a delicious surprise and a £1 donation will be made to Jimmy's Night Shelter for every Rubbish Cooks pizza sold. The playful drinks menu includes: Homemade Cola Kucha; cola flavoured kombucha, a touch of cinnamon and a drop of prune syrup, Hawthorn, Gooseberry & Blueberry Hurricane; blueberries, hawthorn cordial, lemon juice and gooseberries served over ice, an Elderflower "T" Collins; elderflower cordial, turmeric, lemon juice topped with fizzy water and finally a Go-Getter-Aid; beetroot, lemon juice, cherries, celery and lettuce.
HOW: Pizza prices from £8.50. Orders can be made at: www.parkerstavern.com and collection will be on the park side of Parker's Tavern restaurant. #PizzaOnThePiece @parkers_tavern