INTRODUCING GRAND HOTEL SON NET
February 8th
PUIGPUNYENT, MALLORCA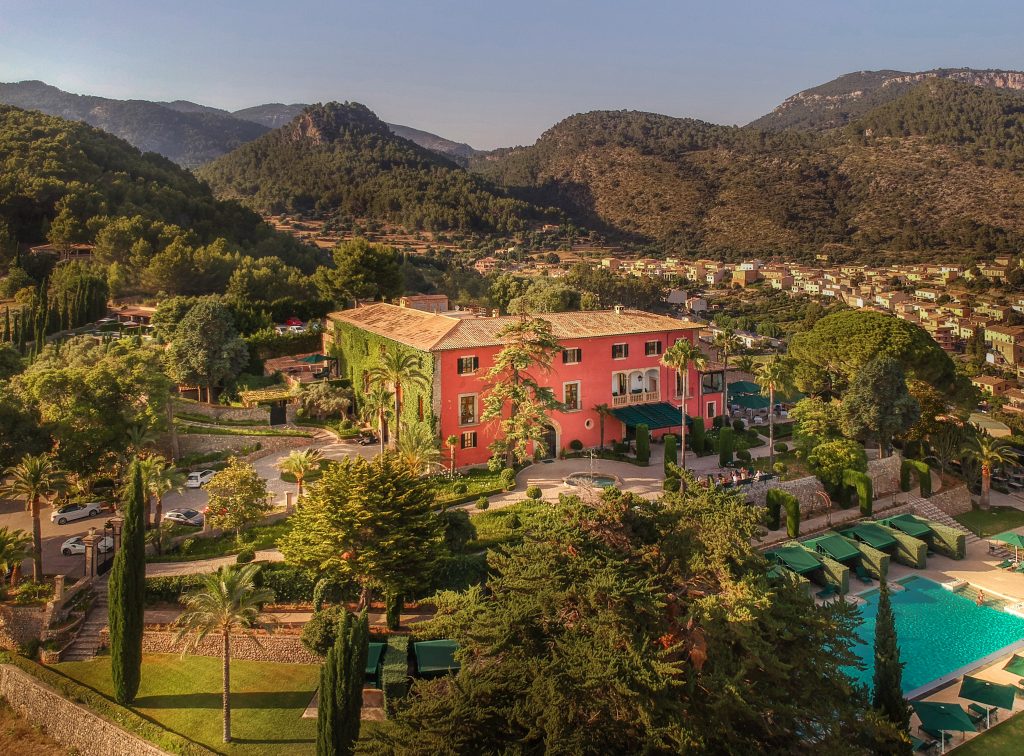 Grand Hotel Son Net is today newly independently co-owned and under the acclaimed management of the team behind Finca Cortesin – the award-winning Southern Spanish bolthole in Andalusia.
Over centuries, this Majorcan manor house was passed down through the hands of several prominent Spanish families and became one of the most prestigious residential estates on the island.  With just 31 suites, upon reopening, Grand Hotel Son Net will juxtapose elegant, palatial architecture with tastefully transformed interiors that are relaxed, romantic, and intimate; breath-taking views-for-days, citrus orchards, and lush Mediterranean gardens.  Famed for its history and classical design, during its transformation, Grand Hotel Son Net will preserve many of the mansion's original features: rustic beams, stone floors and archways, carved wooden ceilings, antique fireplaces, an original 17th century interior courtyard and spring-fed well, and private family chapel.  There will also be a curated private art collection.
Spanning 57,000m2 of boundless private landscape, there will be multiple pools flanked by shaded cabanas, encircled by impeccably tended lawns and flowerbeds that give way to an ecological vegetable and herb garden, small farm, and vineyard.  Food will all be locally sourced, with native orange and lemon trees growing on the bucolic estate, fresh seafood procured directly from the island, and fresh olive oil tastings from a century-old olive press.  The vineyard will produce Malvasia white wine that supplies the large, open wine cellar and fuels delectable tastings.
CEO & President of Single Home S.A. and Finca Cortesin, Javier Lopez Granados, says: "It is an honour to be able to revive Grand Hotel Son Net, that I have long admired as a beautiful and historic estate on the island.  Following the success of Finca Cortesin, we felt that a second property was the natural next step for the brand, and we are excited to bring the spirit of what we have created in Andalusia to Mallorca, while offering something fresh for the destination, this spring."
David Stein of The Stein Group, comments: "Having worked with Javier Lopez Granados, consulting on Finca Cortesin before its opening and helping to create the hotel's original concept, I am thrilled to be continuing this special relationship with the Finca Cortesin family to help breathe new life into Grand Hotel Son Net; a special property that is very dear to my heart – and to Mallorca."
René Zimmer, Managing Director, Finca Cortesin Hotels & Resorts, adds: "I know Mallorca extremely well, and Grand Hotel Son Net was always a personal firm favourite hotel on the island.  Grand Hotel Son Net in fact inspired much of Finca Cortesin in its early years, and it therefore feels very special to recreate – with its own quintessentially Majorcan flair, of course – the essence of Finca Cortesin in Mallorca, and what makes it so unique.  I feel confident that the soul of Finca Cortesin is a perfect fit for this island, and the renewed Grand Hotel Son Net will exemplify this."
The hotel's setting in the Tramuntana Mountains is one of the main attractions and forms the dramatic backdrop of Grand Hotel Son Net – a haven for walkers and hikers.  Cycling is another of the best ways to see some of the island's hidden treasures and dramatic countryside.  Slowing the pace, quiet country lanes wind to the scent of wildflowers and citrus blossom…
~ Coming Soon – Spring 2023 ~
Press Contact:
Perowne International
[email protected]
About Finca Cortesin
Located in one of the most sought-after enclaves of the Andalusian coast on a vast 532-acre estate, this impressive all-suite hotel development opened quietly in March 2009.  Since then, Finca Cortesin has been discovered by a growing number of discerning guests from all over the world who are drawn by its world-class hospitality, spectacular setting, expansive interior and exterior spaces, privacy, and impeccable service.  Today, it is considered one of the finest luxury resorts in Europe, having been awarded #1 Resort in Spain & Portugal in the Travel + Leisure 2022 and 2020 World's Best Awards, as well as appearing in Condé Nast Traveller UK, US, & Italy's 2022 Gold List. Finca Cortesin also offers visitors the possibility to purchase a permanent slice of paradise with its one-of-a-kind real estate offering: an exclusive collection of exceptional, individually designed villas.  For more information, visit www.fincacortesin.com / www.fincacortesin.com/real-estate
About Grand Hotel Son Net
Just a 20-minute drive from Palma, Mallorca, in the foothills of the UNESCO World Heritage Tramuntana Mountains, is Grand Hotel Son Net – a stylishly understated, art-filled hideaway on a private estate dating back to the 17th century.  Famous for its history and palatial design, Grand Hotel Son Net was lovingly restored to offer an exquisite and sophisticated retreat with classically elegant bedrooms and suites maintaining the mansion's original features, such as rustic beams, stone floors, antique fireplaces, original 17th century interior courtyard and spring-fed well, and a private chapel. The outdoors are breath-taking, featuring a 30-metre pool flanked by private shaded cabanas, surrounded by impeccably tended lawns and flowerbeds giving way to the ecological vegetable garden and private vineyard. For more information, visit www.sonnet.es/en