INTRODUCING DARDANELLA – AN EXCLUSIVE EXPLORER YACHT
Be the first to charter this exceptional explorer yacht – access the inaccessible and explore the world in boundary pushing style
April 15th
GLOBAL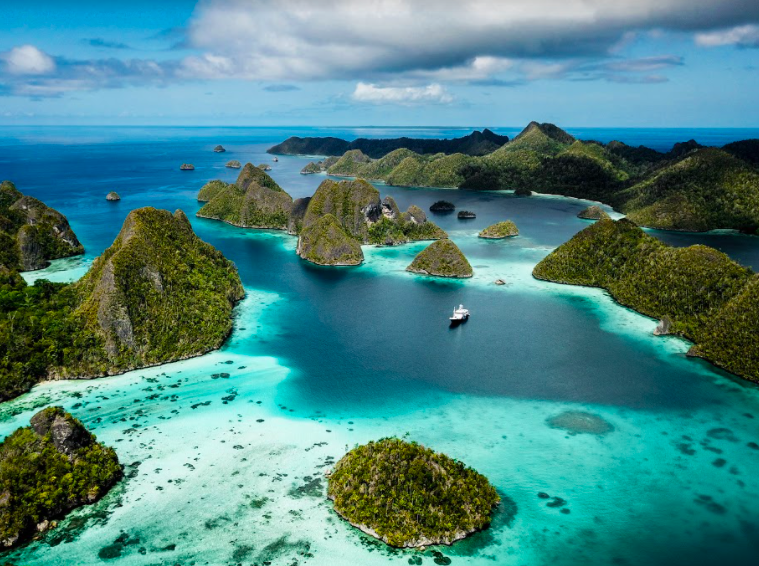 For those looking for a new sense of adventure and the ability to push boundaries in some of world's most beautiful and remote destinations, Dardanella – a privately owned, 37 metre explorer yacht – offers just that.  Global exploration with adventure at its core.   Available to charter for the first time from May 2021, Dardanella's build combined with her illustrious past as an oceanic and conservation vessel and exceptional crew make her the ideal explorer yacht.
EXPERIENTIAL YACHTING AT ITS BEST
Dardanella's extensive travels have taken her to some of the most remote and inaccessible locations the blue planet has to offer.  This has enabled the crew to amass incredible knowledge and insight and offers guests the chance to experience the best and largely untouched dive spots, seek out incredible marine life and rare species, find the best surf breaks and enjoy some of the most secluded anchorages.  The crew has also built an exceptional network of contacts along the way, providing guests access to some of the best guides and dive instructors in the specific locations.  These guides include one who ranks among the world's most experienced shark divers and can offer this speciality in complete safety.
Dardanella has cruised remote Pacific regions of interest including time exploring the Western Pacific regions of Papua New Guinea, the Solomon Islands and Marshall Islands.  In 2017 Dardanella spent a full year navigating the islands of French Polynesia.  She has also cruised the southern areas of the Gambier, Marquesas and Tuamotu Islands in French Polynesia and Tonga and the Lau Islands in Fiji.  She is currently exploring the Central and Eastern areas of the Pacific Ocean.
2022 will see Dardanella cruise the Eastern Pacific as she heads towards Mexico, Costa Rica, Ecuador and Patagonia on her way to Antarctica.  A fantastic range of itineraries awaits, in destinations that are as rich in hiking and diving experiences as they are is in culture, cuisine and natural beauty.
OCEANIC RESEARCH AND CONSERVATION
"Dardanella is floating platform of expression, creativity, experimentation and future visions…It was off the Dardanella, in the magical waters of the Solomon Islands, that a biofluorescent turtle first divulged her glowing secrets." – David Gruber, Professor National Geographic Explorer, Marine Biologist. 
Dardanella has hosted established artists, indigenous leaders and marine biologists and in doing so has accrued a series of firsts.  It was 2015 when Gruber noticed a bright red and green spaceship approaching during a night dive. A tribal chief had warned of saltwater crocodiles in the Solomon depths, but this reptile was a biofluorescent hawksbill turtle. This encounter and the subsequent research has been voted into the top 20 most important discoveries of the past decade.
Dardanella's other expeditions have either supported or led to the establishment of marine protected areas.  A research and conservation programme for the pelagic species around Cocos Island, Costa Rica, the East Portland Fish Sanctuary and Jamaica was established and Dardanella was also part of a team that declared the first offshore marined protected area of the Navatu reef in Fiji.
AN EXCEPTIONAL MOTOR YACHT
Dardanella was designed for exploration and adventure by one of the world's leading explorer yacht designers Vripack.  She was built by Vitters, the renowned Dutch sailing shipyard and has the appearance of a smart expedition ship, whilst still being able to access areas other yachts cannot.  Her long-range capabilities and additional fresh-water capacity allow her to be away from port for long periods of time and her shallow draft give her access to anchor in the most secluded of bay.
With Vitters behind the build, Dardanella still has the glamour and comforts expected of a motor yacht and it is these details that make her stand out.  From soaking up panoramic views from the hot tub on the private top deck, to sharing tales of adventures over a drink in the bar and enjoying a movie night under the stars, Dardanella is exceptional.  Of note too, and setting it apart from other superyachts, Dardanella's wood panelled walls are adorned with artwork and tribal carvings acquired from past research expeditions, sharing the true journey of the boat and creating a culturally rich and intriguing atmosphere for guests.
Dardanella sleeps up to 12 guests in five beautifully appointed suites with en-suite bathrooms.  There are also a host of toys on board including kayaks, paddle boards and jet skis.
IMMERSIVE WELLNESS
From the mountains of the Himalayas, to a Japanese Zen temple and now an ocean explorer.  Dardanella's Scottish-Japanese wellness practitioner, Ayumi Gallagher, presides over Dardanella's onboard yoga and wellness programmes.  Such a dedicated wellness offering is a rarity for the boutique size of this vessel, but Ayumi's approach is completely holistic.  Whether it is Pilates and massages to complement the diving, a pre-surf yoga lesson or developing bespoke wellness programmes, the focus is on an individual's wellbeing.  Her programmes combine ancient philosophies of yoga and meditation with current research-based health and wellbeing practices.
AN EXPERT CREW
The crew of eight are arguably one of the most competent and experienced in the industry.  The Captain of Dardanella is Piot Rachalewski.  He grew up on the ocean, sailing competitively for South Africa from a young age before committing to yachting professionally 15 years ago.  Pursuing his love for the ocean academically, Piot graduated with a Bachelor of Science degree in Marine Zoology and Ecology, expanding his already in-depth knowledge of the aquatic ecosystems of the Pacific Ocean.
First Mate, Calvin Dendy Young, is also Dardanella's PADI Dive-Master. The yacht is fully equipped with a NITROX dive compressor and 12 sets of dive gear. Whether guests are beginners looking to improve their dive skills or are more advanced divers seeking new experiences, Calvin and the team are on hand to lead or assist guests.
Dardanella's chef has more than 18-years' experience on yachts and a repertoire of authentic dishes from around the world. The dining is bespoke, and menus are crafted for each charter according to personal preferences and dietary requirements.

www.yachtdardanella.com