IL SAN CORRADO DI NOTO
NOW OPEN: A new, lovingly transformed masseria in the heart of UNESCO World Heritage Site, Val Di Noto, Sicily. Offering the discerning traveller an authentic insight into the Sicilian way of life through wellness experiences, gourmet food and wine, and unrivalled views of the Italian countryside.
April 13th
ITALY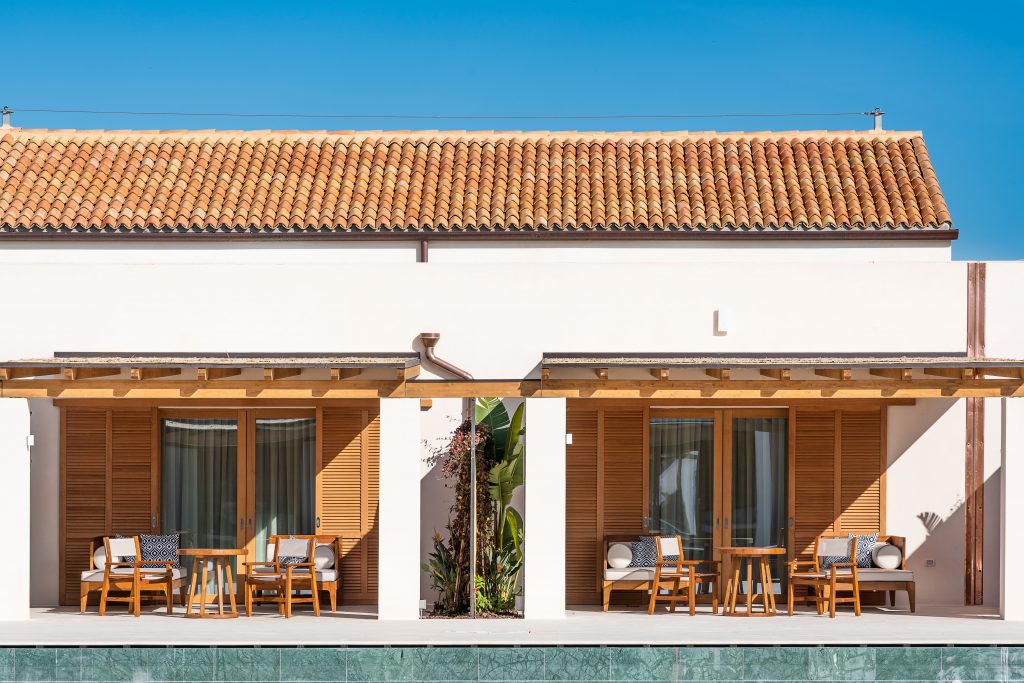 Welcoming guests for its first full season, Il San Corrado di Noto is now open. A former masseria, once the abode of Prince Nicolaci, Il San Corradi Di Noto is the first boutique resort of its kind in the enchanting Val di Noto – Sicily's renowned UNESCO World Heritage destination. Surrounded by stunning citrus and olive groves, carefully protected during the property's restoration, and breath-taking views, the resort is the perfect destination to switch off from day-to-day life, reconnect with nature and experience genuine Italian hospitality with authenticity at its heart.
Nestled in the east-Sicilian countryside just outside of the historic town of Noto, Il San Corrado di Noto has been thoughtfully converted into an idyllic, all-suite retreat, following a meticulous three-year transformation. Home to just 26 stylish suites and eight pool villas, the resort offers an abundance of space and privacy, exceptional service and destination expertise – introducing a new level of contemporary luxury to the Sicilian countryside, drawing in the discerning traveller to this historic part of Italy. Il San Corrado di Noto is defined by its serene locale, discreet service and focus on heritage and wellbeing. The resort is home to two swimming pools, including an expansive 100m long heated pool – one of Sicily's largest, as well as spa, fitness suite and tennis court. The resort also operates a private beach club in the summer months which is located a short drive from the property, accessible via a complimentary shuttle service.
DISCOVER VAL DI NOTO AND ITS ENCHANTING SURROUNDINGS
To connect with the resort's spectacular landscapes and to advantage of the sunnier climes, guests are invited to explore this lesser-known region and discover its rich history dating from 664 BC. Dreamy nature surrounds the resort, from the meadows and olive groves to the Sicilian coastline and surrounding medieval villages. Active guests can spend their days engaging in hiking, biking or driving adventures to one of the eight nearby historic towns, all built in elaborate southern Baroque style. Tennis lovers will delight at the property's courts with instructors on-hand to teach and refine techniques of all levels. Gentle paced days at Il San Corrado di Noto can be spent in the property spa indulging in a rejuvenating treatment, lounging by one of the resort's two outdoor swimming pools with long languid lunches and cocktails, unwinding in an expertly-led outdoor yoga and meditation session.
Off-site guests can learn about ancient traditional hand-farming methods at a nearby plant and herb farm, paired with a delectable lunch, visit the secret, hidden villages of the Hyblaean Mountains with a local guide, truffle hunting excursions and more.
A TASTE OF NOTO AND A TOAST TO SICILY
Authentic Italian dining is at the very heart of the resort, which is home to two destination dining restaurants: Osteria Casa Pasta and Principe di Belludia. For relaxed, all-day classic Sicilian dining, Osteria Casa Pasta is desirably located by the resort's main swimming pool. Think traditional home-like cooking comprising the freshest, locally sourced, seasonal ingredients. Highlights from their opening menu include Parmigiana appetizers, and Maccheroncelli pasta dishes made with fresh seafood straight from the nearby Mediterranean Ocean, finished off with an unmissable Sicilian cannolo. Alternatively, embark on an up-scale sensory trip through fine Sicilian gastronomic fare at Principe Di Belludia, showcasing a menu of carefully curated and magnificently presented dishes that employ refined baroque techniques and experimental cooking styles. For a truly memorable and unique epicurean experience, opt for the nine-course Prince tasting menu, featuring handmade specialities coupled with the seven-glass Dal Val di Non al Val di Noto wine pairing.
Oenophiles can further immerse themselves in the resort's wine cellar, Cantina. Home to a selection of the finest Sicilian wines and native grape varieties, including Nero d'Avola, Trentino Alto Adridge and Brunello di Montalcino. Alongside an impressive selection of locally produced, award-winning wines. The Il San Corrado di Noto sommeliers are on-hand to ensure that guests' palates are pleased, while taken on a tasteful, laid-back journey through Sicily and wider Italy, sampling and savouring national specialities.
A CELEBRATION OF SICILIAN SPIRIT
The masseria's 18th-century architecture has been sensitively preserved, with heritage features intrinsic to the building's history being prioritised during the resort's restoration. Maintaining harmony between traditional and modern approaches, Architect Corrado Papa has drawn upon natural materials, including Modica stone and Guatemalan marble, which have been sculpted by local stonemasons and woodworkers to highlight the suites, public areas and original chapel, which dates back to 1836.
HOW: Rates at Il San Corrado di Noto start from €590 (currently approx. £496) per night on a B&B basis. The hotel is an hour's drive from Catania airport. Direct flights to Catania from London, Bristol and Manchester.