GLENEAGLES INTRODUCES LITTLE GLEN AND THE DEN FOR JANUARY 2018
Two new interactive adventure areas and kids clubs for 2-15 year olds open for junior guests of the hotel
January 9th
Scotland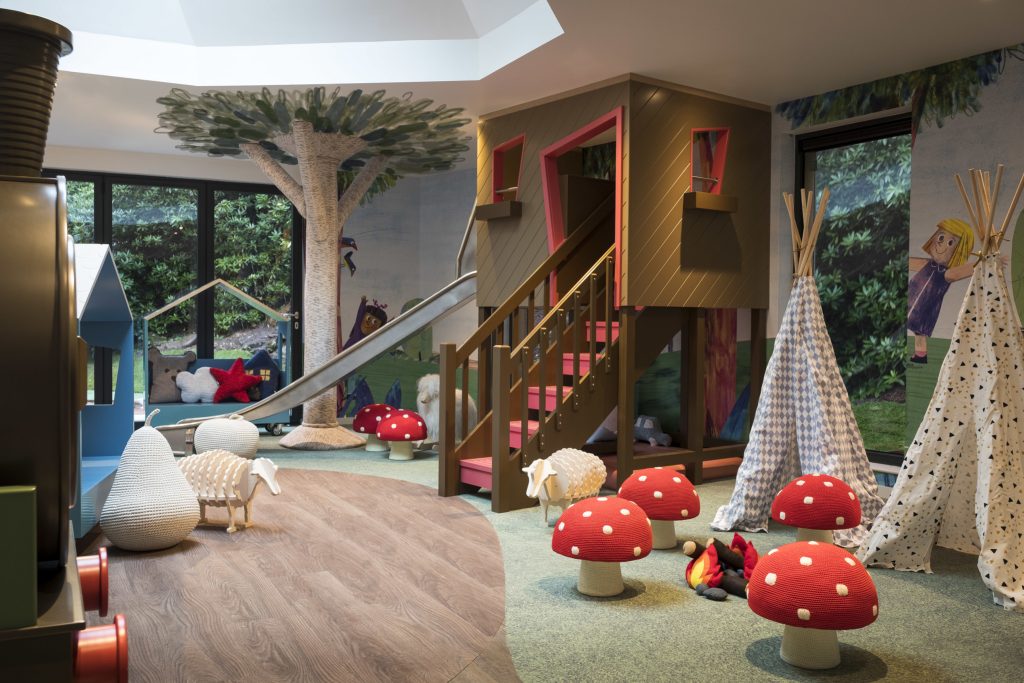 Set beneath the Ochil Hills, in the heart of Perthshire, Gleneagles has been a must visit destination for families since it opened its doors in June 1924. In 2018, Gleneagles is launching the latest addition to its glorious playground, two exciting new adventure areas for junior guests, Little Glen and The Den.
Little Glen, a colourful, vibrant and fully supervised crèche for 2 – 9 year olds, is a fun play environment for happy tots, adventurous spirits and curious minds. The Den, an unsupervised facility for 6 – 15 year olds, is filled with a variety of stimulating and interactive play resources and has been specially designed as a hangout and recreation space for older children and young teenagers.
With bright, fresh colour schemes, different textures, tactile furnishings, and an arts and crafts workshop, Little Glen has been designed to stimulate play, interaction and learning and is supervised by 8 dedicated carers. It follows a countryside theme, complete with indoor treehouse; toy campfire and tepees; play stables with hobby horses; Gleneagles railway carriage; and pretend grass flooring scattered with 'cuddly' wildlife chairs. Little Glen's design reflects the natural beauty of the Gleneagles estate and local landscape, bringing a feeling of the outdoors inside.
The Den's series of interconnecting rooms contains everything from PS4s, Xboxes, pool and air hockey, to traditional games like Chinese Checkers, Dominoes, Backgammon and Charades. The relaxed cinema room with its big comfy floor cushions will entertain young guests with regular film screenings, while the giant games area encourages play through a full floor-sized game of snakes and ladders, giant Connect Four, giant Jenga, and a huge wall-mounted Scrabble board.
Both areas are available to junior members and the children of hotel guests and Glenmor residents, with access provided through valid membership cards and room keys.
The 850 acres of beautiful Perthshire countryside at Gleneagles is home to a vast range of pursuits for guests of all ages: from mountain biking and off-road driving in mini land rovers, to falconry and golf. Specialists are on hand to provide children and adults alike with expert tuition in all activities. For children, it's hard to beat the excitement and exhilaration of spending an afternoon looking after a pony. This enchanting hands-on experience, hosted at the Gleneagles Equestrian School, teaches little ones (aged 6 and upwards) the rudiments of caring for a horse, from grooming to tacking up, and is followed by a riding lesson.