ENJOY A LAST-MINUTE ESCAPE TO ONE OF EUROPE'S MOST EXCLUSIVE VILLAS THIS OCTOBER
October 11th
GLOBAL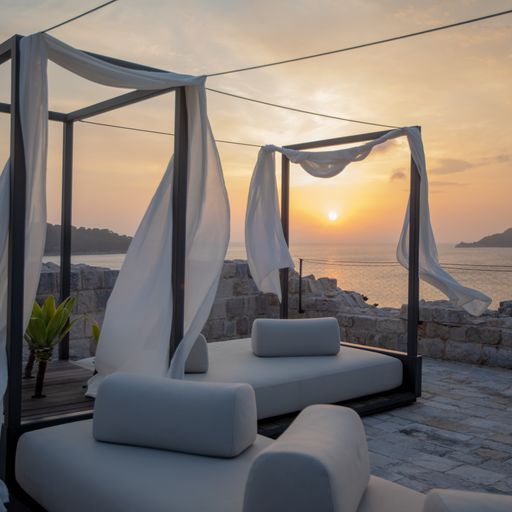 FRENCH PROPERTIES
RETREAT TO A FARMHOUSE COTTAGE SURROUNDED BY NATURE
AT DOMAINE DES ETANGS, MASSIGNAC, SW FRANCE 
Domaine des Etangs offers a truly unique experience in the heart of one of the most beautiful areas of rural France. Set over 1,000 hectares of protected nature-filled countryside comprising forest, grassland and lakes. On the property grounds lie six farmhouse cottages ranging from one to five bedrooms, surrounded by gardens, fields, forests and lakes – perfect for those looking for a truly secluded escape and to experience the rural surroundings and fresh air, where the only other being they might see are the local Limousin cows. Some cottages are complete with a secret private wine cellar in the basement, filled with the owner's private collection of French wines, and others with large copper bath tubs to relax in. Guests of the cottages can enjoy delicious homely dinners by the chef, cooked over the cottages open fireplace, or for those who prefer to cook themselves, the staff at the Domaine can organise guests shopping lists from their kitchen gardens and local suppliers. If they are able to tear themselves away from  the comfort of their cottage, guests can explore the sprawling estate with their own pair of welly boots or bicycle which are included in the cottage, from the walking trails to the farm, taking a row boat out onto the lake and exploring the nearby forests.
HOW: Domaine des Etangs is located a 40-minute drive from Limoges and a 2.5h drive from Bordeaux.  1-Bedroom Farmhouse Cottages (Licorne) start from €550 per night (currently approx. £458) (please note a minimum stay of three-nights in July and August is required). www.domainedesetangs.com.
 A GLAMOROUS HISTORIC VILLA JOINS AN ICONIC HOTEL:
HOTEL DU CAP-EDEN-ROC'S EXCLUSIVE FIVE-BEDROOM VILLA SAINTE-ANNE
Opposite the grand gates of French Riviera icon, Hotel du Cap-Eden-Roc, sits a historic villa: Villa Sainte-Anne. The history of the villa is intrinsically intertwined with that of Hotel du Cap; built in the early 20th century as a private home, Hotel du Cap-Eden-Roc purchased the property in 2019 and spent nearly two years refurbishing the property and gardens. Villa Sainte-Anne comprises five en-suite bedrooms each complete with its own dressing room; a spa with sauna, steam, Hammam, and gym; and chic living and dining areas spread over 3,700ft2. As with the main hotel, Oetker Collection family member, Mrs Bergit Gräfin Douglas – founder of MM-Design Frankfurt – was responsible for the elegant interiors throughout the home. Behind the villa, 22,600ft2 of cascading gardens conceal a private pool and a terrace which offers spectacular views across the bay of Juan-les-Pins. The fully staffed villa comes with a dedicated butler, and a chauffeur and car are also offered for up to five hours a day. Residents benefit from access to all of Hotel du Cap's facilities, including the emblematic saltwater rock pool and red clay tennis courts. This is in addition to exclusive usage of a private seaside cabana, two complimentary daily one-hour spa treatments per stay, and an excursion for four people aboard the Aquariva Super 'Eden-Roc' during a stay.
HOW: Nightly rates start from €13,800 in low season (currently approx. £11,612) and go up to €25,000 (currently approx. £21,035) in high season. Rates include breakfast, non-alcoholic drinks, night security, laundry, tax, service, full access to Hotel du Cap-Eden-Roc's hotel facilities, round-trip airport transfers, and VIP meet & greet at Nice Airport. oetkercollection.hotel-du-cap-eden-roc/villa-sainte-anne
NEW OPENING: THE ULTIMATE YEAR-ROUND WELLNESS DESTINATION, LILY OF THE VALLEY, UNVEILS THE NEW VILLA W
A year-round wellness destination for those looking to lose weight and get fit in stylish surroundings, Lily of the Valley, specializing in expertly curated programmes for long-lasting weight loss, becomes one of the most sought-after spots in the French Riviera with the unveiling of its new exclusive-use villa, VillaW. Tucked away within its own 1,559m² private grounds surrounded by lush greenery and a 17-metre pool, Villa W is the perfect discreet stay for guests to unwind and soak up the peaceful side of Saint Tropez.  With three bedrooms accommodating six people across two stories, guests can enjoy the 180° uninterrupted views of the Mediterranean coastline. Reminiscent to the works of industrial designer, Jean Prouvé and the 'mid-century modern' style of Ray and Charles Eames, Philippe Starck has created a bold yet minimal statement of architecture. Perched on the hilltops within a lush and natural environment, Starck's clever and contrasting use of concrete, glass, steel and wood are matched with arbours made from chestnut wood and a long, south-facing glass façade, whilst the pared-down structure and proportions of the building give an overall feeling of balance and lightness.
HOW: Prices for Villa W are on application. For more information, please visit www.lilyofthevalley.com/fr/hotel/villa-w
THE DESIGN-MINDED FAMILY SIBUET OPEN THE DOORS TO THEIR BRAND-NEW, EXCLUSIVE-USE FARMHOUSE – LES MAS VERMENTINO
To celebrate 20 years since purchasing their Provence estate, the ultra-chic Sibuet family has thrown open the doors to a centuries-old farmhouse, Le Mas Vermentino, to buyout guests for the very first time. Set within the magical cedar forest of the family's Domaine de Marie in Ménerbes, surrounded by vines, olive trees, and truffle oaks, the rustic and elegant six-bedroom property is now available for up to 12 to hire as an exclusive use hideaway, with breathtakingly beautiful views of both the Luberon Regional National Park and the historic Abbey of Saint-Hilaire. The farmhouse features two kitchens – one fully equipped inside, and another outside, complete with a barbecue – in addition to a wine cellar and dining room ideal for sharing meals with friends and family. Chefs can also be requested to organise meals and picnic baskets upon request. Nearby, guests can truly immerse themselves in all that La Bastide de Marie has to offer with access to its two swimming pools, the renowned Pure Altitude Spa, and guided tours of the Domaine de Marie vineyard and wine cellar.
HOW: Rates at Le Mas start from €7,700 (currently approx. £6,422) for a seven-night stay including housekeeping services, breakfast, afternoon tea, concierge services, access to the Pure Altitude Spa, and a guided visit to the wine cellar at the Domaine de Marie. labastidedemarie.com/villa/le-mas
CROATIAN PROPERTIES
A SPECTACULAR 15TH CENTURY MONASTERY – LOPUD 1483 – METICULOUSLY RESTORED OVER THE LAST TWENTY YEARS ON THE CROATIAN ISLAND OF LOPUD
LOPUD 1483 welcomes guests to exclusively hire the unique property for a holiday like no other.  The medieval 15th Century monastery, lovingly restored over the last twenty years by Creative Director Francesca Thyssen-Bornemisza, was once home to Franciscan monks and offers the perfect balance of contemporary comforts whilst preserving the authenticity of its sacred past. Situated on the magnificent island of Lopud, located just seven miles from Dubrovnik, Croatia, this undiscovered island sanctuary has been designed as a place where history, art and botanical exploration ignite the senses. The 13 original monk cells of LOPUD1483 have been transformed into five exquisite suites, with views of the gleaming blue sea or sacred garden beneath. Each room features a unique combination of renaissance furniture, from the Thyssen-Bornemisza collection as well as contemporary pieces by Italian designer Paola Lenti and a bespoke selection of one of the world's greatest private art collections, collected by four generations of the Thyssen-Bornemisza family. Croatian sunsets create a dreamy backdrop while indulging in cocktails and canapés on the Sunset Terrance, located at the top of the fortress, which offers exceptional views of Lopud and The Elaphiti Islands.
HOW: LOPUD 1483 is available for exclusive hire during April – October. The rate for all five suites, sleeping 10 guests, is €10,000 per night on a half board basis.  For more information, please contact [email protected]
ITALIAN PROPERTIES
 RETREAT LAKESIDE AT 'CASA AL LAGO' – INTIMATE GARDEN SUITES AVAILABLE FOR EXCLUSIVE USE SET WITHIN THE EXQUISITE HISTORICAL ESTATE OF BRAND NEW PASSALACQUA, LAKE COMO
This summer, Passalacqua – one of Lake Como's most spectacular private homes opened it's doors as a 24-suite retreat after three years of restoration. Standing above the village of Moltrasio, with 7 acres of terraced gardens, extending down to the lake's shore, this 18th Century Villa has been masterfully restored by renowned Italian hoteliers, the De Santis family as an homage to Italy's finest craftsmanship. Ideal for exclusive use, families and groups can opt for a stay in the intimate Casa Al Lago – located directly on the lake's shores. The spacious offering comprises four suites with an open plan layout including a beautiful dining room, fireplace and their own private garden with sweeping views across Lake Como's blue waters. The De Santis family have worked tirelessly with local artisans and small, generations-old Italian companies, drawing on their personal relationships to ensure that a sense of place, heritage and high quality craftsmanship resonates throughout the property. The Casa al Lago's distinctive character and charm is reflected through the luscious garden inspired interiors, matching hand-painted silk walls and bronze light fittings, evocative antiques and gorgeous vintage steamer trunks.
HOW: Rates start from €1,500 (currently approx. £1,267) per night based on two people sharing on a B&B basis and excluding taxes. By air – 45 minutes drive from Milan Malpensa International airport. By train – 36 minutes from Milan Centrale or Milano Porta Garibaldi station to Como san Giovanni Station Lake Como. By boat – 15 minute boat ride from Moltrasio to Como.
PORTUGESE AND SPANISH PROPERTIES
CHECK INTO SIX SENSES DOURO VALLEY AND ENJOY A STAY IN A VILLA WITH A VINEYARD VIEW 
Six Senses' first European resort, Six Senses Douro Valley, is located in the beautiful Portuguese UNESCO World Heritage area of the Douro Valley. Originally built as an extravagant family home in the eighteenth century, the resort is perched at the foot of the valley, offering spectacular views of the Douro River and surrounding vineyards. Those looking to travel with a couple of friends or as a small family should check into the two-bedroom villa which features locally inspired architecture and furnishings, enhanced with modern comforts and amenities. Each has a fully appointed kitchen, separate dining and living areas, fireplace, and wine fridge. Outside, there is a separate entrance, a heated pool with a counter-current swimming machine, a small lawn area with fragrant shrubs, a private sundeck with day beds, and a gazebo. When it comes to R&R, the expansive Six Senses Spa is a true highlight of the resort where guests can enjoy Six Senses specialty treatments and multi-day programmes together with locally-inspired therapies. Wine lovers should pop into The Wine Library – located at the heart of the resort to enjoy light bites of tapas, cheese and local meats paired with the best Douro wine by the glass.
HOW: Rates at Six Senses Douro Valley start from £2,501 per night based on a family of four sharing the Two-Bedroom Pool Villa. www.sixsenses.com
THE ULTRA-CHIC GREEN 10 VILLAS AT FINCA CORTESIN, ANDALUSIA ONE OF THE MOST BEAUTIFULLY DESIGNED & RELAXED BOLTHOLES IN SOUTHERN SPAIN

Located in one of the most sought-after enclaves of the Andalusian coast, the independently owned Finca Cortesin is one of the finest luxury resorts in Europe. Located at the heart of Finca Cortesin is a collection of 16 five-bedroom Green 10 Villas showcasing contemporary design and unrivalled service, combined with superb food, use of the hotel's acclaimed spa, as well as access to the world-class championship golf course. No two villas are the same, and each property is thoughtfully positioned on the mountainside to offer unsurpassed views of the Sierra Bermeja mountain range, the golf course, and the Mediterranean Sea.  Modern, bright Mediterranean-style interiors contrast harmoniously with sleek white walls and clean exterior lines, and the villas are fully equipped with top-of-the-range kitchen gadgets and high-spec sound systems, as well as ample staff accommodation and parking for two cars. Guests can relax by their private pool on expansive terraces and enjoy both indoor and outdoor dining areas, all while benefitting from full access to Finca Cortesin's resort amenities and services.
HOW: Nightly rates in the 5-bedroom Green 10 villas start from €4,106 (currently approx. £3,456). A five-night minimum stay applies during high season (June-August, and public and school holidays), and a two-night minimum stay year-round. Fincacortesin.com
GREEK PROPERTIES
RECONNECT WITH NATURE AND CREATE LIFELONG MEMORIES AT THE FARMHOUSE AT THE ROOSTER ON THE SOULFUL, UNSPOILT GREEK ISLAND OF ANTIPAROS

Located on the low-key, under-the-radar Greek island of Antiparos, The Rooster embraces 'slow living' through sustainability, organic food and wellness – making it the ideal, underrated, location in which to unwind and recalibrate. Cloistered between the sandy, unspoilt beaches of the Aegean coastline and the dramatic landscape of the Cyclades amidst open fields and the mystical caves of Antiparos, The Rooster exists in complete harmony with nature. The highly individual property is all about space and privacy: 17 houses each offer stunning views of the Aegean Sea, a secluded plunge pool, and private gardens. The three-bedroom Farmhouse is the perfect remote escape for multigenerational families or friends wishing to fully switch off and re-connect with nature. The rustic residence is located 1.5km from the main hotel and is surrounded by the 'bostani', The Rooster's own vegetable garden, which grows seasonal and organic ingredients for The Restaurant. The Farmhouse has been designed with The Rooster's unpretentious aesthetic luxury in mind paired with excellent service, to create a truly holistic mindfulness escape.
HOW: Nightly rates at The Farmhouse at The Rooster start from €1,600 (currently approx. £1,358). theroosterantiparos.com
***
Press Contact:
Perowne International
E. [email protected]
T. +44 (0)20 7078 0295