DUST OFF YOUR REGENCY BEST, AS LONDON'S FINEST RESIDENCE – THE LANESBOROUGH
May 11th
LONDON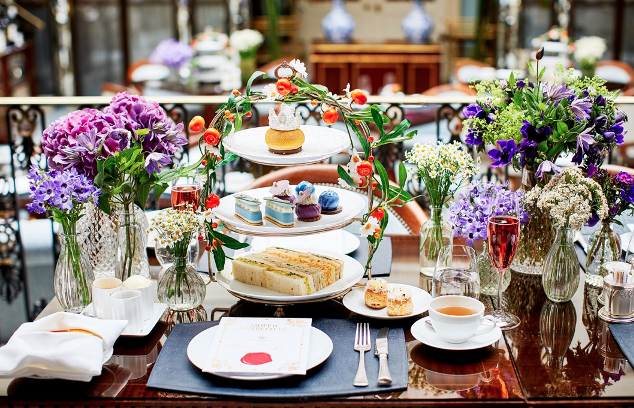 May 2023 – The Lanesborough, London, is delighted to announce the latest in its innovative series of seasonal afternoon teas, inspired by Queen Charlotte: A Bridgerton Story, created in partnership with Netflix and Shondaland.  Launched on 4 May 2023,  this limited-edition tea will pay homage to the Regency era; a time of great revelling and high style, of elegant parties, balls, and grand dinners, with a contemporary twist.
Setting the scene, the Queen Charlotte Afternoon Tea will take place in The Lanesborough's richly decorated dining room, naturally illuminated during the day by a domed glass roof while seductively aglow under softly lit chandeliers in the evening.  A Regency icon in the capital, beneath the original sky dome there is bas-relief artwork meticulously cast from 250 different mouldings, and Wedgwood china mounted on the walls, evoking a sense of Regency neo-classical grandeur.
Carefully crafted by The Lanesborough's Head Pastry Chef, Salvatore Mungiovino, the menu pays tribute to the key characters in Queen Charlotte: A Bridgerton Story, in addition to 'Lanesborough House' as we now know it, remodelled in 1825 in the fashionable classical style by William Wilkins at the highpoint of Regency era and today, London's quintessential Regency building.
Finger sandwiches and savouries will comprise tea cured salmon, lemon and caper cream; Coronation chicken, golden raisin, fresh coriander; devilled egg mayonnaise, mustard cress; organic cucumber, cream cheese, basil and chive; and Montgomery cheddar scone with cheese custard.   To accompany, The Lanesborough's delectable scones, cream and jam will be served.   Mungiovino's curated cake and sweet treat concept will include four signature highlights, including:
Your Majesty – dedicated to the star of the show, Queen Charlotte, sitting regally atop the cake stand, Your Majesty is an exquisite hand-crafted sharing cake. With hues of gold and red, this is an elegant and delicate strawberry scented cream bavaroise with infused orange gel, almond crunchy base, and sprayed with red chocolate. The crown is edible and made from Royal icing befitting a Queen
King George – Dreams of Venus – in honour of King George III and his love of astronomy, the King George is a cake of distinction and his pet nickname for his Queen, the planet Venus. A planet sphere made of 54% chocolate mousse, Jasmin infused dark chocolate ganache, cocoa sable, glazed on blue and white and universal stars
The Lady Violet – Inspired by Lady Violet's elegant fashion, this is an elegant chocolate bavaroise with mango compote, lime Chantilly, seated on shortbread and finished with tempered chocolate and sugar flowers
Danbury Delight – Inspired by Lady Danbury's love of hats and jewels, showcasing the Danbury signature purple, this delight is crafted from Berryiolette pistachio gateaux combined with a vanilla whipped ganache, sitting on a vanilla sable base finished with purple tempered chocolate
Inspired by the original Regency Gin Punch, the essential cocktail that formed part of quotidian social life during the Regency period, The Lanesborough's Head of Bars, Mickael Perron has created The Queen Charlotte cocktail; a refreshing recipe combining Fords Gin, Chambord liqueur, cranberry, exotic lychee, home vanilla sweetness and lime sunshine, topped with Champagne for the Royal seal of approval.  There is also a non-alcoholic cocktail fusing Noughty Sparkling Rosé with cranberry juice, exotic lychee, home vanilla sweetness and lime sunshine.
***
The Lanesborough's Queen Charlotte Afternoon Tea is priced from £75 per person; from £85 per person with The Queen Charlotte cocktail; or from £90 per person with a glass of House Champagne.
Children's afternoon tea menu from £35pp for children under 12.
Available as Vegetarian, Vegan, and Gluten Free.
For more information and to book, visit lanesborough.com/afternoontea or call +44 (0)20 7259 5599.  Prior reservation is absolutely essential to avoid grievous disappointment and possible societal embarrassment
Media Contact:
Perowne International
+44 (0)20 7078 0295