THE COUNTDOWN BEGINS...THE ICONIC EDEN ROCK - ST BARTHS 2.0 - REOPENING THIS MONTH
On 20 November, Eden Rock - St Barths, which forms part of the prestigious Oetker Collection, will reveal a complete transformation and restructure including new rooms and suites, a new bar and restaurant and spa concept.
November 8th
ST BARTHS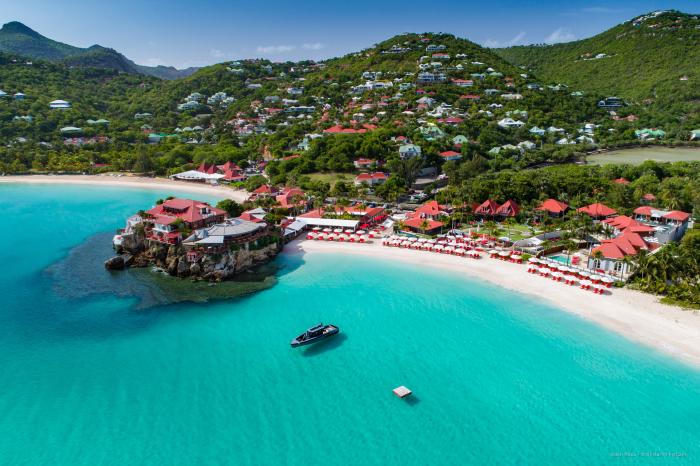 Owner, Jane Matthews has been central within the Design Group, which includes the hugely talented Marin Brudnizki Design Studio London and Archiectonik St Barths. The group has redesigned and refurbished the entire property with a fresh look and feel, while preserving the heritage and incomparable atmosphere for which Eden Rock is loved. All rooms, suites and villas have been transformed. Three new rooms with sea views have been built on top of the Sand Bar area, while three additional suites – two of which come complete with private swimming pools – have been built on the Rock. The hotel's villas have also been remodelled. The Sand Bar will continue to be at the gastronomic heart of the hotel and the menu will remain in the hands of culinary maestro, Jean Georges Vongerichten, inpired by ABC & Jojo restaurants and ABCV concept – New York's favourite new restaurant for healthy eating widely appreciated by foodies. Focusing on minimising food waste and sustainability, the use of local produce and fresh fish caught daily will be a focus, ensuring a delicious, yet environmentally conscious menu is available to all those dining. The new Rémy Salon and Bar has been named after Eden Rock's original owner, paying tribute to his pioneering spirit. Walking through The Sand Bar, guests will enter the super stylish and expanded Eden Being Boutique, stocked with the latest designs and fashion. A new Eden Rock Beach Bar has also been added, as well as a new sun deck with shaded loungers where refreshments are served. Another addition is the brilliant Eden Spa which will take residence inside the top of the Rock. In partnership with acclaimed local brand Ligne St Barth, the new 'yacht-on-land' themed lounge and three discreet wellness cabins will offer guests an unforgettable Caribbean spa journey. Beachside and child-friendly spa treatments, in addition to access to a new nature lagoon have transformed the wellness offerings at Eden Rock – St Barths.  Jane Matthews will also expand her art collection within the property and introduce guests to wonderful new talents via the New York Academy of Art.
HOW:  Rates start from €900 (currently approx. £775) per night, breakfast included, + 5% local taxes. For more information, please visit www.oetkercollection.com