CELEBRATE THE KING'S CORONATION AT ONE OF LONDON'S MOST ICONIC ADDRESSES – THE LANESBOROUGH
April 27th
LONDON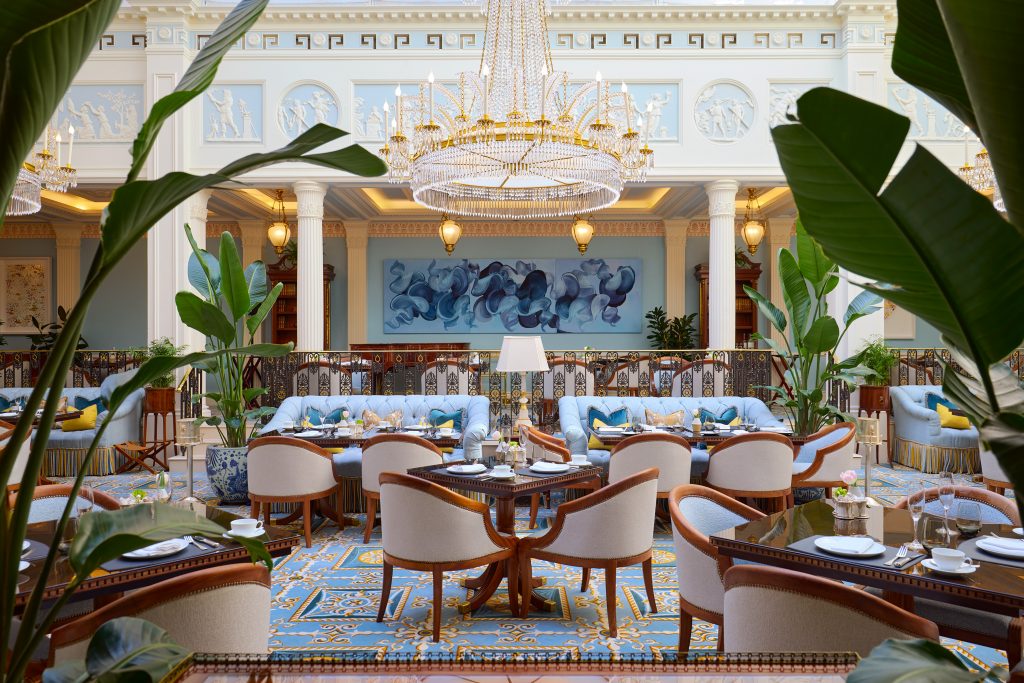 Pairing country house elegance with the vibrancy of the city, The Lanesborough is the ideal destination to celebrate the coronation of His Majesty the King in London. Visitors will feel like royalty themselves when they step into the regal, yet warm and inviting home away from home, offering a series of special activations just for this monumental occasion. Overlooking Hyde Park Corner and adjacent to the grounds of Buckingham Palace, The Lanesborough is one of the city's most iconic hotels commanding a prestigious location that straddles Belgravia, Knightsbridge, and Mayfair.
'The Kings Coronation Celebration' Accommodation Package
The 'Kings Coronation Celebration' accommodation package will afford guests in residence an experience truly fit for a Royal, including luxury transfers from London Heathrow or King's Cross St Pancras to arrive in style, complimentary daily English breakfast, and a dedicated Lanesborough butler available 24/7 to cater to their every request.  A bottle of Champagne on ice and a special Coronation amenity await upon arrival in their regency-style room or spacious suite.  Also included is a sumptuous five-course Kings Coronation Celebration dinner at The Lanesborough Grill – the hotel's flagship modern British restaurant by acclaimed Executive Chef, Shay Cooper – featuring a selection of classic English dishes served under a magnificent domed glass roof flooded with natural light by day.  HOW: Bookings for the 'Kings Coronation Celebration' accommodation package also receive access to the hotel's awardwinning Lanesborough Club & Spa, 24-hour butler service, unlimited movies and music on demand, water and fruit replenished daily, tea and coffee, and complimentary pressing of one outfit per person upon arrival. Package rate starts from £1,212 per room, per night based on two sharing one Deluxe Room. Offer available between 2 – 12 May 2023. www.oetkercollection.com/hotels/the-lanesborough/offers/coronation-celebration
'The Kings Coronation Celebration' Dinner
Commemorating the royal event of a lifetime from a front row seat, The Lanesborough Grill has crafted a limited-edition, brilliantly British five-course King's Coronation Menu available exclusively for dinner from 2 to 12 May 2023. Also available with exclusive wine pairings by The Lanesborough's talented team of sommeliers, highlight dishes will include the aptly named – and a signature favourite of Shay Cooper – Coronation crab salad, made with the freshest hand-picked Dorset crab alongside flavours and spices popularised in the period of the British Raj. Roast Orkney Scallop with potted Lytham shrimp butter follows, using the finest hand-dived scallops from the coldest Scottish waters, paired with mouth-watering hand-peeled shrimps from Lancashire. The star dish however is an ode to one of King Charles's favourite ingredients: Rhug Estate hogget, Wye Valley asparagus, lamb sweetbreads, mint, new season garlic. Hogget is a more mature sheep that is not yet mutton but has been allowed to age up to one year longer than lamb, resulting in a deeper, more complex flavour. To conclude, a selection of British cheeses from a family in Cropwell Bishop is served with Welsh cakes – a known favourite of the former Prince of Wales – followed by the 'Queen Camilla'; a unique surprise dessert conceived just to celebrate this historic moment. Showcasing the finest in modern British cuisine, the delectable menu will feature other surprises comprising some of The King's personal favourites, as well as the very best sustainable, artisanal produce the British Isles have to offer.
A Toast to The King!
To accompany this new menu, The Lanesborough's expert mixologists have created an English vodka martini-style cocktail, 'The Kings Coronation', with Fino sherry and citrus cordial and inspired by the classic Gimlet, a popular cocktail promoted by the British Officers in the 19th century. The cocktail is finished off with a few drops of Peaty single malt whiskey, a favourite nightcap of His Majesty, and is available in both The Lanesborough Grill and at the Library Bar – one of the city's most celebrated drinks destinations.
'The Kings Coronation Celebration' Sunday Lunch
Visitors can also savour a special Kings Coronation Sunday lunch, centred around large joints of the finest quality British beef, expertly cooked to perfection, and carved at the table from ornate, antique trolleys alongside a generous selection of all the very best trimmings. The Lanesborough's Champagne Afternoon Tea will also be available over the weekend. Five-course King's Coronation Dinner at The Lanesborough from £125 per person.
Guest Speaker: Royal Photographer, Chris Jackson
In the run up to the Coronation Weekend, Getty Images' multi-award-winning Royal photographer, Chris Jackson, held an exclusive talk on 20 April to discuss his three publications, Modern Monarchy (Rizzoli, 2018), Elizabeth II: A Queen for Our Time (Rizzoli, 2021), and the newly published Charles III: A King & His Queen (Rizzoli, 2023). He shared entertaining anecdotes and behind the scenes insights into the reality of life as a royal photographer, and the events that shaped the life of the British monarch and the royal family over the last two decades.  An exhibition of Jackson's life works of royal photography are on display in The Great Hall of The Lanesborough until 12 May, featuring a selection of members of the Royal family, with a focus on the new King and Queen, alongside images of Elizabeth II.
HOW: A private view of Chris' work is displayed in The Great Hall from 20 April to 12 May 2023.
***
For more information and to book, visit www.oetkercollection.com/hotels/thelanesborough/offers/coronation-celebration or call +44 (0)20 7259 5599.
For any media enquiries, please contact Perowne International:
[email protected] / +44 (0)20 7078 0295