SIX SENSES UNVEILS ITS FIRST ITALIAN PROPERTY, SIX SENSES ROME
February 1st
ROME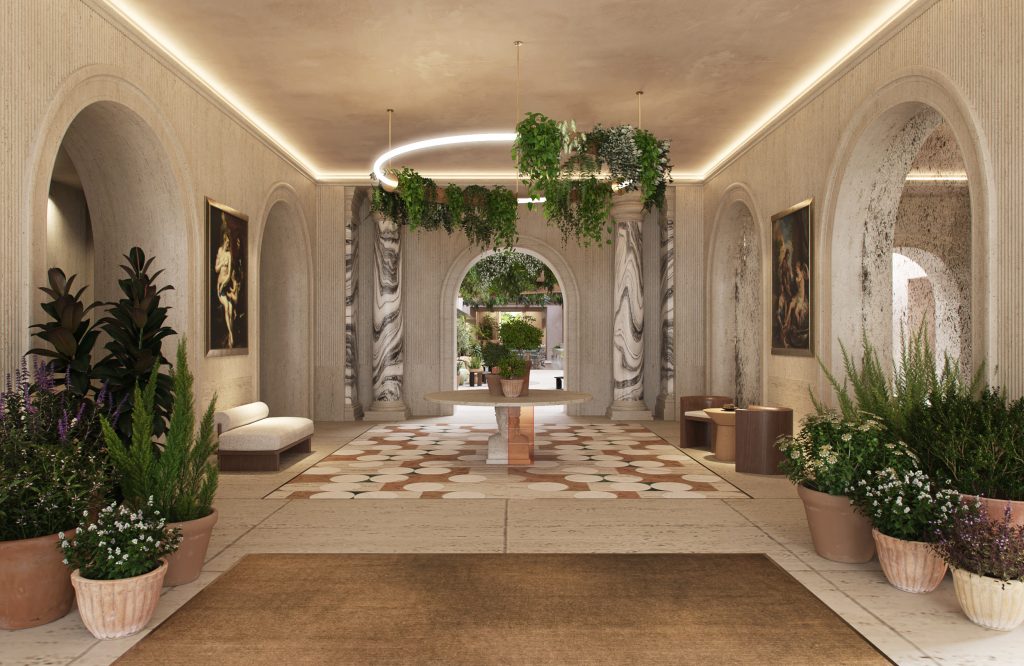 Opening in March 2023, Six Senses Rome aims to set a new level of consciousness in sustainability and wellness in a downtown setting. As the brand's first hotel to open in Italy, it will offer a green oasis amid the hustle and bustle of Via del Corso. Enjoying a prime position within the UNESCO world heritage site of Rome's historic center, it is just a few steps away from iconic landmarks such as the Pantheon and Trevi Fountain. When all the final touches are in place, Six Senses Rome will take guests on a journey into heritage, discovery, and community as the Eternal City strengthens its presence on the global tourism map with major international events in the pipeline. "I am honored and proud that this milestone is happening in my home city," says Francesca Tozzi, General Manager of Six Senses Rome. "My team and I are working with enthusiasm to translate the brand's core values of emotional hospitality, sustainability, and wellness into a Roman context. Forus, high quality and luxury include out-of-the-ordinary experiences and respect for the local community, while keeping things fun and quirky!".
A Palazzo where history blends with modernity
Palazzo Salviati Cesi Mellini, which Six Senses Rome calls its home, is a historical building dating back as far as the 15th century. It underwent further developments over the following centuries and is named after the prominent families who once lived within its walls. Six Senses Rome has restored the original façade and monumental staircase to their grand origins to preserve the Palazzo's priceless heritage. The façade of the neighboring church San Marcello al Corso, a fine example of Italian Baroque, has also undergone major renovation works, representing Six Senses Rome's first sustainability project and commitment to the local community. Interiors are contemporary in style with sustainable architecture and design accents, featuring imaginative planting, natural light, and breezy open spaces. The concept is the vision of architect Patricia Urquiola, globally renowned for her responsible design development and connecting people emotionally to the spaces around them. Featuring traditional Cocciopesto plasterwork and locally sourced Travertine limestones, the 96 guest rooms and suites are refined and cozy, with patterns and graphic elements throughout, staying true to the brand's love of authenticity. With its airy rooms, sun-filled terraces, notably high ceilings, and historic bay windows, the focus is on well-being and a sense of conviviality.
A food haven the Italian way
BIVIUM Restaurant-Café-Bar on the ground floor offers a respite for guests and locals, serving modern Italian cuisine with a Roman nod and plenty of plant-based options. The buzzy lifestyle space features an open kitchen, dedicated deli corners, a Josper grill, and a wood-fired oven. It opens out to an elegant terrace, ideal for networking, reading, thinking, or creating. Majestically curated by Executive Chef Nadia Frisina, locally sourced and seasonal ingredients at their peak flavor are the stars of the menu, which showcases best-in-class regional produce.
NOTOS Rooftop specializes in tempting bites and creative sips, surrounded by unparalleled 360-degree panoramic views. The abundance of terracotta pots and aromatic plants offer a secret garden escape unlike anywhere in Rome, whether for sunrise yoga or sunset aperitivo.
The art of Roman bathing
Six Senses Spa brings its trademark wellness formula to life while respecting centuries past. It connects international travelers with the local community through the tradition of ancient Roman bathing. The three plunge pools reproduce the calidarium, tepidarium, and frigidarium, reducing inflammation through heat and aiding muscle recovery through a 60-minute journey. A bas-relief inspired by the myth of Daphne and Apollo embellishes the walls, adding pathos and recreating a bygone Roman feel.
Beyond the baths, there's a Hammam, biohacking and meditation rooms, sauna, outdoor yoga deck, fitness center, and five treatment rooms (one for couples). There's also the opportunity to learn about the therapeutic power of herbs and plants, guided by a skilled therapist, at the Alchemy Bar.
Roma Caput Mundi for cultural experiences
Six Senses Rome is also gearing up to take guests behind the walls of some of the most significant Roman cultural institutions, including the Palazzo Colonna and selected galleries such as the Borghese, and Doria Pamphilj. From the magic of holding the brush with "Catching the Light" painting classes to exploring the secrets of a Restoration Studio with "Layers of Life" experiences and wandering hidden water channels underneath the Trevi Fountain, Six Senses Rome is rich with ideas for hands-on and multi-sensory art, archaeology, fashion, and gastronomy wonders.
About Six Senses Rome
Enjoying a prime position within the UNESCO world heritage site of Rome's historic centre, Six Senses Rome is the brand's first hotel to open in Italy. The fifteenth-century Palazzo Salviati Cesi Mellini has been restored to its grand origins to house 96 guest rooms and suites and serve as a green oasis a few steps from iconic landmarks, including the Pantheon and Trevi Fountain. The all-day dining and lifestyle area on the ground floor offers a modern Italian menu with a Roman nod, and the sun-kissed rooftop terrace treats guests to panoramic views over the historical neighbourhood. Six Senses Spa brings its trademark wellness formula to life through the tradition of ancient Roman bathing, with further highlights including five treatment rooms (one for couples), a hammam, biohacking, and meditation rooms, an outdoor yoga deck, and a fitness centre.
About Six Senses
Six Senses operates 21 hotels and resorts in 17 countries and has signed a further 35 properties into the development pipeline. Part of IHG Hotels & Resorts, Six Senses serves as a changemaker and maintains a leadership commitment to community, sustainability, emotional hospitality, wellness, and crafted experiences, infused with a touch of quirkiness. Whether an exquisite island resort, mountain retreat, or urban hotel, the vision remains the same: to reawaken people's senses so they feel the purpose behind their travels and ultimately reconnect with themselves, others, and the world around them.
Six Senses Residences offers all the unique amenities of a resort life community while retaining the privacy and personal touches of a beautifully appointed private villa or apartment. Each is an appreciating long-term investment to be cherished for generations to come with immediate benefits and exclusive status at other resorts
worldwide.
Six Senses Spas guides guests on their personal path to well-being in all resorts as well as a handful of standalone spas. The high-tech and high-touch approach goes beyond ordinary beauty treatments to offer holistic wellness, integrative medicine, and longevity.
Figures as at June 30, 2022
For further information, please contact;
Elisabetta Dell'Antonia
Marketing & Communication Manager
Six Senses Rome
M +39 375 6988173
E [email protected]
Benjawan Sudhikam (Ms.)
Director of Public Relations
Six Senses Hotels Resorts Spas
T+66 2 631 9777
M+66 8 181 382344
E [email protected]