RELOCATE YOUR OFFICE TO THE STRIPED HILLS OF NORTHEAST FRENCH COUNTRYSIDE WITH ROYAL CHAMPAGNE HOTEL & SPA
July 8th
France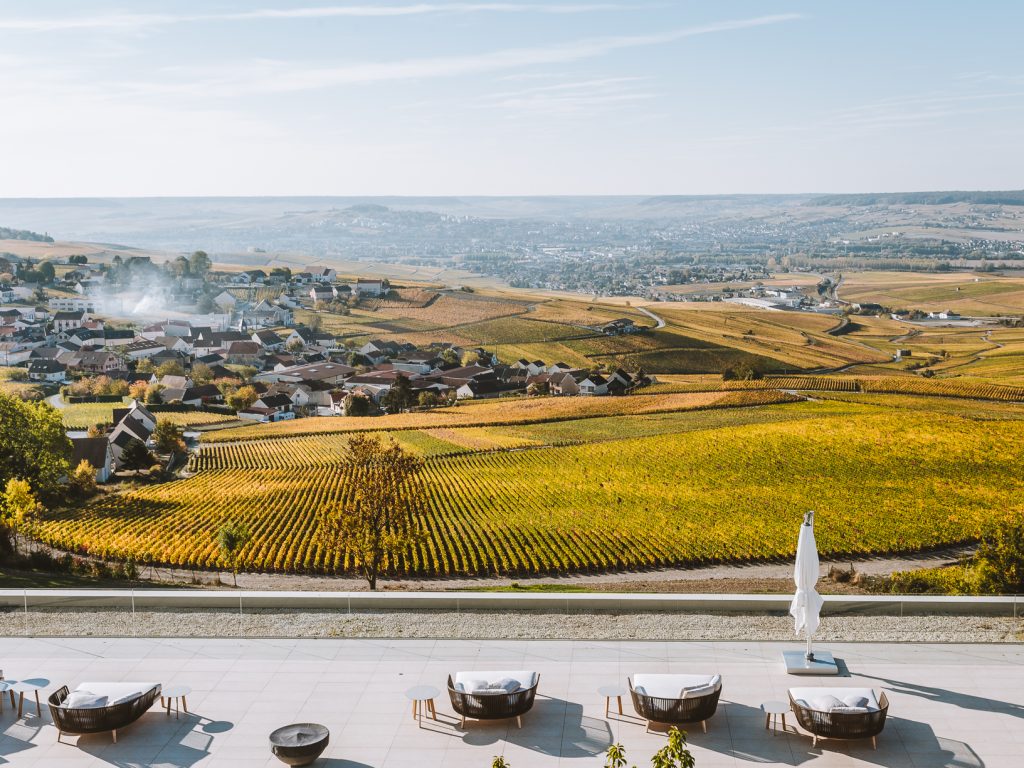 The award-winning Royal Champagne Hotel & Spa is delighted to have reopened its doors on 18th June, just in time for the height of summer.  With so many professionals still working from home, the hotel is extending its welcome to not only holiday-makers, but to those in need of an inspiring change of scenery and a renewed dose of motivation, who can turn Royal Champagne's spacious surroundings in French heartland into their very own personal office.
Last month, a YouGov poll found that 49% of workers in the UK were still working from home, with a total 68% saying they would like to continue doing so once the Covid-19 crisis is behind us.  Working from home has provided many with the opportunity to improve their busy work/life balance, spend more quality time with families and kick-start a healthier lifestyle, and where better to continue than in the spectacular surrounds in the middle of the vineyards that stripe the hills of Epernay, Champagne – including that of Dom Pérignon fame.
Here is Royal Champagne Hotel & Spa's perfectly planned schedule for a good day's work, promising to boost productivity levels by simple virtue of its beautiful setting…
7am: Before the working day begins, start at the fitness room and swimming pools – after all, a healthy mind equals a healthy body.  Guests can enjoy a revitalising dip or socially distanced workout, all available by appointment only and following a thorough cleaning after each use to ensure the maximum safety of all visitors.
8am: After starting the day with a sweat, guests can then enjoy a delectable breakfast at Bellevue Restaurant, with views over the hill looking out onto the expanse of the Champagne valley, or in the privacy of their own room.
9am: Despite the deeply relaxing and tranquil location of the property in the rural heart of Champagne, guests can efficiently get the job done by keeping connected to the outside world at all times, with a connected television in each room and high-speed broadband throughout the whole hotel.
Brain booster: All day long, unlimited, sinfully delicious French pastries and a variety of both hot and soft beverages are available.
11am: For added privacy and space to tackle the day's inevitable Zooms and conference calls – or even a face-to-face meeting – Royal Champagne's private rooms are available to rent a preferential rate.  These include the cosy 'Petit Salon', ideal for small-format meetings or intimate meals; the 'Grand Salon', lit up with natural sunlight and the perfect setting for a seminar or presentation, complete with high-tech audio-visual equipment; or the 'Salon Intuition' with panoramic views of the vineyards and the valley. A very comfortable workspace, elegantly designed and complete with a large meeting table for maximum comfort.
 1pm: Make a call to Royal Champagne's expert culinary team, for a room service working lunch is at guests' disposal in the comfort of their room or suite.  Hard workers can enjoy food by a Meilleur Ouvrier de France chef, and drinks from their spacious private balcony overlooking the vines.
Time for a break: Mid-afternoon, to maintain the creative juices flowing and take in a hearty dose of fresh air, the team recommends an exploration of all that one of the world's most famous wine regions has to offer, either by foot or by bicycle.  Those seeking to further de-stress, can enjoy an expert treatment at the hotel's acclaimed spa. 
7pm: Laptop closed – after a busy working day, where better to relax than on the hotel's expansive panoramic terrace overlooking the sprawling vine-striped hills, with a glass of Champagne in hand to accompany a selection of mature cheeses.  To curb any chance of a hangover the next morning, the team recommends a chilled flute of Leclerc Briant, that is low dosage, organic and biodynamic.
HOW: Nightly rates for this package start from €504 (currently approx. £454) per night in a Garden Junior Suite. This special offer is valid for the rest of the year. Minimum stay of three nights required. Reservation can be cancelled free of charge up to 24 hours before the day of arrival.
The stay includes:
Daily room service lunch for one person
Access to indoor and outdoor swimming pools, hammam, sauna, fitness room (1:1 sports coach available upon request)
Unlimited tea, coffee & pastries for two persons throughout the stay
Aperitif at the end of the stay, including a glass of Champagne and selection of mature cheeses
For more information about Royal Champagne Hotel & Spa, visit www.royalchampagne.com
For any media enquiries, please contact Perowne International: [email protected] / +44 (0)20 7078 0295