INTRODUCING SANT FRANCESC HOTEL SINGULAR
The historic boutique hotel which opened in 2015 is located in the center of Palma and has been beautifully restored to retain stunning original features as well as an exceptional collection of contemporary art. Comprising of 42 elegant rooms and suites, a year-round rooftop pool and bar with panoramic views over the old city of Palma, top restaurant and urban spa.
January 18th
Palma de Mallorca, Spain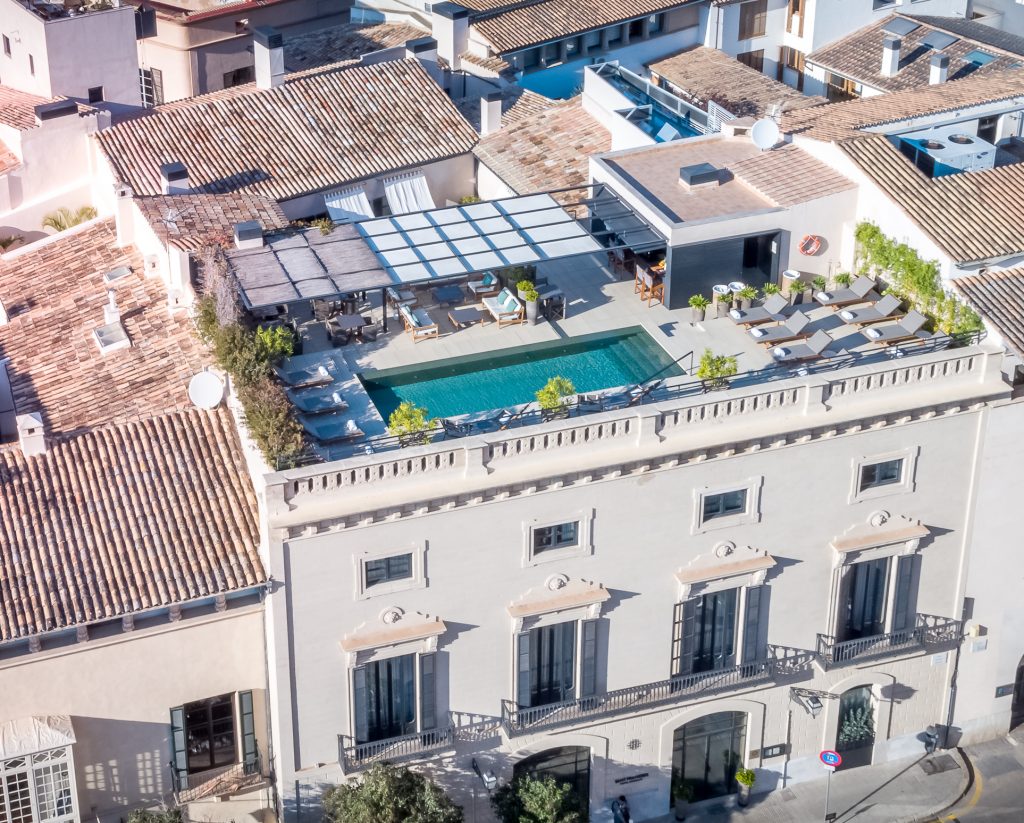 Situated in the heart of the historic centre of Palma, Mallorca, Sant Francesc Hotel Singular offers the perfect base for a fantastic city-break, romantic weekend or bolt-hole for year-round Mediterranean sunshine. The five-star, boutique hotel is set within a former Mallorcan mansion, built in 1860, which was lovingly restored in 2015 and is home to 42 elegant rooms and airy signature suites, many of which have private terraces and balconies with views of the old town, three eateries including signature Mediterranean restaurant, rooftop pool and bar and fitness and wellbeing centre.
THE DESIGN
The stunning neoclassical building features characteristics typical of the magnificent mansions of Mallorca – large entrance doors, Mallorcan arches, a paved inner courtyard and watchtower with dovecote.  Sympathetically renovated to provide guests with the ultimate modern comforts, Sant Francesc Hotel Singular is a breathtaking mix of new and old, having retained traditional features including wood-beamed ceilings, covered veranda, stone floors and the original frescos and murals.
Unique architectural design has incorporated the history of the building beautifully into the modern hotel – the building's original well has been converted into the gym, the stables into the Quadrat Restaurant and the ancient tower now houses a stunning suite.
Interiors feature an eclectic mix of elegant pieces by renowned designers, both local and international, including Antonio Citterio, Jaime Hayón, Philippe Starck, Gordon Guillaumier, Stephen Burks, Piero Lissoni, Inma Bermúdez, Davide Groppi and Bernard Schottlander. A wide collection of hand-picked contemporary art provides an impressive and arresting backdrop – original works are displayed throughout the property, each carefully selected for the space and many specially commissioned for the hotel.  Artists on display include Guillem Nadal, Riera Aragó, Dominica Sánchez, Jordi Alcaráz, Bruno Olle, Miguel Macaya, M.A. Campano, J.M. Broto, A. Alzamora and E. Arbós
THE FOOD
Sant Francesc is home to the Quadrat Restaurant & Garden, which showcases the very best of Mediterranean cuisine under the direction of Chef Alfonso Lilo, affectionately known as 'Chef Fonsi'.  Located in the former stables of the palais, this restaurant can be reached directly from the 'Plaza de Sant Francesc'.  Open for lunch and dinner, the menu is inspired by the culinary traditions of the Mediterranean with a modern flair. On warm evenings, guests can choose to dine al fresco in Sant Francesc's lush garden. The Chef's tasting menu is always recommended and includes traditional Spanish dishes such as Paella-style toasted pan bottom rice with squid and red shrimp.
Sant Francesc guests can also choose to enjoy relaxed small plates at The Lobby Bar and Patio – this space is the heart of Sant Francesc and the perfect meeting point for visitors and locals in the city centre of Palma. Guests can relax inside or outdoors, on the Mallorcan-style courtyard, snacking on tasty tapas and sipping cocktails from the extensive menu that boasts the classics as well as the bartender's modern creations.
The jewel in the crown at Sant Francesc is the stunning roof terrace with breathtaking views across the city, sparkling swimming pool and rooftop bar. The Terrace is the perfect sunbathing spot by day, complete with delicious Mediterranean light snacks and a fabulous Sushi Bar serving fresh handmade rolls from May – October. Favourites include Edamame beans sautéed with yuzu, chili and black pepper, tuna tartar with yuzu avocado, chili and wonton chips and chicken skewers with chips, bok choy and black garlic teriyaki style. By night, guests can enjoy sundowners against the panoramic backdrop of Palma.
THE SPA
The Singular Wellbeing Centre, is a hidden oasis in the heart of the Old Town, featuring an extensive treatment menu designed to counteract the effects of urban life, using the finest products from Anne Semonin. Signature treatments include the 'Mediterranean Sensation' massage ritual, designed to de-stress and restore and the 'Lemon Infusion' face and body ritual, which promises to refresh and rejuvenate the entire body. Sant Francesc also features a 24-hour gym, housed in the buildings former water well, equipped with the latest fitness technology by Technogym. Personal trainers and yoga instructors are also available upon request.
WHY VISIT PALMA NOW?
Palma has some of the hottest shopping in Europe, with travellers coming from far and wide to get a piece of it. There are endless cobbled streets of Spanish boutiques, right on Sant Francesc's doorstep, ranging from high-street and designer to bohemian style, complete with colourful tassels, hand-made espadrilles and jewellery. Sant Francesc's top picks include the Med Winds store on Jaume III, featuring creative Mallorcan brands such as Suite 13, Suro, Maravillas Bags, Rockbeach, or Mews, the Rialto Living Lifestyle Store, a lifestyle store concept including interior furnishings, fashion, art, gifts and a café and Isabel Guarch Jewellery on Plaza Mercat – famous for creating jewellery inspired by the traditions and heritage of the island of Mallorca.
Sant Francesc is the perfect base to discover the old town of Palma, steeped in culture and history and explore nearby museums and landmarks including the Cathedral, the Royal Palace of La Almudaina, 'La Lonja' or the Arab Baths. To inject some fun into site-seeing, guests can explore the area by bike (there are various guided tours on offer), by sea with a sailing tour or even by air – spectacular helicopter rides over Mallorca which start in Palma.
Mallorca is a foodies paradise – there are 10 Michelin Starred restaurants on the island, as well as some old family favourites. Sant Francesc recommends Michelin star Adrian Quetglas, Mediterranean Fusion, one of Palma's newest restaurants serving innovative Spanish food in the fortnightly-changing seven-course tasting menu. More casual dining spots include Patron Lunares, Seafood – a bustling family restaurant that was a former depot for the fishermen to store their fish and Balagan, Mediterranean – with great food, live music and garden decorated with street art.
Mallorca is a renowned `golfing destination widely considered as one of Europe's best. The island is home to 24 golf courses, complete with the weather to make the most of them.
Although Sant Francesc is situated in the heart of the city, the hotel encourages guests to spend time exploring the spectacular nature on and around the island. UNESCO World Heritage mountain range, Serra de Tramuntana, is 'the backbone' of Mallorca and a must-see during a visit. Almost 90km long, it stretches from Andratx in the southwest to the Cap de Formentor in the far north of the island. Other nearby magical sites include The Caves of Drach – four famous picturesque caves, formed by the Mediterranean Sea, complete with an underground lake called Martel Lake. There is also Cap de Formentor, known locally as 'the meeting point of the wind', located on the northernmost point of the Balearic, offering the most stunning views of the sea and mountains. Finally, Mallorca is a beach-lovers paradise – all of them easily accessible from Sant Francesc. Guests can choose between sand, rocks and pebble beaches, complete with a wide range of activities for couples, solo travellers or families alike.
Mallorca has an average of 308 days of sunshine each year with a warm and pleasant climate – making it the perfect place for some of Europe's top beach and rooftop clubs. Aside from their own Rooftop Terrace, Sant Francesc recommends Mahres Sea Club, Llucmajor– set around a pool, with access to the sea and complete with stunning cliff views. Illetas Beach Club, Illetas is just minutes from Palma centre and features terraced sun and day beds overlooking the pristine sand beach, with a restaurant serving fresh seafood and Mediterranean favourites. Gran Folies, Cala Llamp ­­is another recommended hotspot, set in Port Andratx, with a salt water pool that guests can dive into from the cliffs and rocks.
Rates at Sant Francesc Hotel Singular start from €285 per night