HOTEL ESENCIA TO LAUNCH 11 NEW SUITES – SIX BEACH FRONT AND FIVE JUNGLE SUITES
Hotel Esencia has announced extensive expansion plans after acquiring more than 10 acres of additional beachfront property along Xpu Ha beach. 11 spacious new luxury suites will make their debut this October, including six beach suites directly on the sand with unobstructed sea views, and five jungle suites less than 25 metres from the sea.
July 25th
MEXICO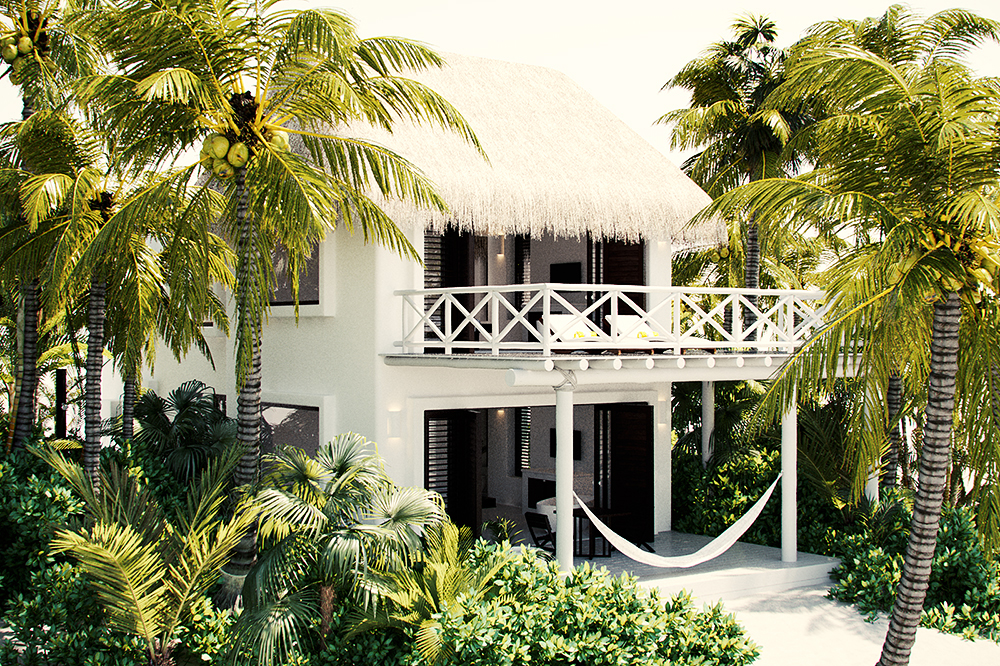 This expansion will include the launch of a spectacular new destination restaurant from acclaimed international chef Dimitris Katrivesis under a towering beach front palapa. The new suites and restaurant, along with a new reading library and hammock garden, will no doubt enhance Hotel Esencia's growing reputation as the finest luxury boutique hotel on the Riviera Maya.
The 11 new suites will bring the total number of rooms and suites to 40, however the grounds of the hotel will be effectively doubled with this expansion preserving the intimate, extremely low-density occupancy for which Hotel Esencia is known. This will include six Beach Suites, each located with direct access and views of Xpu Ha, one of the most protected and quietest white sand beaches in Mexico. These white-washed suites will be light and airy with windows on three sides and floor to ceiling doors which open onto a beach front terrace with sweeping views of the ocean. They will also feature an in-room double bath tub for two positioned to enjoy the view of the sea, custom furnishings and artworks by local Mexican artisans, custom fabrics, a collection of art and design books and all the latest technology including lightning Wi-Fi, in-room sound and smart TV systems.
Five Jungle Suites will be similar in size and overlook the hotel's luxuriant gardens. The new destination restaurant and terrace will be open to the general public as well as hotel guests. The circular restaurant will sit under a towering thatched palapa and will offer 180-degree views of the ocean, with whitewashed wood floors, and direct access to the beach. The restaurant's décor will have a personality all its own and the terrace will allow guests to dine facing the beach. The new restaurant will be overseen by one of the world's most exciting and influential chefs Dimitris Katrivesis, who will bring his Greek and Spanish heritage to infuse traditional flavours and seasonal ingredients with a contemporary twist. All ingredients used will be from the hotel's garden or sourced locally from farmers and artisans. Chef Dimitris, an alumnus of the acclaimed Michelin starred El Bulli restaurant in Spain, and the chef behind Mistura in Mykonos, La Pantera Negra in Athens, and Anahi in Paris, will bring Tropical Peruvian style cooking to Xpu Ha featuring a clever fusion of Peruvian and Japanese flavours together with the best ingredients of Mexico's Yucatan peninsula.
Located just 50 minutes from Cancun and 30 from Tulum, Hotel Esencia is full of character, charm and heritage. The Main House is the centerpiece of the hotel around which footpaths lead to the 29 suites and villas. There are also two restaurants, a new beach bar, two large pools, a cold-pressed juice bar and organic spa. Each room and suite boasts a private terrace and seating area with views of either the luxuriant gardens or the Caribbean Sea.
HOW: More to be announced soon. www.hotelesencia.com