THE LANESBOROUGH, LONDON SPRING NEWS 2023
January 24th
LONDON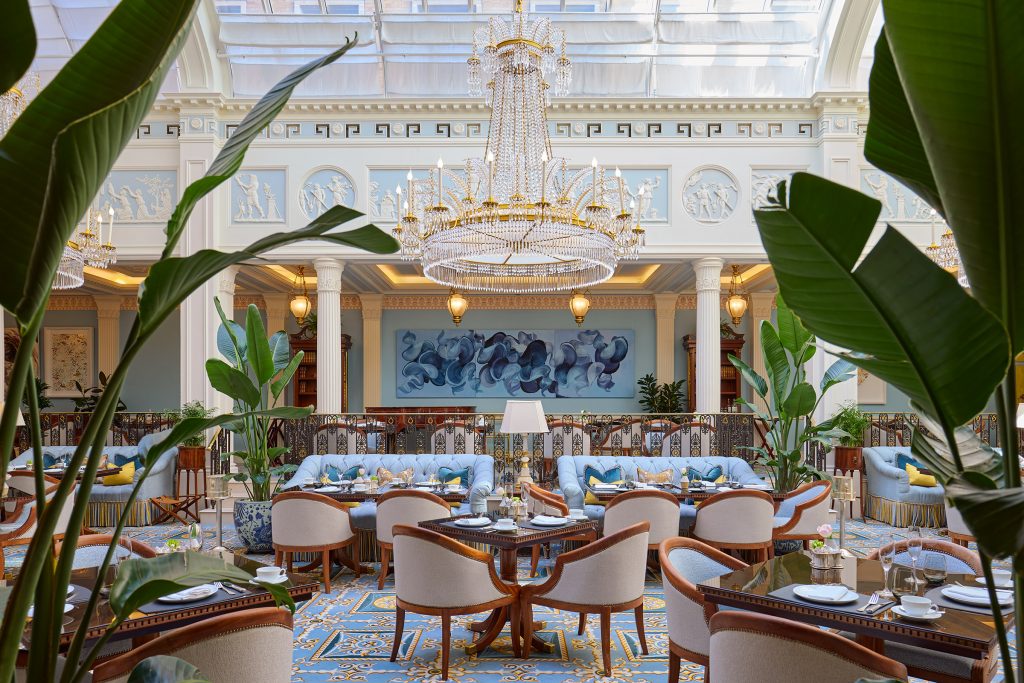 January 2023 – Commanding a prestigious location that straddles Belgravia, Knightsbridge, and Mayfair, The Lanesborough, London, part of the prestigious Oetker Collection, offers the perfect home from home to enjoy all that the British capital has to offer. Be it for a special city staycation to remember or for a day visit to London finest Regency landmark, guests can delight in a range of brand-new offerings at the hotel, including the recent launch of a whimsical, floral Meadow Afternoon Tea; the second installation of The Lanesborough's exciting new Art Programme; and a Rizzoli literary salon pop-up in the hotel's aptly named Library Bar.
LOOK AHEAD TO THE BLOOM OF SPRING WITH THE BRAND-NEW MEADOW AFTERNOON TEA
The Lanesborough has just unveiled the latest in its innovative series of seasonal afternoon teas, inspired by the flora and fauna in the hotel's surrounding Royal Parks of Hyde Park, St James's Park, and Green Park. The limited-edition Meadow Afternoon Tea is taken in the hotel's richly decorated dining room, The Lanesborough Grill, where Head Pastry Chef, Salvatore Mungiovino has carefully curated an utterly Instagramable menu consisting of both savoury and sweet delicacies, influenced by the coming of Spring. Mungiovino's menu includes highlights such as The Chamomile Daisy – a hand-crafted sharing cake for two with a chamomile bavarois with an almond crunch biscuit base with mango cremeaux; and The Meadow Slice Cheesecake – a delicious twist on the traditional dessert incorporating a lemon and lime cheesecake on a sable base. Manager of The Library Bar, Mickael Perron, has also created The Elderflower and Jasmine Cocktail – a refreshing recipe combining St Germain fresh elderflower liqueur with Bombay Sapphire gin, fresh lime juice, a touch of Maraschino liqueur and white peach and jasmine soda.
HOW: The Lanesborough Meadow Afternoon Tea is priced from £68 per person; from £82pp with The Elderflower & Jasmine Daisy Cocktail; or from £85pp with a glass of House Champagne. Children's afternoon tea menu from £35pp for children under 12
THE SECOND INSTALLATION OF THE LANESBOROUGH ART PROGRAMME, IN PARTNERSHIP WITH ART ACUMEN
The Lanesborough continues its Art Programme, a six-monthly changing exhibition curated by partner, Art Acumen, a leading specialist art consultancy with 20 years' experience curating and commissioning art collections. Exhibitions at The Lanesborough showcase a selection of celebratory and affordable artworks in a variety of mediums by a select group of talented British based artists, with all exhibited works available to purchase, along with a wider selection of pieces found online. Bespoke commissions can also be arranged if a particular sized piece is desired. The latest exhibition, which is launching on 6 February, will be based on the theme 'Landscapes' and the hotel is hosting a 'Meet The Artists' event on 2 March, including Champagne and canapés.
SPEND VALENTINE'S WEEKEND IN REGENCY SPLENDOUR AND DEPART WITH A BESPOKE WATERCOLOUR 'PORTRAIT OF LOVE'
This Valentine's Day, The Lanesborough will delight and surprise lovers at every turn, putting on an exceptionally romantic weekend in sumptuous style. The Meadow Afternoon tea will be given a Valentine's twist, and the hotel will also offer a delicious five-course dinner menu and a three-course Sunday lunch menu in The Lanesborough Grill. Foodies can savour a glass of chilled Rosé Champagne on arrival before savouring the culinary musings of Executive Chef Shay Cooper, including signature dishes Coronation crab salad, Lindisfarne oysters, and Beef Wellington. In the Library Bar, Mickael Perron has created a brand-new Sweet Valentine cocktail for guests to enjoy, consisting of Champagne, violet liqueur, lychee liqueur, rose water, fresh lemon juice and rose syrup. For anyone looking to extend their stay overnight, couples can opt for The Lanesborough's Valentine's Weekend Package, where they will be quickly ensconced in luxury with a dedicated butler for whom nothing is too great an ask. In addition, Poppy Waddilove – with a name befitting the occasion – will be The Lanesborough's 'Artist in Residence' in The Withdrawing Room on Sunday 12 and Tuesday 14 February from 3pm to 8:30pm. Guests staying or dining at The Lanesborough can have their experience enhanced by a beautiful watercolour "portrait of love" painted by Poppy, by the cosy Withdrawing Room fireplace, be it mothers and daughters, or sweethearts celebrating Valentine's Day – a lovely memento and memory to take away from The Lanesborough.
HOW: The Valentine's Afternoon Tea is priced at £90 per person, including a glass of Rosé Champagne; Valentine's Dinner is priced at £195 per person with a glass of Rosé Champagne and £290 including wine pairing; and Valentine's Sunday Lunch is priced at £95 per person with a glass of Rosé Champagne
LITERARY RIZZOLI SALON POP-UP AT THE LIBRARY BAR
Bringing the world's leading publisher of the highest quality illustrated books in fashion, interior design, and art, to the cosy, literary scene of The Library Bar at The Lanesborough, hotel guests and visitors during the month of March can enjoy some of Rizzoli's finest books displayed throughout The Library Bar for perusal. Running alongside, The Lanesborough will host four ticketed author evenings in The Library Bar where guests can hear first-hand from the authors; their inspiration and insight into their publications. Signed copies of each authors books will be available for sale on each evening. The first to be announced is Getty's award-winning Royal Photographer, Christopher Jackson on 7 March. Chris is the author of the best-selling Modern Monarchy, Elizabeth II: A Queen for Our Time and Charles III, which is due to be released in April 2023, and is responsible for creating one of the most intimate and elegant archives of photographs of the British royal family over the past 20 years. This will be followed by Nina Campbell, one of the country's most respected interior designers, discussing A House in Maine with Giles Kimev on 21 March; and then Violet Naylor-Leyland and Beata Heuman conversing on Rare Birds, True Style on 28 March.
HOW: Tickets will be priced at £25 per person to include a special, limited-edition Rizzoli Negroni or Manhattan cocktail
THE LANESBOROUGH CLUB & SPA WELCOMES NEW BRAND PARTNER, ROYAL FERN – THE PATENTED PLANT-BASED SKINCARE BY DR. TIMM GOLUEKE, HARNESSING THE POWER OF THE FERN  
The Lanesborough Club & Spa recently welcomed new spa partner, Royal Fern – a revolutionary plant-based discovery in skincare founded by world-renowned dermatologist, Dr. Timm Golueke. Named after the resilient fern plant, considered a master of survival, the brand's aim is to deliver healthy, radiant, and protected skin for every skin type and through Dr. Timm's expertise, every product reflects the philosophy to deliver short- and long-term results for modern skin needs, backed by science. Partnering with a hotel spa for the very first time, The Lanesborough Club & Spa exclusively offers the Signature Royal Fern Treatment; a luxurious facial treatment encouraging a youthful, sculpted, and firmer appearance dubbed the famous 'Royal Fern Radiance'. Harnessing the anti-aging and antioxidative powers of the fern, the facial combines stimulating massage techniques that lift, drain, and sculpt with personally selected Royal Fern products adapted to each individual's skin type. A facial massage is then complemented by sculpting microcurrent and EMS technology to ensure a noticeably lifted appearance. The treatment also releases tension and stimulates lymphatic drainage, to de-puff the face.
HOW: The Signature Royal Fern Treatment is priced at £180 for a 60-minute facial and £240 for a 90-minute facial
Press Contacts:
Perowne International
UK – [email protected]
US – [email protected]
+44 (0)20 7078 0295