SIX SENSES FIJI TO OPEN - 14TH APRIL 2018
100% solar powered, it will be the first hotel of its kind in Fiji to function off Tesla batteries, with LED lighting to minimise energy expenditure and a careful reforestation programme designed to offset the environmental impact of construction. The resort will offer world-class surfing, scuba diving and watersports, and Fijian Island Experiences
March 22nd
Fiji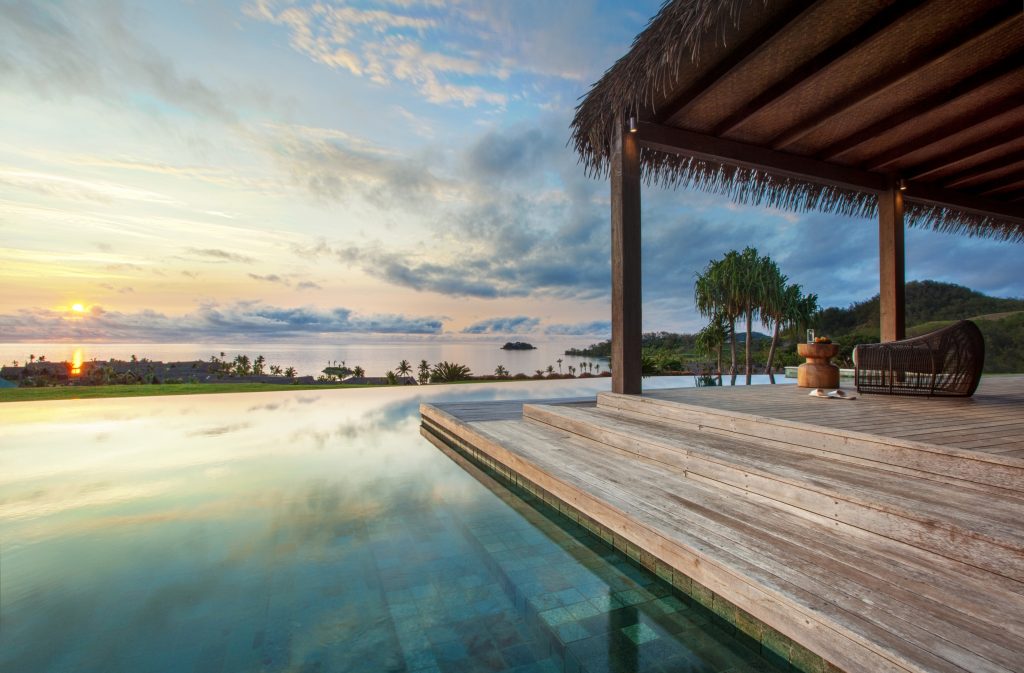 Six Senses Fiji will open on 14th April on the idyllic volcanic island Malolo. Surrounded by crystal waters, pale ivory sands and lush tropical forest, the hotel will be comprised of 24 pool villas and 60 residential villas – all offering the privacy, seclusion and luxury for which Six Senses has become best known.
Each pool villa will range in size from 800 square feet (74 square meters) to 1,950 square feet (180 square meters), and will feature a private pool, outdoor bathroom and wooden deck with sunbeds, surrounded by tropical native gardens. The 12 beachfront villas will provide direct access to the white sandy beach with spectacular views of the Pacific Ocean.  The resort will open with ten private residences of two, three, four and five bedrooms all with private pools, barbecues, fully equipped kitchens and the choice of either beachfront, ocean or marina panoramic views. All residences and villas come with a guest experience maker (GEM) and residence guests have the option of a complimentary nanny.
In true Six Senses style, the group's new Fijian outpost will showcase their hugely successful Integrated Wellness Programme offering guests bespoke advice, care and treatments, along with locally inspired cuisine available at five island restaurants, sourced from the hotel's own vegetable garden, farmers, markets and fishermen from the neighbouring community. A range of watersports from snorkeling to surfing on the nearby reef breaks, as well as a kid's club, tennis courts and a weekly activity guide full of cultural and wellness experiences will also be available.
The Wellness Village at Six Senses Fiji will include a Six Senses Spa, a state-of-the-art gym, an extensive wet area with hot and cold whirlpools, an alchemy bar and an elevated treetop yoga pavilion.
Six Senses Fiji will offer the pioneering sustainable practices that are fundamental to the group's ethos. 100% solar powered, it will be the first hotel of its kind in Fiji to function off Tesla batteries, with LED lighting to minimise energy expenditure and a careful reforestation programme designed to offset the environmental impact of construction.
The resort is found on one of the most dramatically beautiful isles in the 333-island nation with consistent warm, tropical weather making the resort an ideal year-round destination. The 120-acre site encompasses an expansive and beautiful sandy bay bounded by rocky headlands on each end. Six Senses Fiji is anchored with two marinas, and the resort and residences are ideal for ocean enthusiasts looking for their own tropical paradise but with all the comforts and amenities of home. The entire development is framed by massive prehistoric Baka trees and the dramatic Malolo Hill in the middle of the island.
The island is easily accessible from Nadi International Airport via a 35-minute private Six Senses speed boat from Denarau Marina and the option of a 10-minute helicopter. The resort also hosts two full-service marinas for guests' private yachts.
Six Senses Fiji is slated to open on 14th April 2018. Rates in a Hideaway Pool Villa (one bedroom) will start from FJD 2,000 (approx. £710) per night on a bed & breakfast basis including tax. Rates are subject to change ahead of opening