NOW OPEN: SIX SENSES DUXTON & SIX SENSES FIJI
SIX SENSES DUXTON OPENS AS THE GROUP'S FIRST CITY HOTEL IN SINGAPORE, DESIGNED BY ANOUSKA HEMPEL OF BLAKES LONDON FAME AND 100% SOLAR POWERED SIX SENSES FIJI OPENS 24 VILLAS ON THE IDYLLIC VOLCANIC ISLAND OF MALOLO
April 18th
SINGAPORE & FIJI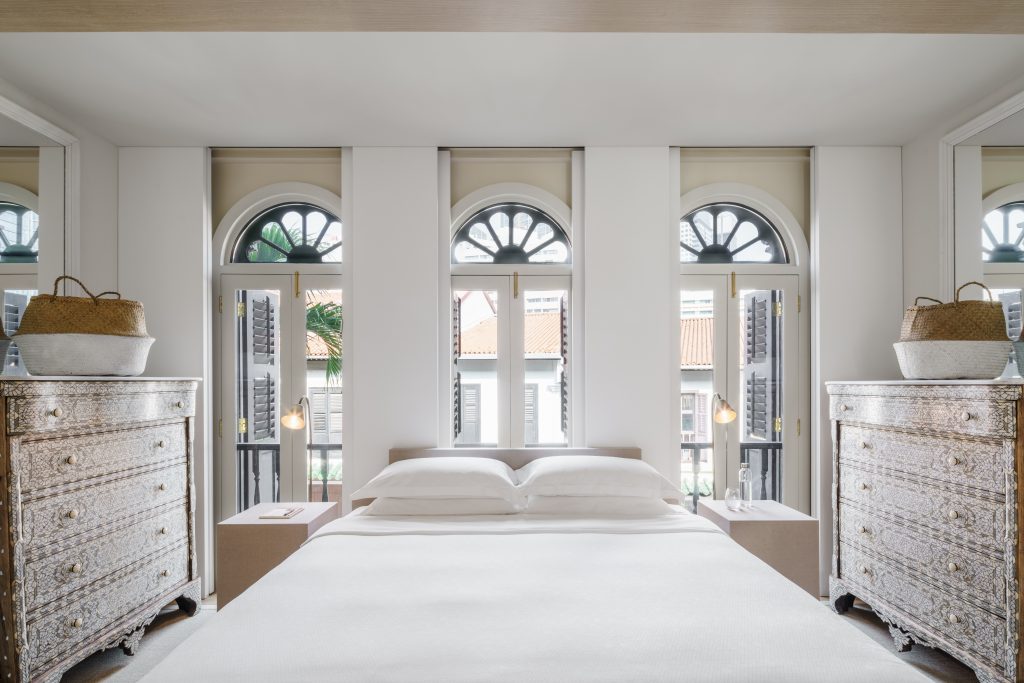 SIX SENSES DUXTON, SINGAPORE
Six Senses Hotels Resorts Spas has opened its first of two city hotels in Singapore – Six Senses Duxton.  Located in the heart of Singapore's Chinatown, this remarkable conservation project will be split across two locations – the second, Six Senses Maxwell, is slated to open in September 2018 – and sees the restoration of two existing heritage buildings; the last to be developed in the city.  Six Senses Duxton, which opened on 14th April 2018, offers eclectic interiors by one of the world's most iconic hotel designers, Anouska Hempel – acclaimed for The Hempel Hotel and Blakes in London.  While each building will have its own distinct personality, guests will be able to enjoy the facilities at both properties and use them as the perfect base to explore Singapore's vibrant culture.  Six Senses has curated a community of local businesses for guests to tap into whilst staying at the newly opened Six Senses Duxton, whether a local yoga studio or fresh juice bar.  This will be an opportunity to get under the skin of Singapore as a tourist like never before.  In addition to design, priority for Six Senses is its ongoing commitment to authenticity and responsible preservation.  In recognition of this, both properties have already received the 'Urban Redevelopment Authority Architectural Heritage Award'.  The hotels will also launch a new sustainability programme that will make them carbon-free after purchasing United Nations-certified carbon credits, while standing to save up to 20% in energy costs.
Located in old Chinatown's Tanjong Pagar, Six Senses Duxton has been sustainably restored under British designer Anouska Hempel.  In harmony with the area's rich Asian history, yet still presenting her luminary vision, Anouska has given each of the 49 guestrooms and suites complete individuality

In the lobby, guests are welcomed by large golden fans and strong hues of black, gold and yellow, layered with Oriental screens and calligraphy wallpaper from Anouska's personal collection

Gold takes centre stage in the restaurant, which will offer a fine dining menu of classic and innovative Chinese cuisine

Adjacent is an antiquarian library-themed lobby bar serving up the hotel's signature Yellow Peril house cocktail of hot whisky, brandy and absinth, crowned with a yellow chrysanthemum

With Singapore being at Asia's crossroads and interchange to the world, Hempel has worked within the restrictions of a heritage building and variations of room size to successfully express her vision throughout the hotel – from a magnificent Kimono Suite to smaller spaces that she refers to as petit grandeur, elegant bespoke furnishings and the designer ambience typify the experience in every way

A property highlight is the appointment of a traditional Chinese doctor offering readings, health recommendations and a medicinal herbal dispensary
HOW: Rates at Six Senses Duxton start from SGD 390++ (currently approx. £208) in an entry-level Nutmeg Room, room only.  Rates for Six Senses Maxwell to be confirmed ahead of opening.  Jacques Garcia, famed for his work including The Peninsula Paris and Hôtel Costes, has designed the second Singapore property Six Senses Maxwell, which will open in September 2018.  www.sixsenses.com
SIX SENSES FIJI, MALOLO ISLAND
The newest far-flung addition to Six Senses' growing portfolio, Six Senses Fiji also opened on 14th April.  Located on the tropical, volcanic island of Malolo – part of the stunning Mamanuca Islands archipelago, ideally located just 15.5 miles from Nadi International Airport – Six Senses Fiji is set amidst crystal waters, pale ivory sands and thick tropical forest.  There is a total of 24 spacious pool villas and 60 residential villas, each offering the privacy, seclusion and luxury for which Six Senses has become best known.  With a state of the art gym, Club House, Kid's Club and 650m stretch of stunning private beach, Six Senses Fiji offers the pioneering sustainable practices that are so fundamental to the group's ethos.  100% solar powered, it is the first hotel of its kind in Fiji to function off Tesla batteries, with LED lighting to minimise energy expenditure and a careful reforestation programme designed to offset the environmental impact of construction.
Six Senses Fiji is an exotic destination replete with adrenaline-fuelled watersports, authentic Fijian island experiences, and excellent scuba diving opportunities

In true Six Senses style, in terms of the spa and wellness offering the group's new Fijian outpost will offer guests bespoke advice, care and treatments according to their hugely successful Integrated Wellness Programme

Cuisine is locally-inspired and availalbe in five island restaurants sourced from the hotel's own vegetable garden, farmers, markets and fishermen from the neighbouring community

Six Senses Fiji is found on one of the most dramatically beautiful isles in the 333-island nation with consistent warm, tropical weather making the resort an ideal year-round destination

The 120-acre site encompasses an expansive and beautiful sandy bay, bounded by rocky headlands on each end.  Six Senses Fiji is anchored with two marinas, and the resort and residences are ideal for ocean enthusiasts looking for their own tropical paradise but with all the comforts and amenities of home

The entire development is framed by massive prehistoric Baka trees and the dramatic Malolo Hill in the middle of the island
HOW: Six Senses Fiji is easily accessible from Nadi International Airport: a 30-minute journey by boat from Denaadaru Marina, 30-minute helicopter flight, or 20-minute seaplane flight.  Rates in a Hideaway Pool Villa (one bedroom) start from FJD 2,000 (Fijian Dollars) – approx. £688 – per night, B&B.  This rate also includes 25% government tax, non-motorised water sports, GEM (Guest Experience Maker) services, select daily activities per the weekly activity schedule, complimentary ice cream and complimentary Kid's Club.  www.sixsenses.com