LEADING CONSERVATION BRAND SINGITA AND THE GRUMETI FUND OPEN ENTRIES FOR THE SECOND SERENGETI GIRLS RUN IN SUPPORT OF WOMEN AND GIRLS IN RURAL TANZANIA
Runners are challenged to a 21km run over three days through the 350,0000-acre Singita Grumeti private reserve. The exclusive, purpose-driven experience is aimed at raising funds for empowerment programs for local women, with a focus on providing opportunities for women to become leaders in conservation.
June 5th
AFRICA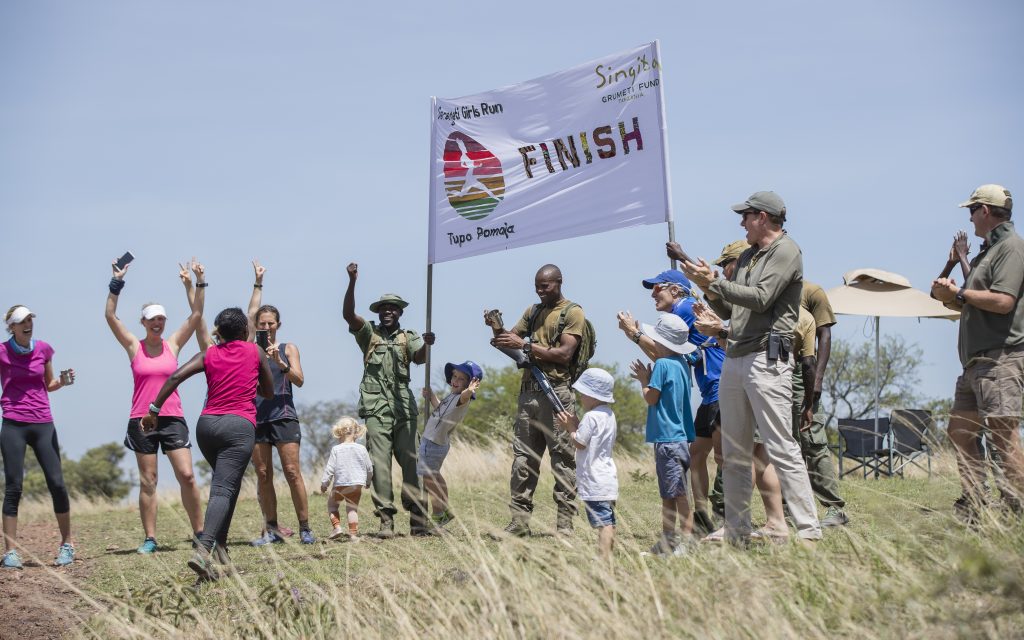 Leading conservation brand, Singita has announced that entries are now open for the second Serengeti Girls Run which will take place from 25 – 30 October 2019. This all-woman running event forms part of Singita's 'Safaris with a Purpose' portfolio and will raise funds for women and girls in partnership with the Grumeti Fund.
The Serengeti Girls Run welcomes runners of all levels to cross the vast plains of Singita's 350,000-acre private concession in the western corridor of the Serengeti where they will encounter an abundance of wildlife and breathtaking scenery at every turn.
This year's run will see participants complete 21 kilometers daily over the course of three days traversing some of the most incredible wilderness areas in Africa. During the course of the event, guests will stay at the iconic Singita Sabora Tented Camp. This intimate 1920's inspired explorers camp perfectly embodies the magic of the era and is steeped in character providing an idyllic retreat for the runners to rest and recuperate at the end of the day.
Runners will be accompanied by expertly trained and experienced anti-poaching scouts from the Grumeti Fund, who'll keep an eye out for curious animals, while a support team in a shadow vehicle will be on hand to take care of their safety and comfort.
This exclusive, purpose-driven experience aims to raise funds for empowerment programs for girls and women in the surrounding area providing them with opportunities to become leaders in conservation. Each donation assists in funding numerous non-profit initiatives, including scholarships for local girls in secondary school, vocational studies and university; training girl mentors and providing life skills and internships; as well as enterprise development training for women and environmental education for girls from local secondary schools.
The Serengeti Girls Run ensures that participants have plenty opportunities to engage with the women who benefit from these programs. The day after their arrival, guests can join girls from the local community on a short 4km fun run, followed by a career fair where everyone is welcome to share their own inspiring stories with hundreds of girls from neighboring villages. Over the course of this five-night itinerary, participants will also visit the Grumeti Fund's Environmental Education Center, which hosts week-long courses for local students on conservation so that they are able to learn how to minimise humans impact on the Earth. Participants will also have the chance to meet the Fund's elite anti-poaching team to find out how they preserve and protect the region's critical ecosystem.
HOW: This year's Serengeti Girls Run will take place from October 25-30, 2019. The experience costs $8,500 per person (single) or $6,000 per person (sharing) for the all-inclusive 5-night package, including Grumeti Air return flights to Kilimanjaro; an additional tax-deductible donation to the Grumeti Fund of $16,500 per person (single) or $9,000 per person sharing, used to fund empowerment programmes in the Serengeti. To book your place, email Katherine Cunliffe, [email protected]