LE BRISTOL PARIS HAILS 2019 AS 'THE YEAR OF GASTRONOMY'
Long considered a bastion of gastronomic excellence, Le Bristol Paris holds three Michelin stars at revered Epicure, and one Michelin star at 'brasserie de luxe', 114 Faubourg.
2019 also marks 10 years of Frechon holding three Michelin stars at Epicure – a mean feat, in Paris' ever-changing, increasingly competitive culinary scene
March 6th
Paris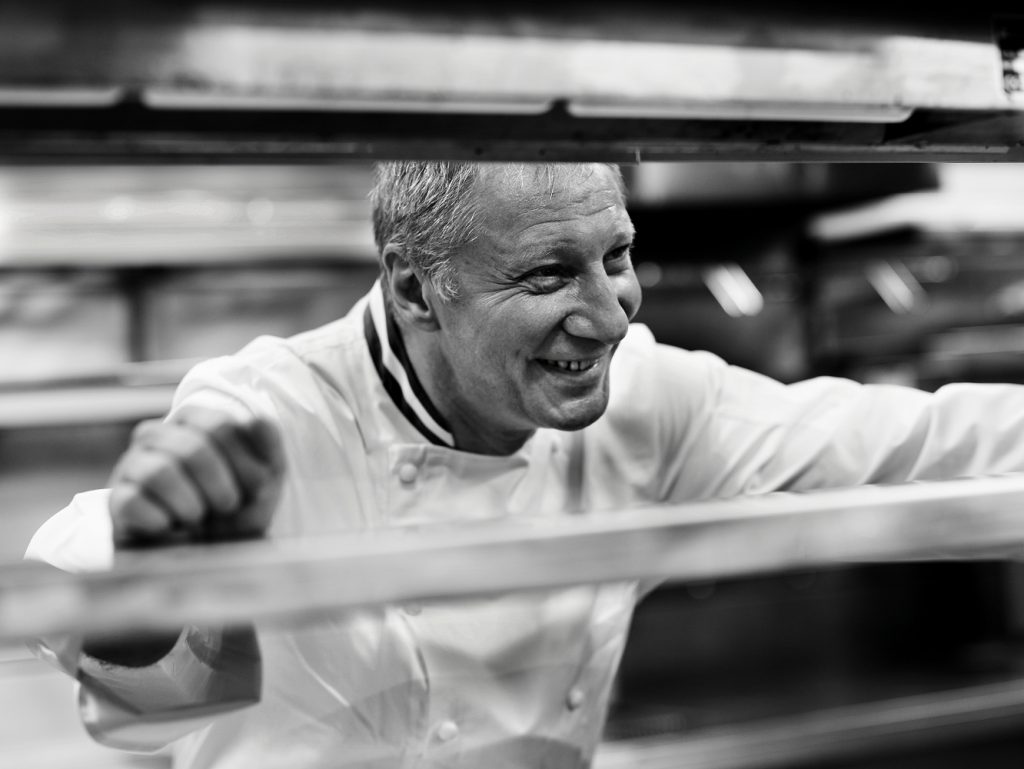 Built on the true values of craftsmanship, over the last 20 years Le Bristol Paris, part of the prestigious Oetker Collection, has been continually building upon its revered reputation as a true temple of gastronomy.  This year, the hotel is delighted to celebrate the 20th anniversary of 'defender of French cuisine' and Michelin star Chef extraordinaire, Eric Frechon, as the leader of Le Bristol's gastronomy, 10 years during which he has held three Michelin stars at Epicure.
Hailed by foodies around the world as 'Chef Royalty', Eric Frechon has spent 35 years in restaurants.  Having presided over some of Paris' most prestigious kitchens throughout his career, he became Chef at Le Bristol in 1999.  Notably, before this he was sous-chef to Christian Constant at Le Crillon, where he earnt the title of Meilleur Ouvrier de France (Best Craftsman of France).  He also won acclaim for his bistro at the Buttes-Chaumont, where he had worked as commis chef in 1982.  In his first year at Le Bristol Paris, Frechon earnt his first Michelin star, and by 2009 he held three which he has never relinquished and was bestowed with the Légion d'Honneur.  When 114 Faubourg opened at the hotel in 2013, under Frechon's leadership it was immediately awarded one Michelin star.  A celebrated name, unanimously hailed by critics and gourmets the world over, Frechon has since raised Le Bristol to become the hotel to bear the most Michelin stars in Paris.
To celebrate the special anniversary, Le Bristol Paris has created a nine-course menu of haute cuisine comprising all of Frechon's finest signature dishes, each dish marking his rise through the ranks of Michelin acclaim.  As he was awarded his first star in 1999, the first of the nine courses celebrates with caviar from Sologne, mousseline potatoes and smoked haddock.  2001 was the second Michelin star, and for this Frechon has brought back his world-famous, cherished gratinéed stuffed macaroni with black truffle, artichoke and duck foie gras.  2009 was the year of his third star, which he marks with one of his most celebrated dishes, the spectacular Bresse Farm Hen poached with wine, cray fish, sweet offal and black truffle.  This unforgettable menu is a true sensory culmination of the longstanding collaboration between a Chef and a Palace Hotel.  Chef Eric Frechon comments: "2019 is a significant year for me; it marks my twentieth year as Chef at this hotel that I so admire.  I have imagined this anniversary menu of my great signatures dishes over the past twenty years, and I hope my guests will enjoy the dishes as much as I enjoy cooking for them."
This year, Chef Frechon has also installed a working flour mill at the hotel, making Le Bristol Paris today the first and only hotel in Paris to produce its own homemade fresh flour from ancient wheats, bringing the innovative concept of 'Living Bread' to its guests.  Frechon has always considered bread to be the first and most important encounter a guest has at the dining table, setting the tone for the rest of their meal.  In his quest to serve the best bread possible, he travelled to the hills of Cucugan in Corbieres to meet with the master of 'Living Bread', Roland Feuillas – a man who has dedicated his entire life to bread.  The 100% natural Living Bread is made from heirloom seeds gathered by Feuillas which belong to different varieties of high-quality wheats such as Spelt, Emmer and Khorasan. These wheats offer unparalleled nutritional value and flavour from seed to bread, reflecting the commitments of both Roland Feuillas and Eric Frechon to reinventing a relationship of respect with earth and nature.  Frechon was inspired by these methods of using freshly ground 'living' flour every day, resulting in his creation of the most natural tasting, healthy bread possible at Le Bristol Paris.  Feuillas was even brought to Le Bristol Paris to train and educate the bakers, cooks and those serving the bread in the restaurants in his methods, but there was still a vital element missing: a mill to grind the flour for immediate use – now, complete.
Frechon's extraordinary signature style is all about terroir; a sense of place.  He delights in matching unusual ingredients to astounding effect, with his signature creations having become some of those unforgettable dishes people travel to Paris just to experience.  Meanwhile, Le Bristol Paris has exuded Parisian joie de vivre since 1925 and, has long been celebrated for the hotel's definition of luxury: service of the highest order through sincerity.  The most elite of travellers continue to choose the hotel for a first-class Parisian experience, and it has become a benchmark for luxury hotels all around the world.  Le Bristol Paris perpetuates its legend through enduring values, and a shared passion for the art of French living, together with the hotel's historic grandeur, has earnt Le Bristol "Palace" distinction and the loyalty of the world's most discerning of guests.