Jumby Bay Island – 'Queen Of The Caribbean' Showcases The Most Spectacular Private Residences For The Perfect Summer Holiday
Ringed with coral reefs and reachable only by boat with no cars in sight, Jumby Bay Island comprises three stunning white-powdered beaches and countless winding bicycle paths to create a one-of-a-kind hideaway known, quite simply, as the finest resort in the Caribbean.
July 16th
Antigua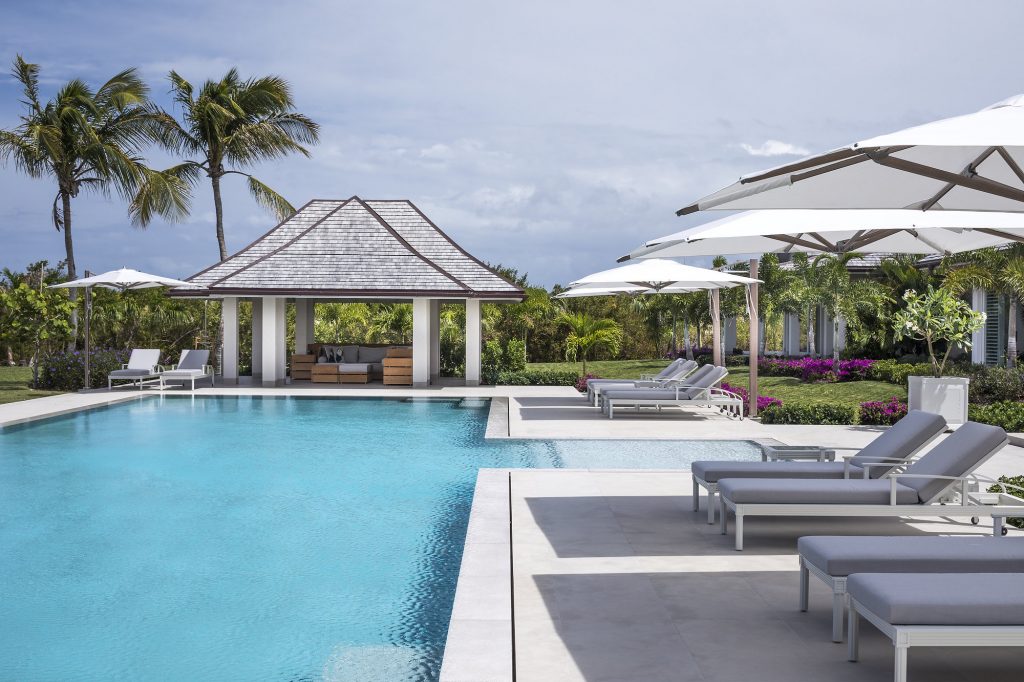 In addition to 40 tastefully-decorated rooms and suites, Jumby Bay Island features 21 exquisite, ultra-luxe Private Residences available for rental.  The Private Residences are dotted around the island and offer discerning travellers the utmost privacy from the main resort, without compromising access to the facilities.  Ideal for a family reunion or a special celebration, Jumby Bay Island's Private Residences set the standard high for Caribbean luxury.
Having joined the prestigious Oetker Collection in late 2017, under new management, the resort recently underwent an inspired restoration programme to inject a new lease of life into the much-loved island.  Each Private Residence is today totally unique in style and design and comes equipped with individually exclusive features from infinity pools to private tennis courts to state-of-the-art design, complete with private staff.  Guests staying in the Private Residences also benefit from full access to Jumby Bay Island's amenities and services, as well as a 25% discount on food and beverages within the resort.
Here are Jumby Bay Island's hand-picked, top five Private Residences for the ideal family summer holiday…
LOST PUFFIN – THE NEWEST ADDITION TO THE ISLAND'S PRIVATE RESIDENCES
Named after the story of a puffin that was blown off course and ended up on one of Jumby Bay Island's beaches, the Lost Puffin residence is as charming as its back story. Set on Pasture Bay Beach and offering direct access to the sea, the property was uniquely designed as a Swedish beach house. Ideal for larger family gatherings and celebrations, Lost Puffin is a seven-bedroom property, which includes two duplexes for children and can accommodate up to 18 guests. Designed in shades of blue, dove grey and ecru, Lost Puffin features an ocean-salted water pool; a modern fully equipped kitchen; serene indoor and outdoor living spaces; tennis court; football nets and cricket bats and balls.
ENJOY YOUR OWN PRIVATE BEACH AT EVANGELINE
Located on its own stunning private beach, the six-bedroom Evangeline is a sanctuary of serenity and unrivalled privacy.  The sprawling estate inhabits an immaculately groomed, palm-studded tropical landscape embraced by the Caribbean Sea in all of its glorious shades of blue.  Named after an epic poem by Henry Wadsworth Longfellow, the residence's name reflects the sense of romance which sets this luxurious seaside retreat apart.  Designed with outdoor living in mind, Evangeline's open-air spaces are bright, light and ethereal, characterized by soaring white ceilings and soft turquoise accents.  The tropical décor is crisp and eclectic – the ideal canvas for chic furnishings and a collection of locally-influenced works of art.  Inspired by contemporary Caribbean architecture, Evangeline can welcome up to 12 guests in six king bedrooms with private verandas and en-suite bathrooms.  The property also features plenty of private spaces and relaxation areas including trellised walkways, a shady pool gazebo and a grand beach palapa equipped with a bar, kitchen and grill for outdoor dining, lounging and refreshments at the water's edge.  The more active travellers have access to a tennis court, fitness centre and infinity pool overlooking the ocean, which is probably one of the island's best spots to admire the sunset over the Caribbean Sea.
EAST WIND – A PRIVATE HAVEN OF TRANQUILITY
Set on the breezy south-eastern shore of Jumby Bay Island, East Wind was designed with meditative intentions inviting guests to discover elements of wind and water throughout the zen-inspired property.  Welcomed by a quiet reflection pond leading to the central open-air Great Room, travellers have awe-inspiring views of cascading waterfalls and tropical gardens.  The master bedroom, located at the centre of the residence, is an expansive 1,800ft2 open plan space with lofty ceilings and incredible views of East Wind's gardens and the deep blue Caribbean waters.  Four other bedrooms are scattered around the property in stand-alone cottages, all offering similarly beautiful ocean views.   East Wind comes complete with an expansive terrace, four pool-side gazebos, a media room and a state-of-the-art modern kitchen.
QUINTESSENTIAL CARIBBEAN LIVING AT DRAGONFLY
Located on Jumby Bay Island's south-eastern plateau, Dragonfly is an enchanting tropical residence which offers guests stunning views of Buckley Bay and the islands beyond. The open-plan, spacious property was designed to encourage maximum relaxation and carries out a fresh island-inspired palette of whites, neutral and blues complemented by an eclectic collection of artwork and chic furnishings. Welcomed by a courtyard filled with bougainvillea, tranquil fish ponds and outside seating under a large frangipani tree, Dragonfly is ideally suited for small group retreats, affording maximum privacy at every turn. The property features five spaced out bedrooms accommodating a total of 10 guests, a beautiful infinity pool and dining gazebo, as well as a BBQ courtyard. Spanning four acres and comprising lush private gardens, Dragonfly has something for every traveller. The property comes complete with a media room, table tennis, tennis court, a professionally designed PGA calibre putting green and, even an indoor golf simulator.
EFFORTLESS ISLAND LIVING AT SANDPIPER BEACH HOUSE
Set on a perfectly positioned beachfront, Sandpiper Beach House offers breathtaking views of Davis Bay and the Caribbean Sea, looking across to the hills of mainland Antigua. With its light and airy ambiance, this five-bedroom barefoot chic retreat has been designed as a family beach house and allow guests to truly disconnect from their everyday life. This private residence pays homage to local culture and has an island-inspired colour palette, as well as artworks by some of the nation's best artists. The property also features plenty of peaceful spaces dotted around the estate. From its stunning beachfront infinity pool and hammocks on the beach, to its driftwood beach bar and outdoor gazebo, Sandpiper Beach House offers its guest truly effortless living.