DAVID ATTENBOROUGH'S 'DYNASTIES' DOCUMENTARY INSPIRED TRAVEL
Following the exciting announcement of the five-part series - 'Dynasties' - presented by world renowned naturalist and broadcaster Sir David Attenborough and airing on the BBC later this year, Perowne International presents you with five incredible destinations where you can catch a glimpse of the five majestic animals the series will be focusing on – Lions, Wild Dogs, Chimpanzees, Tigers and Emperor Penguins.
October 9th
GLOBAL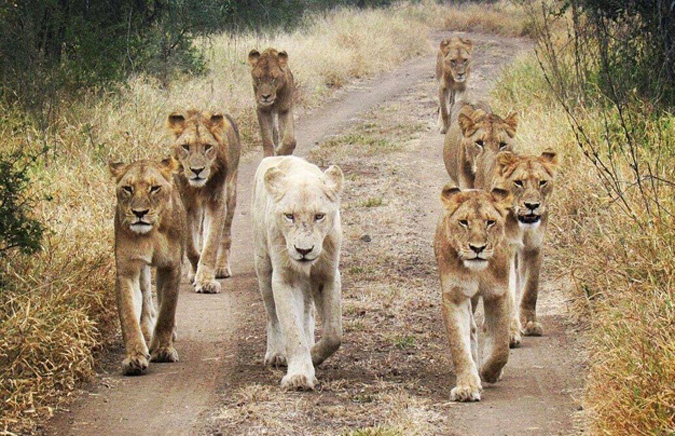 LIONS
'LEBOMBO: LAND OF LIONS' IN SINGITA KRUGER NATIONAL PARK, SOUTH AFRICA
One of the many wildlife experiences that Singita Kruger National Park is well known for is its lion sightings.  Singita's field guides often refer to the 33,000-acre private concession as "Lebombo: Land of Lions."  In November 2017, Singita's wildlife guides recorded no fewer than 77 sightings over the course of one month, with a further 71 sightings in December 2017.  The three key prides that can be spotted at Singita Lebombo include the Mountain Pride, the Shish Pride and the Xhirombe Pride. In partnership with non-profit funds and trusts who implement strategic conservation projects in each region, Singita is preserving and protecting pristine land and wildlife populations and helping to create economic independence within local communities surrounding the reserves.
WILD DOGS
SPOT RARE WILD DOG INTERACTION AT MATESTI VICTORIA FALLS, ZIMBABWE
There are less than 7,000 wild dogs found in Africa, making the species one of the most endangered in the world, and consequently, one of the rarest animals to see on safari.  At Matetsi Victoria Falls, guests can enjoy daily game drives where it is not uncommon to spot wild dogs, with an entire pack living on Matetsi's private reserve.  With a 55,000-hectare private wilderness at guests' fingertips, an intimate experience with these endangered animals is unrivalled.  The most luxurious retreat from which to experience incredible wildlife, Matetsi Victoria Falls is set on a private 15km stretch of the mighty Zambezi, just 45 minutes from Victoria Falls. Comprising two intimate river-facing camps of nine suites each, featuring local beaten-copper, carved wood and polished earth finishes and hand-made contemporary African furnishings, the property offers guests plenty of space in which to experience the wild in privacy.
CHIMPANZEES
A PRIMATE'S HAVEN: SINGITA KWITONDA LODGE, RWANDA TO LAUNCH IN AUGUST 2019
For many, gorilla trekking is the driving force behind a trip to Rwanda; however, the opportunity to take part in a rare chimpanzee trek should not be overlooked.  In recent years, chimpanzees have disappeared from four African countries due to deforestation and commercial hunting for bush meat, with the animal now listed as endangered on the IUCN Red List of Threatened Species.  In 2017 the Convention on Migratory Species also selected the common chimpanzee for special protection.  Nyungwe Forest National is Africa's oldest montane forest and home to over 13 species of primates including over 500 chimpanzees.  Chimpanzees are one of the most interesting primates to follow and track, due to their fast-paced nature and movement.  The opening of Singita Kwitonda Lodge in August 2019, travellers will now have the chance to spot these incredible primates along with a third of the world's remaining mountain gorillas.  Located in the Volcanoes National Park, Singita Kwitonda will offer eight suites and a four-bedroom villa linked by volcanic rock pathways to a central lodge. Working in close partnership with the Rwandan Development Board and local communities, Singita will be taking a measured, long-term approach to conservation on the edge of the Volcanoes National Park, in line with the company's established 100-year vision to build sustainable revenue streams to fund the preservation of African wilderness for future generations.
TIGERS
TAJ SAFARIS – INDIA'S FIRST AND ONLY WILDLIFE CIRCUIT IN MADHYA PRADESH
In October 2018, the Taj Safaris portfolio re-open for its thirteenth season as India's first and only wildlife circuit. Taj Safaris' four lodges in India offer over a decade of safari expertise, coupled with legendary Taj service – all while situated in the very best destinations from which to spot the Bengal Tiger. From Mahua Kothi in Bandavgarh National Park, Baghvan in Pench National Park (named after the Royal Bengal Tiger), Banjaar Tola in Kanha National Park, Pashan Garh in Panna National Park, the lodges allow guests to experience the unparalleled beauty of the jungle and spot the famous Bengal Tiger in their highest densities. Departing just after sunrise, guests can enjoy early morning Jungle Drives in specially designed Tata 4×4 jeeps with Taj's trained naturalists. Taj Safaris is the only operator in India to train its own naturalists, have specially designed Tata 4×4 safari vehicles and employ female rangers, including Ratna Singh – India's first trained woman naturalist and wildlife guide.
PENGUINS
GET UP CLOSE TO ANTARCTICA'S HUGE COLONY OF EMPEROR PENGUINS ON-BOARD AN EPIC CRUISE WITH SCOTT DUNN
Scott Dunn's guests can embark on a once in a lifetime expedition cruise to Antarctica, on-board the Magellan Explorer with Antarctica 21 and get up close to Antarctica's huge colony of emperor penguins – the tallest and heaviest of all living penguin species and endemic to the region. Antarctica is an extraordinary wilderness of ice-sheets, glaciers and barren deserts formed over many millennia, home to an array of wildlife including sea birds, whales, seals and penguins. The Magellan Explorer with Antarctica 21 is the first fly-cruise programme in the continent – guests fly over Cape Horn before navigating the waters of the incredible Antarctic Peninsula to some of the most inaccessible places on earth.  Guests will discover the fascinating wildlife and landscapes Antarctica offers on-board this comfortable, specially-designed expedition vessel with an ice-strengthened hull and state-of-the-art equipment. Guests will cruise between the South Shetland islands and the western coast of the Antarctic Peninsula, sailing through ice-filled fjords past spectacular icebergs, all in the company of the impressive emperor penguins, seals and whales. The cruise includes a fascinating programme of lectures and presentations on Antarctica and its animal population and amazing views from the glass-enclosed lounge. Expert English-speaking guides will lead on-shore excursions to observe the local wildlife including the wandering albatross, elephant seals and, of course, penguins, as well as the unparalleled scenery of multi-coloured icebergs, glaciers, and towering snow-capped mountains. The ship sleeps up to 68 passengers in outside-facing cabins and offers guests an awe-inspiring view every morning with the restaurant, lounge, bar and library a great area for guests to exchange their tales of discovery.
For more information please email [email protected]