LEADING CONSERVATION BRAND SINGITA UNVEILS NEW LOOK FOR SINGITA FARU FARU LODGE, TANZANIA
The design transformation takes inspiration from the surrounding Serengeti region and includes a new interactive kitchen and a full refurbishment of rooms and living spaces. Singita with the Grumeti Fund have spearheaded conservation prjects in the region such as the anti-poaching canine unit, the elephant collaring experience and the Serengeti Girls Run raising funds for women's empowerment projects.
February 6th
Tanzania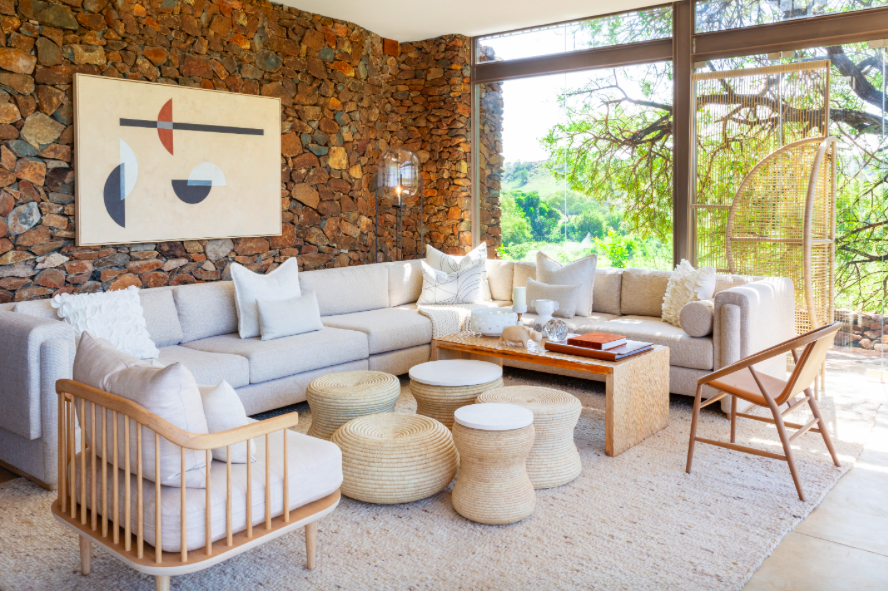 In February 2019, Singita Faru Faru Lodge, located in a private 350,000 acre reserve, unveils its new look, taking inspiration from the surrounding wilderness and aiming to bring the Serengeti to guests' fingertips. The lodge is situated on a riverside slope with direct, panoramic views over the Serengeti and draws on cues from traditional African craft, combined with inspiration from Scandinavian simplicity.
The simple colour palette of bone, ivory, nude and clay pairs perfectly with the surrounding environment bringing animals and nature to centre stage. This minimalistic approach is less about the space itself and more about how one lives in it, using natural textures and materials to create rich, cosy layers throughout the lodge. The revitalised Singita Faru Faru Lodge exudes warmth, pureness of form and functionality. Touches of the clean, crisp geometry of African tribal pattern add to the contemporary feel and nods towards the evolution of modern design on the continent. From handcrafted furniture to unique fittings and bespoke objects, the rooms are filled with the work of local artisans.
The main living and dining areas have been expanded and now showcase an interactive kitchen adding a new dynamic to the dining experience. The open seating areas have been pulled forward, bringing guests closer to nature and the Serengeti to their fingertips. New central areas have also been added, including a Singita signature bar-deli, which encourages guests to enjoy drinks together, share a meal wherever suits them and take in their surroundings.
Apart from the twice-daily game drives, alternative activities on offer to guests at Singita Faru Faru include visting an anti-poaching observation post to learn more from the scouts about the vital conservation efforts that are in place in the reserve to protect the wildlife. Guests can also partake in guided safari walks, relax at the spa, visit the boutique and gallery or enjoy wine tastings of some South Africa's best labels with a private wine sommelier.